Deeply Rooted Plans For Its Future On Chicago's South Side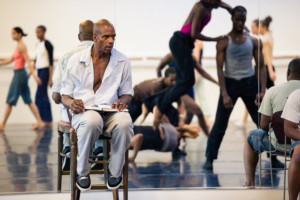 Deeply Rooted Dance Theater (DRDT) announces significant funding support from the Reva & David Logan Foundation and the Arts Work Fund to support institutional capacity building that will facilitate the first steps of a major initiative: creating a vision for a potential new center for African-American dance education and professional performances on Chicago's South Side.
The Logan Foundation is providing $75,000 in general operating funds and two matching grants-$25,000 and $20,000-to offer incentives for new DRDT funders to support this capacity-building. "With these grants, the Logan Foundation has taken a leadership position in helping Deeply Rooted prepare for and define the next era for the company and dance in Chicago," said DRDT Co-Founder and Executive/Artistic Director Kevin Iega Jeff. "The matching grants are to encourage the philanthropic community to join us in sustaining our future as an organization as well as our participation in considering and imagining this new resource." The Arts Work Fund/Idea Lab program is providing $25,000 for each of the next two years to support the visioning process with current committed partners, including the Logan Center for the Arts at the University of Chicago, the Chicago Community Loan Fund (CCLF), and Studio One Dance Theater, and possible new partners in the future. The goal is to build upon the long tradition of dance on the South Side and develop new ways to support professional, pre-professional, and avocational dance in Chicago. Creating a Vision for a South Side Dance Center
"While Deeply Rooted has served the South Side with our education programs and performances at the Logan Center-including our December 15 and 16 performances coming up this weekend-and other locations, this is an unprecedented opportunity to lead the way, with our partners, in establishing a stronger presence for dance in that part of the city," Jeff explained. "Shifting our base of operations to a shared studio/office/performance facility on the South Side would help us strengthen our talent pipeline for DRDT's future by expanding arts education and experiences for youth in South Side communities and exposing them to pre-professional and professional training to accompany the existing recreational opportunities. We are excited to begin the process of envisioning additional space on the South Side to attract more audiences for professional dance by increasing the number of performances there." To launch the project, DRDT, the Logan Center, and other partners plan to engage in a two-year Space Pilot beginning in 2019, working in existing spaces on the University campus and across the South Side that will help develop models for the ways a potential shared space might operate. "We hope a new space will support existing organizations and serve as an incubator for new arts groups committed to fostering inclusion and connecting art and creativity with social change," Jeff said. "We are pleased to continue deepening our partnership with Deeply Rooted and other terrific dance organizations in Chicago that have been such a vital part of the creative community on the South Side, across Chicago, and beyond," said Bill Michel, executive director of the Logan Center for the Arts. "We look forward to working with Deeply Rooted and others to build on their incredible legacy of dance education and performance and envision potential new space that will expand the network of facilities that support this vibrant community on the South Side." Artistic Leadership Evolution
Given the demands and challenges of this undertaking, Jeff is shifting his focus with DRDT to developing the necessary long-term initiatives and community relationships to cultivate the project. Additionally, DRDT's artistic leadership will change to an artistic rotational model. Beginning in the 2019-20 season, Artistic Team member and Dance Education Director Nicole Clarke-Springer and Artistic Team member and Emerging Choreographers Showcase Producing/Artistic Director Joshua Ishmon, also a dancer with the company, will serve as co-artistic directors. Co-Founder and Associate Artistic Director Gary Abbott will take over artistic leadership for the 2020-21 season. They will be responsible for maintaining the company's repertoire as well as bringing in new choreographic voices, while Jeff supports their leadership by continuing to serve on the Artistic Team. DRDT has prepared for this capacity building through its Arts Management Workforce Development Program, which launched two years ago to grow new leadership; the Summer Intensive and Company Apprentice Programs; the Chicago Community Trust-funded Smart Growth initiative for strategic planning; the Smart Scope initiative, supported by the Arts & Business Council, to implement ideas from the strategic plan; and overall board development. "The time has come for the company to become an institution, and a major city like Chicago deserves a world-class, homegrown institution for African-American dance, so I must adjust my priorities," Jeff said. "Our artistic team has grown and strengthened in competence and vision, and they are ready for this challenge."
Debuting in 1996, Deeply Rooted Dance Theater is rooted in traditions of modern, contemporary and African dance, as well as storytelling, in universal themes that spark a visceral experience and ignite an emotional response in diverse audiences worldwide. Collaborating with nationally renowned choreographers across the spectrum of modern, ballet, and African dance, DRDT presents work that reflects eclectic voices in contemporary life.