City Lit Theater Announces Celebration Of 'Banned Books' Week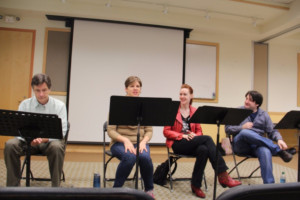 City Lit Theater Company, in association with the American Library Association's Office of Intellectual Freedom, will again present BOOKS ON THE CHOPPING BLOCK, a celebration of BANNED BOOK WEEK, September 23 - 29, 2018, at various locations in and around Chicago.

Every year since 1982 the American Library Association has released a list of the top ten most frequently challenged books as reported to their Office of Intellectual Freedom. BANNED BOOKS WEEK, held during the last week of September, features those books. The week celebrates the freedom to read and the importance of the First Amendment. The event draws attention to the harms of censorship by spotlighting actual or attempted restriction of access to books across the United States.

City Lit Theater's BOOKS ON THE CHOPPING BLOCK is a 50-minute program consisting of five-minute readings of short excerpts from the top ten challenged books of 2017. Each book is introduced with background on the book, including the reason it got challenged. The readings are followed by an audience discussion. City Lit Theater will present the 2018 BOOKS ON THE CHOPPING BLOCK at nine different libraries in the Chicago area: six Chicago Public Library branches, the DePaul University Library in Lincoln Park, the Evanston Public Library, the Mt. Prospect Public Library and the Lincolnwood Public Library.
City Lit Artistic Director Terry McCabe believes that BOOKS ON THE CHOPPING BLOCK actively celebrates the books most at risk and call attention to the would-be censor's threat to an educated democracy. "Our focus is literate theater, so we are naturally concerned by attempts to keep books away from people," McCabe says. "We are privileged to continue our alliance with the ALA in this important work." Funding for BOOKS ON THE CHOPPING BLOCK is provided by the Seabury Foundation and the Freedom to Read Foundation.
Most Frequently Challenged Books of 2017:

1. THIRTEEN REASONS WHY, by Jay Asher Reasons: discusses suicide
2. THE ABSOLUTELY TRUE DIARY OF A PART-TIME INDIAN, by Sherman Alexie
Reasons: profanity, situations deemed sexually explicit

3. DRAMA, by Raina Telgemeier
Reasons: includes LGBT characters and was considered "confusing"

4. THE KITE RUNNER, by Khaled Hosseini
Reasons: includes sexual violence and was thought to "lead to terrorism" and "promote Islam"

5. GEORGE, by Alex Gino
Reasons: includes a transgender child

6. SEX IS A FUNNY WORD, by Cory Silverberg and illustrated by Fiona Smith
Reasons: addresses sex education and is believed to lead children to "want to have sex or ask questions about sex"

7. TO KILL A MOCKINGBIRD, by Harper Lee
Reasons: violence and use of the N-word

8. THE HATE U GIVE, by Angie Thomas
Reasons: considered "pervasively vulgar," drug use, profanity and offensive language

9. AND TANGO MAKES THREE, by Peter Parnell and Justin Richardson and illustrated by Henry Cole
Reasons: features same-sex relationship

10. I AM JAZZ, by Jessica Herthel and Jazz Jennings
Reasons: addresses gender identity
The 2018 performance schedule for BOOKS ON THE CHOPPING BLOCK
Sunday, Sept. 23 - 2:00PM Sulzer Library
4455 N. Lincoln Ave., Chicago, IL
Monday, Sept. 24 - 6:30PM Budlong Woods Library
5630 N. Lincoln Ave., Chicago, IL
Tuesday, Sept. 25 - 4:30PM Edgewater Branch Library
6000 N. Broadway, Chicago, IL
Wednesday, Sept. 26 - 7:30PM Mt. Prospect Library
10 S. Emerson Street, Mount Prospect, IL
Thursday, Sept. 27 - 4:00PM Lincoln-Belmont Library
1659 W. Melrose St., Chicago, IL
Thursday, Sept. 27 - 7:00PM Evanston Public Library
1709 Orrington Ave., Evanston, IL
Friday, Sept. 28 - 1:00PM DePaul University Library
2350 N. Kenmore Ave., Chicago, IL
Saturday, Sept. 29 - 11:00AM Bezazian Branch - Chicago Public Library
1226 W. Ainslie St., Chicago, IL
Saturday, Sept. 29 - 2:30PM Lincolnwood Public Library
4000 W. Pratt Ave., Lincolnwood, IL ABOUT CITY LIT

For thirty-nine years, City Lit Theater has been dedicated to the vitality and accessibility of the literary imagination. City Lit produces theatrical adaptations of literary material, scripted plays by language-oriented playwrights, and original material developed especially for City Lit.

Our current main stage season offers four varied plays: the classic comedy ARMS AND THE MAN by George Bernard Shaw, a world premiere play THE SAFE HOUSE by Kristine Thatcher, FUENTE OVEJUNA by Lope De Vega and a night of one-acts TWO DAYS IN COURT: A DOUBLE-HEADER OF CLASSIC ONE ACTS which includes THE DEVIL AND Daniel Webster by Stephen Vincent Benet and TRIAL BY JURY, an operetta by Gilbert & Sullivan.