Chicago Shakespeare In The Parks Announces A MIDSUMMER NIGHT'S DREAM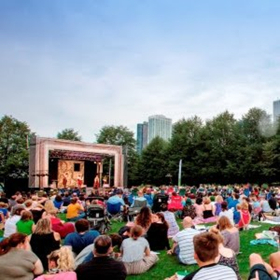 Chicago Shakespeare Theater (CST), the City of Chicago, Chicago Park District, and Boeing partner to present the annual citywide summer tradition, Chicago Shakespeare in the Parks. Made possible by production sponsor BMO Harris Bank, 25 performances of Shakespeare's timeless classic A Midsummer Night's Dream, adapted and directed by the Theater's founder and artistic director Barbara Gaines, will tour free for all to 18 neighborhood parks across the City, July 25-August 26, 2018.
"Chicago Shakespeare in the Parks brings world-class theater to neighborhoods across the city and gives residents the chance to experience the best of what Chicago has to offer right in their own backyard," said Mayor Rahm Emanuel. "I look forward to watching many of our top local performances in this summer's rendition of A Midsummer Night's Dream. "
The Chicago Shakespeare in the Parks tour of A Midsummer Night's Dream kicks off at Polk Bros Park on Navy Pier with four performances: Wednesday, July 25 through Saturday, July 28-all beginning at 7:00pm.
Parks scheduled to be visited, rain or shine, include:
"We are proud to partner with Chicago Shakespeare Theater to bring free Shakespeare to our beautiful neighborhood parks," said Chicago Park District Superintendent and CEO Michael P. Kelly. "This is just one of the 1,200 multidisciplinary and multicultural Night Out in the Parks offerings that everyone is invited to come, see and experience in Chicago's parks this summer."
The citywide tour is made possible by a renewed civic, cultural, and corporate partnership between Chicago Shakespeare Theater, the City of Chicago, Chicago Park District, Boeing, and production sponsor BMO Harris Bank. Since the inception of the Chicago Shakespeare in the Parks program seven years ago, more than 130,000 Chicagoans have taken advantage of free performances in their communities.
"The Chicago Shakespeare in the Parks program has become a local symbol for increased access to and participation in the arts" said John Blazey, Vice President of Boeing Global Engagement. "This unique partnership among city agencies, community-based organizations, local artists, and neighborhood residents is a powerful example of how investment in the arts helps to bring vitality to our communities by engaging families and building connections with one another."
David Casper, President and CEO, BMO Harris Bank said, "BMO Harris Bank is proud to sponsor this summer's production of A Midsummer Night's Dream, a magical story that has been delighting audiences for over four hundred years. Chicago Shakespeare Theater shares our commitment to ensuring that great theater is accessible to all, and we look forward to partnering with them in bringing this production to neighborhoods across the city."
For the first time since the establishment of the Chicago Shakespeare in the Parks tour in 2012, director Barbara Gaines is directing this 75-minute abridged production for audiences across Chicago. Gaines has always treasured the Chicago Shakespeare in the Parks tour, which carries on the tradition of free Shakespeare that she established in the early years of the Theater. Gaines brings a vision of merriment to the enchanting story of four young lovers who set out for the forest, in which an amateur theater troupe is rehearsing. When the Fairy Court discovers these mortals in their midst, mischief ensues until dawn.
The Chicago Shakespeare in the Parks A Midsummer Night's Dream cast includes Jasmine Bracey (Titania/Hippolyta), Adam Wesley Brown (Bottom), Richard Costes (Snout), Danielle Davis (Starveling), Lane Anthony Flores (Flute/Fairy), Kevin Gudahl (Oberon/Theseus), Jarrett King (Egeus/Quince), Tyrone Phillips (Demetrius), Cage Sebastian Pierre (Puck), Laura Rook (Helena), Faith Servant (Hermia), Christopher Sheard (Lysander), and Hannah Starr (Snug/Fairy). Joining Gaines on the creative team is Scenic Designer Kevin Depinet, Costume Designer Mieka van der Ploeg, Sound Designer Mikhail Fiksel, and Wig and Make-up Designer Richard Jarvie.
Partnering with the Chicago Park District, Chicago Shakespeare Theater is offering ASL-interpreted performances at six of the eighteen Chicago Shakespeare in the Parks tour stops:
Sign-interpreting the performances are Elizabeth Bartlow Breslin and Will Lee. Chicago Shakespeare in the Parks will also offer an Audio-described performance on Sunday, August 12 at 4:00pm at Frank J. Wilson Park (4630 N. Milwaukee Ave.) for audience members who are blind or have low vision, in which a describer provides a description of visual elements of the production transmitted through headphones. Assistive-listening devices are available for all performances. For more information on Chicago Shakespeare in the Parks, visit www.chicagoshakes.com/parks.
ABOUT Chicago Shakespeare Theater
A global theatrical force, Chicago Shakespeare Theater is known for vibrant productions that reflect Shakespeare's genius for storytelling, musicality of language, and empathy for the human condition. Under the leadership of Artistic Director Barbara Gaines and Executive Director Criss Henderson, Chicago Shakespeare has redefined what a great American Shakespeare theater can be, putting forward a company that delights in the unexpected and defies theatrical category. A Regional Tony Award winner, the Theater produces acclaimed plays at its home on Navy Pier, throughout Chicago's schools and neighborhoods, and on stages around the world. In 2017, the Theater unveiled a new stage, The Yard at Chicago Shakespeare. Together with the Jentes Family Courtyard Theater and the Thoma Theater Upstairs at Chicago Shakespeare, The Yard positions Chicago Shakespeare as the city's most versatile performing arts venue.