Cast and Crew Announced for PETER AND THE STARCATCHER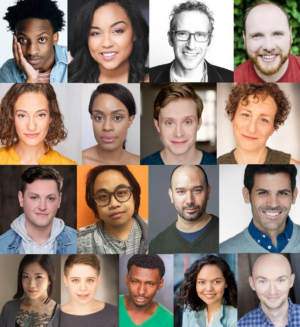 Full cast and production team were announced today for the Equity-affiliated Citadel Theatre Company's production of PETER AND THE STARCATCHER. The fantasy-comedy by Rick Elice, author of JERSEY BOYS, THE ADDAMS FAMILY and THE CHER SHOW, imagines how Peter Pan might have become lost in Neverland, PETER AND THE STARCATCHER's Broadway production was nominated for nine Tony Awards (including Best Play) and won five. It's an action-packed and humorous take on the Peter Pan characters in which 17 actors will play more than 100 roles. PETER AND THE STARCATCHER, will open to the press on September 19 and run through October 20. The Citadel production will be directed by Jeremy Aluma, founder and former Artistic Director of the internationally touring group, Four Clowns. Aluma directed the Red Theater production of THE ELABORATE ENTRANCE OF CHAD DEITY (later remounted at Theater on the Lake, Chicago), which was named one of the Top 10 Best Shows of 2017 in the CHICAGO TRIBUNE and won a Non-Equity Jeff Award for Best Fight Choreography. He also directed AN OAK TREE for Red Theater.
Aluma says, "PETER AND THE STARCATCHER is a play about finding your home. Where is home? And how do we find it? What does that quest look like? These are ever-pressing questions, especially in this country right now. This wildly entertaining adventure story is filled with song, dance, and clowning galore. I'm excited to bring the magic and awe of this world to the stage while dazzling the "kid at heart" in all of us."
The 17-member cast will be led by Jayson Lee as Peter. Lee appeared recently in First Floor Theatre's HOODED, OR BEING BLACK FOR DUMMIES, a 2019 Jeff award nominee for best play. Adrian Danzig, the founder of 500 Clown who has also performed with Chicago Shakespeare Theatre, the Goodman and California Shakespeare Festival, will play "Black Stache," the character with a similarity to Captain Hook. Mariah Copeland, seen last fall in BoHo Theatre's 110 IN THE SHADE, will play Molly. Scott Ray Merchant, co-curator and host of the clown and dance fueled variety show HINDRANCE AND HYSTERIA, who played Richard Mahew in Lifeline's production of NEVERWHERE, is the production's Smee.
Also in the cast are Laura Brennan (Mack), Bernadette Carter (Grempkin), Christian Edwin Cook (Aster), Rebecca Fletcher (Mrs. Bumbrake), Daniel Gadaj (Scott), Val Gerard Garcia (Sánchez), Jason Goff (Prentiss),
Matthew Martinez
Hannon (Ted), Dave Honigman (Alf), Wanda Jin (Teacher), Gaby Labotka (Hawking Clam), Michael Morrow (Fighting Prawn), Dekyi Rongé (Slank).
The PETER AND THE STARCATCHER production team includes Jeff award winner Eric Luchen (Scenic Designer), Andrei Borges (Lighting Designer), Madeleine Byrne (Costume Designer), Robert Hornbostel (Sound Designer), Jeff Award winner Breon Arzell (Choreography), Jon Schneidman (Musical Direction), Jaq Seifert (Fight Choreography), Julia Atkin (Assistant Director), Samantha Tink (Stage Manager), Nick Peebles (Technical Director), Lindsay Mummert (Scenic Charge Artist). Scott Phelps is Citadel's Artistic Director and co-founder.
Tickets available online at www.citadeltheatre.org or by phone at 847-735-8554, ext. 1
More Hot Stories For You