Breon Arzell to Star in The Hypocrites' DRACULA at Mercury Theater Chicago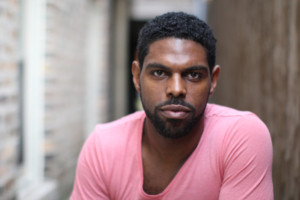 Mercury Theater Chicago, 3745 N. Southport Avenue - will present The Hypocrites' production of DRACULA, directed by award-winner Sean Graney, from October 7th through November 5th, 2017. Press opening is Thursday, October 12th at 8pm.
The script for this world-premiere production was adapted by Sean Graney from an original script by Timothy F. Griffin. Led by Jeff Award Winner Breon Arzell as Dracula, a multi-talented cast of accomplished Hypocrites company members will take audiences on a thrilling adventure of passion, yearning, cruelty and sacrifice.
Director Sean Graney promises "exciting horror, at least a gallon of stage blood every night, moments of humor and a depth of character not often explored in this fantastical story." Dracula just might stake its claim as this Halloween's most thrilling adventure.
"The characters in Dracula occupy a world on a threshold between repression and liberty," commented director Sean Graney. "Women are beginning to live autonomous lives separate from the typical yolks of oppressive tradition. The men, though they will never admit it, fear the women and want them to return to their domestic posts. Dracula, to me, asks the question, 'How do you deal with a society that claims to promote equality, yet everyday actions and attitudes prove that the gatekeepers are afraid of losing their advantage?' To me, that is the world we occupy now."
DRACULA features a strong ensemble of Hypocrites company members. Jeff Award Winning actor/director/choreographer Breon Arzell (The Wiz, Harry Ape) will be featured in this bloody mystery as Dracula. Janelle Villas (Chimerica, The King and I) will portray Lucy Seward, under the care of Rob McLean (Pirates of Penzance, Love's Labor Lost, The Shakespeare Project of Chicago) as Dr. Van Helsing. Insane asylum administrator Jack Seward will be played by John Taflan (All Our Tragic, Adding Machine). Aurora Real de Asusa (You on the Moors Now) will be in the role of coveted young school mistress Mina. Erin Barlow (All Our Tragic, Men on Boats) will portray insane asylum inmate Renfield. Maurice Demus (You on the Moors Now, Sucker Punch) will be Jonathan. The scenic design is by John Musial with costume design by Samantha Jones, lighting design by Mike Durst, sound design by Joe Griffin with Jon Beal as the violence and gore designer. The production stage manager is Richard Lundy.
Sean Graney is a Chicago-based theater artist who has concentrated on adapting and directing stories to create relevant theatrical pieces for our contemporary society for the last 20 years. He currently serves as the Artistic Director of The Hypocrites, a company he founded in 1997. In 2013, he was a Fellow at the Radcliffe Institute for Advanced Study at Harvard University where he completed writing All Our Tragic, a twelve-hour adaptation combining all thirty-two surviving Greek Tragedies. It garnered six Joseph Jefferson Awards, including Best Director and Best Adaptation. As a director, Sean has helmed over 75 productions. He was a participant in the NEA/TCG Career Development Program for Directors in 2004. He has received four other Joseph Jefferson Awards for directing and adaptation. He is also the director and co-adaptor three Gilbert & Sullivan operettas, which have been playing at many great theaters across the country.
The Hypocrites is one of Chicago's premier off-Loop theater companies specializing in mounting bold productions that challenge preconceptions and redefining the role of the audience. Under the direction of Sean Graney, the company has a reputation in Chicago for creating exciting, surprising and deeply engaging theater as it reinterprets classics and tackles ambitious new works.
The beautifully renovated Mercury Theater Chicago is an intimate jewel box of a theater in the heart of the Southport Corridor, a sophisticated neighborhood of restaurants and boutiques just steps from Wrigley Field. A delightful theater destination, Mercury Theater Chicago takes care of its guests from the moment they arrive with valet service and dining at its adjoining restaurant, Grassroots.
The performance schedule for DRACULA is Wednesdays at 8pm, Thursdays at 8pm, Fridays at 8pm, Saturdays at 3pm and 8pm and Sundays at 3pm. Individual tickets range from $30-$55, and are available online at www.MercuryTheaterChicago.com, over the phone at 773.325.1700, or in person at 3745 N. Southport Avenue, Chicago.