Interview: Why You Should Consider Viterbo University for Your College Conservatory Experience
BroadwayWorld is catching ip with Erin Jerozal, Chair and Assistant Professor for Theatre and Music Theatre at Viterbo University.
Looking for a school to further your arts education? Look no further than Viterbo University. The Conservatory for the Performing Arts at Viterbo University is home to a new generation of young artists destined for careers in theatre, music theatre, music education, vocal performance, and dance. The program's innovative spirit shines through every aspect of its cross-disciplinary programs and in its student-centered, professional faculty.
You can learn more about Viterbo University's Conservatory for the Performing Arts at: https://www.viterbo.edu/conservatory-performing-arts.
BroadwayWorld is catching ip with Erin Jerozal, Chair and Assistant Professor for Theatre and Music Theatre at Viterbo University.
---
What sets Viterbo's program apart from the rest?
There are so many wonderful training programs out there and what one student sees as a plus, another may see has a minus, so instead of defining it as what sets us apart, here's what I feel proud of when I look at our program:
Excellent facilities that allow students the opportunity to perform in venues that match what they will experience in their careers. A 1200 seat mainstage theatre that is also an active touring roadhouse; 150+ seat flexible black box allowing for more intimate productions and student produced work; 450 seat regional theatre style downtown space - along with other traditional and non-traditional performance spaces throughout the community.
A wide variety of rigorous classes, geared for student-centered learning, that are designed and evaluated with the current industry and student needs in mind, seeking to honor the continually changing landscape of the arts in a full spectrum of markets.
Compassionate training that invites students towards the vulnerability versus breaking them down to it. We aim to build sustainable and repeatable artistic skills that allow for a long-term and healthy relationship with this career and industry.
What is the audition process like? What's the best way for students to prepare for that process?
We hold auditions through the College Audition Project, Moonifieds, and Unifieds (NYC, Chicago, LA), along with hosting a number of on-campus audition dates. This year our on-campus dates are all virtual, which allows us to more easily meet students from all over the country. Depending on the major of interest, students are asked to perform one or two short cuts of a song and/or a monologue, and then we have a conversation. We ask some questions and answer questions the student may have - which is the opportunity for us all to get to know each other as people. We want students to explore their connection to us and our department's personality, as much as we are exploring theirs. The right fit is a two way street, so we make time to begin that process from the very beginning.
Will this school year be any different in the wake of the pandemic? What safety precautions are in place to keep students safe?
We were thankfully able to be in-person all last academic year and have continued that this year as well. We have a mask mandate on campus, have high vaccination rates amongst students, faculty, and staff, and continued safety measures with distancing and UV cleaning in class and rehearsal spaces. We're excited to return to having audiences at our shows this year. Fingers crossed!
Have a lot of alumni gone on to have success on stage and elsewhere?
We are very proud of our alumni, who continue to impress us with their careers and creative pursuits after graduation. Samantha Pauly, Arbender Robinson, and Jhardon Milton are some of are alums who are part of the long-awaited Broadway re-openings. Barry Lee Moe is a multi-Creative Arts Emmy winning designer working in Los Angeles. We also have a strong network of alumni consistently working in Chicago, the Twin Cities, and other regional markets. Our recent grads have been doing especially well, even during COVID, with tours and summer stock seasons. We can't wait to see what everyone jumps into as more and more opportunities return.
You can find out more at: https://www.viterbo.edu/theatre-and-music-theatre-department/alumni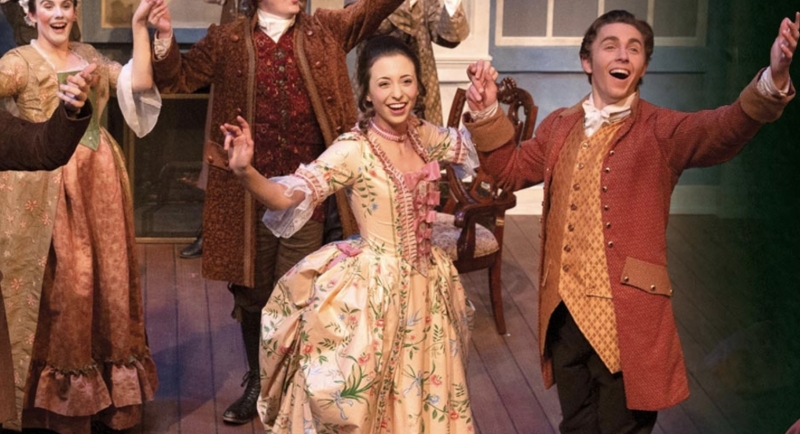 What would you say to a prospective student who is nervous about committing to the rigors of a conservatory program?
I would say that nerves mean you've actually done your research and know what you may be committing to! Conservatory training is not for everyone, and it doesn't need to be, so feeling nervous and deciding you want to do it anyway is the first step in building the resiliency and spirit for a life in the arts. As long as there is also excitement mixed in with the nerves, it's natural to have anxieties and fears about the unknown. Being willing to step in the ring and start the experiment one step at a time is all we can do, no matter what we decide to pursue in life. And also know that there is a network of support surrounding you from the moment you send in your audition materials. That's what we're here for - to walk the path with you for a little while as you build your skills, make mistakes, confront the fears, and develop the knowledge for whatever happens after graduation.
Why do you think that students should consider Viterbo University to continue their performing arts training?
Beyond our wonderful facilities and faculty, I think Viterbo offers the opportunity to train with rigorous joy. There is a culture of "yes" and we encourage students to explore and pursue curiosities beyond the curriculum. We laugh together in our building every day, sometimes through tears, but laughing nonetheless. We hold each other accountable to being the best versions of ourselves and ask deep questions of one another. We also hold space for each other on the days that ask for gentleness, forgiveness, and grace. We are always learning - as faculty, staff, and students. And we embrace the ridiculous. But most of all, we are people first. We may have our job titles, but when we gather, it is people talking to people. I love that we can say the name of the person that a student should go talk to on campus if they have questions or need support. It's not, "go talk to advising", instead we can say "talk with Kristen" or "check in with Tina" - it makes a world of difference in how welcoming and community-centered our campus can be.
You can learn more about Viterbo University's Conservatory for the Performing Arts at: https://www.viterbo.edu/conservatory-performing-arts.