BWW Interview: Actor Max Greger Talks THE GRAPES OF WRATH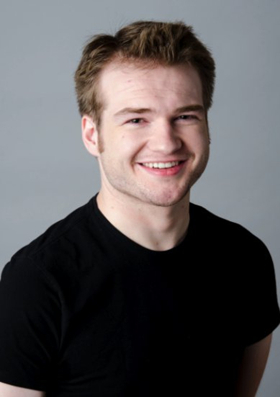 Theatre Charlotte presents THE GRAPES OF WRATH. Novel by John Steinbeck with adaptation by Frank Galati. A powerful and deeply affecting stage version of one of the masterpieces of American literature, THE GRAPES OF WRATH won a Tony Award and an Outer Critics Circle Award for Best Play.
THE GRAPES OF WRATH runs October 27 - November 12, 2017. Tickets on sale at CarolinaTix or call 704 372-1000.
I took a moment to talk with Max Greger after class for this interview. He has been my acting student in Workshop Advanced at Spirit Square, since 2013. He was casual, wearing a green bomber jacket with jeans and confidently happy talking about THE GRAPES OF WRATH.
LAW: When did you start acting?
MG: I started performing when I was six-years-old. I went to University Park Elementary School for the Arts from 2nd grade to 5th grade. I performed in a lot of plays and musicals.
LAW: What drew you to the craft of acting?
MG: Well, I mean, when I was a kid, I'd watch movies and my mom would take me to musicals. I fell in love with all of it. I loved Elvis Presley and I would perform impersonations of Elvis for my family.
LAW: What made you audition for THE GRAPES OF WRATH?
MG: A classmate, Yesseña told me that Theatre Charlotte holds auditions. When I saw THE GRAPES OF WRATH was auditioning, I knew I had to audition. I did,... and a few days later I got the call that I had the part.
LAW: What will audiences see in this show?
MG: This play is about a family striving to stay together and trying to survive.
LAW: Tell me about your character.
MG: He's the protagonist, Tom Joad Jr. is the middle son of Tom Joad. He's a quiet guy. He comes up fighting. He doesn't like bullies..... yea.
LAW: How do you emotionally connect to the emotional life of this character?
MG: I use sense memory and what "if."
LAW: Tell about a typical day, how do you prepare emotionally and physically to perform?
MG: Rehearsals have been going really well. We run through the first act and add a couple of things and then go through the second act. Rehearsals are in the evenings.
LAW: What has been your best experience in rehearsal?
MG: The people.... Meeting new people. Getting feedback, pointers and advice on portraying my character. Working with the director, Ron Law. The whole experience has been great.
LAW: Where is home?
MG: Originally Chicago, I lived in Carol Stream.
LAW: What is your favorite restaurant?
MG: [Pause thinking] Brixx [Wood Fired] Pizza. I love the Bronx Bomber, it has a lot on it.
LAW: What has been your worst experience as an actor?
MG: I haven't had one yet.
LAW: What will audiences take away from seeing the show and your performance?
MG: The message is family.... Sticking together through the good times and bad times. Family members die, people leave in the hard times, but it's family that keeps you going.
LAW: What's your greatest joy?
MG: [Laughs] Seeing a new movie. And singing by myself. And my family.
Linda Ann Watt is a member of SAG, AFTRA and AEA and owns Corlin Productions, a union franchised production house. Through Corlin Productions, Watt has (read more...)