Salem's Gardenworks Farm Will Host Open Air Fort Salem Theater Fundraiser Concert
The event will include the LaMothe-Gee family, Broadway touring talent Dennis J. Clark, and more.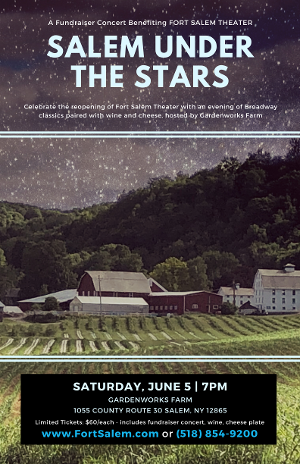 This summer, Gardenworks Farm has announced a summer kickoff concert, benefiting the grand reopening of Fort Salem Theater under new ownership. Guests will be invited for an evening of Salem Under the Stars, an open-air fundraiser concert on Saturday, June 5th, featuring voices of the theater's past and present. Seated at tables of four, six, or eight, and scattered throughout the farm's iconic raspberry fields, guests will enjoy wine, cheese plates, and live entertainment for $60 per ticket, covering the cost of the refreshments plus a donation to the historic theater. Limited seating is now on sale at www.fortsalem.com or by calling (518) 854-9200.
"With a community so rich in arts and agriculture, we're very excited to celebrate the grand reopening of the Fort Salem Theater," said Meg Southerland of Gardenworks Farm. "What a great way to introduce the community to the new owners of this beloved theater and to come together again after a challenging year for some socially distanced fun with show tunes and local treats!"
Salem Under the Stars will feature a series of singers and cabaret acts, including Salem's own LaMothe-Gee family, Broadway touring talent Dennis J. Clark, sneak-peak performances from the theater's upcoming musicals, and additional guest artists to be announced soon. In the event of rain, the concert will be moved inside the Gardenworks barn, where social distancing will still be accommodated.
Tickets are $60 and include live performance, wine and appetizer cheese plate.
For tickets and more information, visit www.FortSalem.com.
---
About the artists:
The LaMothe-Gee family are well known as the family that "farms and sings and dances and plays" together - and that's putting it mildly. The multi-talented group of performers are celebrated cabaret singers and dancers who have sold out concerts, produced albums, performed an original musical off-Broadway, and still made it home by dusk to tend to the farm. In addition to local performances at Fort Salem Theater, their works have been seen at the Tenth Annual Planet Connections Theatre Festivity, the New York New Works Theatre Festival, the Gene Frankel Theatre in New York City, and so much more.
Dennis J. Clark is a New York native, born and raised in the center of the state in New Hartford, NY. He received a BA from the State University of New York at Geneseo in Music - Vocal Performance, Musical Theatre and Communications. He has performed, directed and choreographed all over the United States for regional theaters, touring productions, outdoor amphitheaters and various other venues. As a performer, Dennis has toured the country and performed regionally in lead roles in Singin' in the Rain, A Chorus Line, White Christmas, Crazy for You, Blood Brothers, and John and Jen to name a few. Dennis is also an accomplished teacher having taught and directed for Walnut Hill School for the Arts in Natick, MA and Stagedoor Manor in the Catskills. Dennis is a proud member of Actors Equity, and the Society of Stage Directors and Choreographers. Most recently he finished his term as Artistic Director of the Ritz Theatre in Sheffield, AL and currently serves as the Vice President for the Fort Salem Theater Board of Directors.