Retro Fun! Old-Time Radio Drama To Be Performed Live At Landmark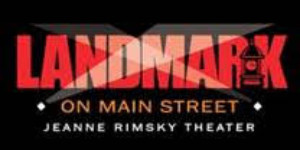 Landmark Radio Theater will present Stage Door, an adaptation of the classic 1937 film, on Sunday, Sept. 30, at 6 p.m. at the Landmark on Main Street in Port Washington, N.Y. The show will be presented as a radio play with music and sound effects, performed before a live audience.
Building on the success of last year's inaugural performance, Landmark Radio Theater's cast of talented community and professional performers will bring the comedy-drama, Stage Door, to life on the Jeanne Rimsky Theater stage, re-enacting a coast-to-coast radio broadcast from 1939, complete with period commercials and songs. The show will also be recorded for later broadcast.
"Stage Door was a natural choice this year," said Pat Lyons, the show's director. "The characters face challenges that will resonate strongly with our audience, and the script is chock-full of engaging characters and all the wit, wisecracks and snappy dialogue that Hollywood used to do so well."
Though Stage Door is set in a bygone era, its themes are as current as today's headlines. It tells the story of a group of young women striving to make it in show business, an industry in the grip of powerful men. With dreams of stardom, each hopeful actress travels down a different road in search of success.

Come and join the retro fun! Tickets are $10, on sale now at the Landmark Box Office, 516-767-6444, or online at landmarkonmainstreet.org. Stage Door is a production of the Landmark on Main Street and Expressive Elocution.
Landmark Radio Theater is sponsored by Joe & Maureen Wekselblatt with support from Wild Honey Restaurant.
Our 2018-19 Season is made possible thanks to our Partners in Performing Arts: Harding Real Estate, Peter & Jeri Dejana Family Foundation, Peter & Dorette Forman Foundation, Ruskin Moscou Faltischek Partners, Town of North Hempstead, the Unitarian Universalist Congregation at Shelter Rock and Winthrop University Hospital. Landmark on Main Street also receives support from the New York State Council on the Arts.
*All ticket prices include a $2 facilities fee for capital improvements. Photo attached