Lanford Wilson Weaves a Contemporary Fairy Tale in Bridge Street's REDWOOD CURTAIN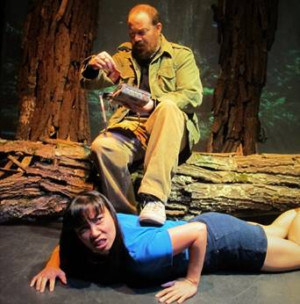 America has always been haunted by the legacy of its involvement in Vietnam. Returning to the States, veterans often found themselves facing a populace either actively hostile or somehow ashamed, eager to erase the memory of a war that the U.S. had not 'won'. Feeling misunderstood, unappreciated, and unable to re-assimilate into 'normal' society, an untold number escaped into a ghostly, feral existence in the Redwood Forests of Northern California, an area that reminded them of the jungles they'd left.
Playwright Lanford Wilson was also haunted by a war whose after-effects he'd dealt with so brilliantly in his 1978 play "5th of July". At the dawn of the 1990s, while teaching a five-week workshop at Humboldt State University in Arcata, California, he encountered these homeless vets almost daily when they'd emerge from the woods to panhandle, scrounge through dumpsters for food, and perform odd jobs. From this seed, Wilson conceived a play called "Redwood Curtain" about a 17-year-old Vietnamese-American piano prodigy, adopted in infancy by a wealthy California family, but obsessed with discovering the identity of her biological father, an American GI who abandoned her and her birth mother in Saigon. She tracks one of the homeless vets into to the forest where he has retreated, convinced that he can provide a crucial link to her past. And in true fairy-tale tradition, the woods in Wilson's "Redwood Curtain" turn out to be full of magic and, ultimately, healing.
"America's long Vietnam Era hangover is just one of the themes Wilson deals with in this powerful and touching piece," says John Sowle, director of the upcoming production of 'Redwood Curtain' at Catskill's Bridge Street Theatre. "All the characters in the play feel lost and helpless in some way. Lyman Fellers just wants to be left alone, to forget the war and everything else but his own immediate needs. Geri, the adoptee, feels a desperate need to know for certain where, and who, she comes from. And Geri's Aunt Geneva, a timber heiress whose family has responsibly and sustainably logged the trees in the forest for generations, is suddenly faced with losing them in a hostile takeover by corporate interests. Surrounded by these massive, ancient redwoods, deeply and immovably rooted in the earth for centuries and now threatened themselves, all three of these characters feel rootless and adrift. And none of them will be able to find their way 'out of the woods' until they can come to grips with, and face, the legacy of the past. This is a deeply warm and human play and we're particularly honored to be presenting it in the two weeks surrounding Veteran's Day."
Appearing in the Bridge Street Theatre production are NYC actors Julie Pham as Geri and Joseph Tisa as Lyman, with local favorite Molly Parker Myers as Geneva. The production is directed by John Sowle and designed by Sowle in collaboration with Catskill artist Harry Matthews. Costumes are by Michelle Rogers and sound is by Carmen Borgia. The Production Stage Manager is Caedmon Holland.
Easily one of Lanford Wilson's most touching and intimate works, "Redwood Curtain" will be presented Thursdays-Saturdays at 7:30pm and Sundays at 2:00pm, from November 2-12 on the Bridge Street Theatre Mainstage, located at 44 West Bridge Street in the Village of Catskill, NY. The Thursday November 2 preview and the Sunday November 5 matinee are both "Pay-What-You-Will" performances. Advance tickets are available for $22 at BrownPaperTickets.com or by calling 800-838-3006. Tickets can also be purchased at the door prior to each performance (on a space available basis) for $25. Students age 21 and under are always $10.
Events at Bridge Street Theatre are supported in part by the New York State Council on the Arts with the support of Governor Andrew M. Cuomo and the New York State Legislature and by Public Funds from the Greene County Legislature through the Cultural Fund administered in Greene County by the Greene County Council on the Arts.
For more information, visit the theatre online at BridgeSt.org.
Photo credit: John Sowle