Eddie Money Musical Starring Money Himself Premieres in Rochester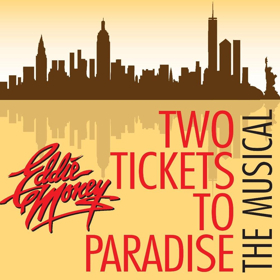 The world premiere of a new musical created by and starring legendary rocker Eddie Money is set to debut mid-February in Rochester.
Two Tickets to Paradise: The Musical, a stage version of rock star Eddie Money's life story, features Niagara University alumni Heather Casseri, Matthew Dell'Olio, Matthew Divita, Shelby Ehrenreich and Peter Raimondo, and associate professor Terri Filips Vaughan.
Two Tickets to Paradise: The Musical is an autobiographical production that includes Money classics like "Two Tickets to Paradise," "Baby Hold On," "I Wanna Go Back" and "Take Me Home Tonight," plus new songs that were written by Money, 68, specifically for the musical.
Featuring a full orchestra and the Eddie Money Band, Two Tickets to Paradise: The Musical follows Money's career from the late 1960s through the 1980s - an emotional and comical journey from his days training to be a New York City police officer, to reaching legendary global stardom as a singer, songwriter and multi-instrumentalist. Money's blue-collar brand of feel-good rock 'n' roll transcends generations, selling more than 28 million records and landing 23 hits in the Top 100.
"For me, the musical captures that most important time when you're starting out before you get jaded," Money said. He assures Two Tickets to Paradise is not a "jukebox musical," but more akin to the classic Broadway shows he and his sisters used to act out as kids. "It's not just a Rock of Ages and it's not just a rock 'n' roll musical," Money said. "It's a Broadway musical with Broadway-style songs."
Since September, Niagara University associate professor and choreographer Terri Filips Vaughan has been working with the Grammy-nominated musician on Two Tickets to Paradise, which also features a cast that includes several Niagara University alumni. Vaughan's involvement was rather serendipitous. The wheels were set in motion when Money tabbed one of his good friends, Rochester native John Campbell, to be the show's executive producer. Campbell then reached out to Jim Vollertsen, CEO and board president of the Rochester Association of Performing Arts (RAPA), to begin assembling a production team. Since Vaughan had choreographed four previous productions for RAPA, she was Vollertsen's first choice . It just so happened that Vaughan was on sabbatical this semester from her position as an associate professor of dance at Niagara University.
"It really timed out perfectly, like it was meant to be," Vaughan said. Tickets are now available for Two Tickets to Paradise: The Musical, which takes the stage at the Kodak Center in Rochester Feb. 14-18. The show will then be considered for a national tour and the current cast is likely to receive the first offer to participate, according to Vaughan, who has taught at NU since 2000.
Tickets and additional information on Two Tickets to Paradise: The Musical can be found at www.rapatheatre.org.
Niagara University Founded by the Vincentian community in 1856, Niagara University is a comprehensive institution, blending the best of a liberal arts and professional education, grounded in our values-based Catholic tradition. Its colleges of Arts and Sciences, Business Administration, Education, and Hospitality and Tourism Management offer programs at the baccalaureate, master's and doctoral level. As the first Vincentian university established in the United States, Niagara prepares students for personal and professional success while emphasizing service to the community in honor of St. Vincent De Paul. Niagara's institutional commitment to service learning has led to its inclusion on the President's Honor Roll for Community Service every year since its inception in 2006, and its recognition with the Carnegie Foundation's Classification for Community Engagement.