2020 ROCKIN' AT THE REDHOUSE Announced At Landmark Theatre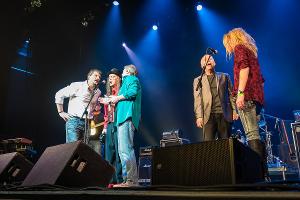 Redhouse Arts Center is excited to announce the 8th Annual "Rockin' the Redhouse" event which will take place on Friday, February 28, 2020 at the Landmark Theatre with doors opening at 5:30pm, welcome and opening band at 6:45pm with bands starting at 7pm.
The evening is sponsored by Sterling Casualty Company, LLC with additional support from Anheuser-Busch, Beat Street Music, Subcat Studios, TK-99, and Leihs and Steigerwald. The event will be emceed by TK99's Lisa Chelenza and Gomez Adams, and feature eight corporate bands competing live on stage for a chance to win a choice of a performance at the Redhouse or a 6 hour recording package at SubCat Studios. Doors at the Landmark will open at 5:30 pm for food and drinks, and the competition will take place from 7:00 pm-10:00 pm. The event is open to the general public and all proceeds benefit the Redhouse Arts Center.
This year's event features eight corporate bands last year's winner Defense Mechanism (Lockheed Martin) along with Six Pack (Anheuser-Busch), The Verdict (Bousquet Holstein Law Firm), JAM Wirless (JMA Wireless),Tyler (Advance Automation Corp), The Actuators (Young and Franklin Tactiar) along with two new bands The Vagabonds (Bond, Schoeneck and King) and Bronze Puppies (Upstate Medical University. Three prestigious judges will score bands on the chance to win titles such as Best Look, Best Vocalist, Best Instrumentalist, and Best Showmanship, Best Audience Participation, Runner- Up and The Most Rockin' Band! This year's judges are Maria DeSantis, singer and driving force of the renown DeSantis Orchestra, Letizia of Letizia and the Z Band, and Larry Luttinger, CNYJazz. Along with performances and prizes for winning bands and band members, there will be a raffling off of a donated American-made Fender Telecaster Electric Guitar donated in part by Beat Street Music. Proceeds from the raffle will benefit Redhouse also.
The Rockin' the Redhouse committee is made up of Co Chairs Bill Hider and Michael Featherstone, Jack O'Bocchino, Kevin Kiniry and Adon Allen (Anheuser-Busch), Dan Morison and Bob Volk (Lockheed Martin), Dan Wing (JMA Wireless), Phil Bousquet and Mike Tyszko (Bousquet Holstein), David Tyler (Advanced Automation Corp), Steve Ciricillo (Young and Franklin Tactair), along with Sue McKenna and Stephanie Consroe (Redhouse).
Event tickets are $10 in advance & $15 at the door and is open to the general public. Tickets can be purchased online at www.theredhouse.org, at the Redhouse Box Office 315-362-2785 or at the door.
Raffle tickets are $5 for one, $20 for five, and are available at the event, or through a participating band member.
The Landmark Theatre When: Friday, February 28, 2020 Doors open at 5:30pm Concert: 7:00pm-10:00pm (Opening band 6:45pm) Tickets: $10 in advance, $15 at the door For more information, call the Redhouse Box Office at 315-362-2785
Related Articles View More Central New York

Stories

Shows
More Hot Stories For You