Marilyn Maye, Broadway Big Band, and More at 54 Below Next Week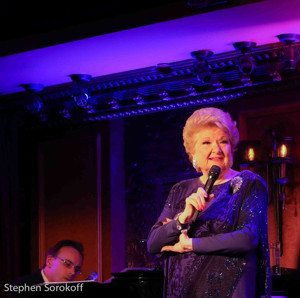 Next Week, FEINSTEIN'S/54 BELOW, Broadway's Supper Club & Private Event Destination, presents some of the brightest stars from Broadway, cabaret, jazz, and beyond. To purchase tickets or for more information, visit www.54Below.com/Feinsteins or call (646) 476-3551.
Charlie Rosen'S BROADWAY BIG BAND, APRIL 9 AT 7:00 & 9:30PM:
BACK BY POPULAR DEMAND! A full-sized jazz orchestra composed of seventeen musicians all play bandleader Charlie Rosen's re-imagined arrangements of an eclectic mix of tunes from Broadway's past, present, and beyond! Both modern and classic showtunes are on display in this hugely unique and winning evening, sung by the best and brightest of Broadway's young generation of leading performers in the timeless tradition of a big band.
Featuring: Hannah Elless (Bright Star), Ben Fankhauser (Newsies), John-Michael Lyles (Sweeney Todd), Julia Mattison (Godspell), Christiani Pitts (A Bronx Tale), Ciara Renée (Pippin), Will Roland (Dear Evan Hansen) Keith White (A Bronx Tale, 7:00 Only) and Bobby Conte Thornton (A Bronx Tale, 9:30 Only).
Directed by Max Friedman.
$25-$45 cover charge. $75 premium seating. $25 food & beverage minimum.
Marilyn Maye: 90 AT LAST, APRIL 10, 12, 13, 14, 20 & 21 AT 7:00PM:
Back by popular demand! In 90 At Last! marvelous Marilyn Maye returns to her home away from home to celebrate her (latest) milestone birthday with her favorite audiences. Every performance will feature a special 90th birthday celebration for this very beloved lady of cabaret. As always, Marilyn carries the torch from her peers who originated tunes of the Great American Songbook to the singers who perform these songs today and will carry them on to future generations.
Ms. Maye is an artist for connoisseurs and her powerhouse delivery and chatty rapport with the audience is what holds the evening together and electrifies the proceedings. This will be a night you do not want to miss!
$85-$95 cover charge. $115 VIP seating. $145-$150 premium seating. $25 food & beverage minimum.
Daryl Glenn AND Nellie McKay SING Robert Altman'S POPEYE, APRIL 11 AT 7:00PM:
Together at last, Daryl (Daryl Glenn & Jo Lynn Burks Sing Robert Altman's Nashville, Daryl Sings Steve: Songs by Sondheim) and Nellie (The Threepenny Opera on Broadway, A Girl Named Bill: The Life and Times of Billy Tipton) perform the songs from Robert Altman's notorious 1980 movie musical Popeye. The quirky yet glorious score is by legendary singer/songwriter Harry Nilsson
("Everybody's Talkin'"), and features the beloved tune, "He Needs Me." With musical directors Karen Dryer, Ben McNaboe and very special guest stars Jay Rogers and Lennie Watts it's a fun-filled, joyous evening not to be missed.
$25-$35 cover charge. $50 VIP seating. $60 premium seating. $25 food & beverage minimum.
Ally Bonino & THE NIKITA MOROZOV QUARTET, APRIL 11 AT 9:30PM:
Ally Bonino (Dogfight, Merrily We Roll Along, Myths & Hymns, The Joe Iconis Christmas Extravaganza) returns to Feinstein's/54 Below with the The Nikita Morozov Quartet in Showers/Flowers, a celebration of the transition from winter to spring. Featuring songs by Shirley Manson, Jolie Holland, Carole King, Deerhoof, Simon & Garfunkel, and more, reimagined for string quartet with orchestrations by Jeremy Yaddaw. Leave your hat and coat at home and join us as Ally takes an emotional journey into this most vibrant time of year.
$25-$35 cover charge. $60 premium seating. $25 food & beverage minimum.
REGRETTING ALMOST EVERYTHING: STARRING Anne L. Nathan & Jeff Blumenkrantz, APRIL 12 AT 9:30PM:
Anne L. Nathan (Ragtime, It Shoulda Been You, Once) and Jeff Blumenkrantz (Bright Star, Into the Woods, How to Succeed In Business Without Really Trying) return to Feinstein's/54 Below for the New York premiere of Regretting Almost Everything-or, as Jeff and Anne like to call it, The Last 25 Years. Regretting Almost Everything combines humor, honesty, and compassion to deliver a seldom-seen look at life from the perspective of middle age. Featuring the sensational songs of (middle-aged) Lauren Taslitz (lyrics) and (young-enough- to-be- her-child) Danny Ursetti (music). You'll be touched and appalled by songs like "I Want to Have an Affair," "The Very Short Jew in the Long Fur Coat," "Main Line Philly Sex," and "The Baby Likes Me Best." Lauren, who left her husband, dogs, friends, and family in Chicago to attend the Graduate Program in Musical Theatre Writing at NYU while in her 50's, narrates the evening, and will also share some of her most entertaining stories about what it was like to spend two years drowning in classmates who were the same age as her children. If you've had a long relationship, have children or grandchildren, or are somebody's child, this is the show you've been waiting to see!
Featuring: Lauren Taslitz (Lyrics), Danny Ursetti (Music), Benji Goldsmith (Musical Director), Emily Chiu (Violin, bells, uke, etc.), Amy Weintraub (Vocals), Kennedy Kanagawa (Vocals), Christian Probst (Vocals), Destinee Rea (Vocals), Cori Jaskier (Vocals), Shannon Tyo (Vocals), Jacob Fjeldheim (cello, keys, melodica), and Ronald Alexander Peet (Chorus).
$35-$45 cover charge. $70 premium seating. $25 food & beverage minimum.
FAMOUS IN NEW YORK, NEW RECRUITS, APRIL 12 AT 11:30PM:
You've seen hundreds (if not thousands) of FAMOUS IN NY's videos on YouTube over the past 9 years, watching some of Broadway's best perform. Now, come be introduced to a New Group of talent being welcomed into the FAMOUS IN NY family. You may not know their names yet... but you will.
Featuring: Jesse Michael Allison, Connor Ausman, Andrew Martinelli, and Jessica McCuish.
Music directed by Ben Moss (Assistant Music Director of Amélie; Associate Music Director of Brooklynite; Music Director of Arlington). Produced by Shoshana Feinstein (Founder of Famous in NY, Original Programming Producer at Feinstein's/54 Below).
$15 cover charge. $35 premium seating. 2 drink or $20 food & beverage minimum.
George Salazar & Joe Iconis: TWO-PLAYER GAME, APRIL 13 & 15 AT 9:30PM:
George Salazar, the Drama Desk-nominated actor known for Be More Chill, Lightning Thief, Godspell, and tick tick BOOM, joins with Joe Iconis, the Larson Award-winning musical theatre writer known for Be More Chill, Broadway Bounty Hunter, The Black Suits, and his songs for Smash...for an intimate yet mind-melding concert you'll never forget!
Join us at Feinstein's/54 Below for an evening featuring the songs of Joe Iconis, as performed by George Salazar. The two have collaborated on several musicals in the past, and here you'll get a chance to see George share showstoppers he has originated on stage, songs he'd never get to sing, brand new material from upcoming musicals, and more. Expect a rock-and-roll evening of hilarious characters, soaring vocals, and the unstoppable energy of two artists on the rise on stage all by themselves...
$35-$55 cover charge. $75-$90 premium seating. $25 food & beverage minimum.
PRONOUN SHOWDOWN WITH Krystina Alabado, Adam Kaplan, AND MORE, APRIL 13 AT 11:30PM:
"And I Am Telling You, And You Are Telling Me:" A Pronoun Showdown
What happens when you reverse all of the pronouns in some of Broadway's most famous songs?
Come find out as an amazing group of performers takes us through classics such as "Hopelessly Devoted to Me," "On Your Own," "Happy to Keep My Dinner Warm," and many more! We've even included some of our favorite pop songs including "What Makes Me Beautiful." It's a small switch with a huge (and often hilarious) payoff!
This concert comes from the brains of Abby DePhillips and Kimberly Jenna Simon (The Science of Musical Comedy). Featuring a cast of some of Broadway's biggest stars, this promises to be a concert like you've never seen before!
Starring: Zach Adkins (Anastasia, Kinky Boots), Krystina Alabado (The Mad Ones, American Psycho, Spring Awakening), Kathryn Allison (Aladdin), Joshua Burrage (Newsies, Cats), John Battagliese (BAZ), Lauren Chapman (Frozen, Kinky Boots), Ali Ewoldt (The Phantom of the Opera, The King and I), Rodney Ingram (The Phantom of the Opera, Aladdin), Adam Kaplan (Newsies, Kinky Boots, A Bronx Tale), Derek Klena (Anastasia, Wicked), Joe Kinosian (Murder for Two), Nathan Lucrezio (Aladdin), Danny Quadrino (Newsies, Wicked), and Michael Ryan (Newsies).
Musical direction by Benjamin Rauhala.
$20 cover charge. $45 premium seating. 2 drink or $20 food & beverage minimum.
Nicky Ciampoli AS Carol Channing, APRIL 14 AT 9:30PM:
Nicky Ciampoli makes his Feinstein's/54 Below debut in Nicky as Carol Channing. Vaudeville is back with Nicky recreating moments from Carol Channing's career from Broadway to Nashville to Television and Movies.
Featuring music from Gentlemen Prefer Blondes, Show Girl, Hello, Dolly!, Thoroughly Modern Millie, and other familiar hits. Nicky creates a nostalgic evening through the performances and personal quirks of one of Broadway's brightest lights. Expect an evening of pure enjoyment for all ages. And everything is performed live - no lip-synching here! Because of that, each show is unique and spontaneous, based on audience reaction. The Broadway legend is back where "SHE" belongs - you don't want to miss hearing the stories and songs that musical comedies were built on!
$25-$35 cover charge. $65 premium seating. $25 food & beverage minimum.
BALDWIN WALLACE UNIVERSITY CLASS OF 2018 AND ALUMNI, APRIL 14 AT 11:30PM:
From the acclaimed Music Theatre program at Baldwin Wallace University (BWMT), Feinstein's/54 Below presents the BWMT'18 seniors in their New York debut! These seniors are preparing to present their showcase to the city's top agents and casting directors, and they are kicking off their showcase week with a performance of some of their favorite music theatre material.
The evening will feature the current seniors alongside notable alumni Caitlin Houlahan (Waitress, NBC's Peter Pan LIVE), Keri René Fuller, and Corey Mach (Kinky Boots, Godspell).
Students of the BWMT program have spent their university careers performing in cutting-edge musicals and participating in master classes with top industry professionals. Graduates of the program have worked in theatres across the globe. Don't miss your chance to catch a rising star at this exclusive event!
$20 cover charge. $45 premium seating. 2 drink or $20 food & beverage minimum.
I WILL ALWAYS LOVE YOU: BROADWAY FIGHTS OVARIAN CANCER, APRIL 15 AT 6:30PM:
Last year's one-night-only benefit raised over $14,000 to benefit Discovery To Cure, so we're doing it again!
On Sunday, April 15, more of Broadway's best are coming together for I Will Always Love You: Broadway Fights Ovarian Cancer, an unforgettable night of music written and composed by women from Broadway and beyond! Inspired by Nick Cartell's (Jean Valjean in the current National Tour of Les Misérables) mother's battle with this awful disease, this event will raise money to find a cure for and celebrate those fighting Ovarian Cancer. All proceeds from this event will again be going directly to Discovery to Cure, part of the Yale School of Medicine dedicated to advancing the prevention, early detection, and treatment of women's reproductive cancers.
Hosted By: Ben Rappaport (ABC's For The People, Fiddler On The Roof, The Good Wife) and
Christine Cartell (The Blacklist, Person Of Interest).
Performers Scheduled to Appear: Ali Ewoldt (The Phantom of the Opera, The King and I, Les Misérables), Nick Cartell (Les Misérables, Paramour, The Phantom of the Opera), Alison Luff (Escape to Margaritaville, Wicked, Matilda), Matt Magnusson (Breaking Through, Home Street Home, Grease; Toronto), Nic Rouleau (The Book of Mormon, Unbreakable Kimmy Schmidt), Phoenix Best (Dear Evan Hansen, Les Misérables, The Color Purple), Natalie Charlé Ellis (School of Rock, Les Misérables, Forbidden Broadway: Alive & Kicking), Krystina Alabado (American Psycho, Evita), Derrick Davis (The Phantom of the Opera, The Lion King, Dreamgirls), Katie Travis (The Phantom of the Opera), Megan Kane (For The People, Play Like a Winner), Tessa Faye (Good News, Elf, The Electric Company), Jenna O'Gara (Lead Vocalist of 80's Band Jessie's Girl), Jacey Powers (Falling, The Shanghai Gesture, Our Town), and The Broadway Boys.
Your ticket to this event includes an exclusive, expressly created 2-course meal with standard open bar and the evening's entertainment! A portion of your ticket may be tax deductible, please consult your tax professional.
THIS IS A SPECIAL EVENT
Patrons purchasing tickets for this Special Event agree to share their contact information with the hosts of this event.
$155-$185 cover charge. $225 VIP seating. $295 premium seating.
MORE ABOUT FEINSTEIN'S/54 BELOW
Feinstein's/54 Below, Broadway's Supper Club & Private Event Destination, is a performance venue in the grand tradition of New York City nightlife. A few blocks from the heart of Times Square and just below the legendary Studio 54, Feinstein's/54 Below is a classically designed state-of-the art nightclub in the theatre district that hosts audiences with warmth and style. Feinstein's/54 Below presents iconic and rising stars from the worlds of Broadway and popular music and has set a new standard for culinary excellence worthy of the world-class entertainment on the stage.
In their description of the venue, The New York Times writes, "Feinstein's/54 Below has the intimacy of a large living room with unimpeded views and impeccable sound; there is not a bad seat in the house. Its sultry after-hours ambience is enhanced by brocade-patterned wall panels planted with orange-shaded lanterns. And the atmosphere is warmer and sexier than in Manhattan's other major supper clubs."
Located at 254 West 54th Street, Feinstein's/54 Below features up to three shows nightly with cover charges ranging from $5-$105. 54Below.com/Feinsteins
Photo Credit: Stephen Sorokoff
More Hot Stories For You