Click Here for More Articles on NEW YORK CITY
Kenyon Phillips to Star in NIGHT OF A THOUSAND ACID QUEENS at Joe's Pub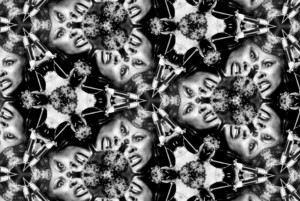 Kenyon Phillips, known for his inventive blend of orchestral rock, surrealist theater and interactive cabaret, will produce and star in a different kind of rock opera on Monday, September 11, 2017.
Conceived by New York journalist and man about town Michael Musto and produced by Kenyon Phillips with musical direction by Eric Miranda, Night of a Thousand Acid Queens: A Queer Concert Version of The Who's Tommy will make its premiere at Joe's Pub, the musical outpost of The Public Theater.
In this radical reimagining of the 1975 British film by Ken Russell, rocker Kenyon Phillips will portray Tommy, a psychosomatically deaf, dumb and blind teenager who transforms into a megalomaniacal cult leader. He will be joined by an eclectic, gender-bending cast that includes Cheryl Freeman (who originated the role of the Acid Queen in the Broadway production of THE WHO'S TOMMY), Tony Award winner Cady Huffman (THE PRODUCERS), Erik Liberman (WAR PAINT), Michael Musto, and Justin Sams (ABC's WHEN WE RISE) , who will reprise roles made famous by Tina Turner, Ann-Margret, Elton John, Keith Moon, and Eric Clapton, respectively.
In addition to musical director and multi-instrumentalist Eric Miranda on drums, guitars and vocals, the band will feature singer-songwriter Mackenzie Shivers on piano, keyboards and vocals, Yuka Tadano on bass, and Scott Meola on guitars. Additional performers include Autumn Ready Potter, Chris Comfort and several surprise guests. The evening is made possible by Lisi Tribble, widow of Ken Russell and a close personal friend of Michael Musto's.
"Ever since I was a young boy, I've played THE WHO'S TOMMY on repeat," enthuses Phillips. "When Michael Musto came to me with the idea of doing a queer concert version, I knew we had to do it at Joe's Pub. Fortunately, Joe's Pub felt the same way!"
Last seen at Joe's Pub in July, Phillips will continue his musical variety show series Unisex Salon with Kenyon Phillips at Joe's Pub on October 29, 2017 with guests including Oscar-nominee Mare Winningham and RENT's Daphne Rubin-Vega.
Night of a Thousand Acid Queens: A Queer Concert Version of The Who's Tommy will be performed for one night only, Monday, September 11, 2017 at 9:30 pm. Doors open at 9:00 pm. Tickets are $20 and are available online at bit.ly/2xsJsWo. There is a $12 food minimum or two-drink minimum. The Public Theater is located at 425 Lafayette Street, and is accessible by the R, N and 6 trains.
Crowned "the new King of New York" by The Huffington Post, wildly theatrical singer, songwriter, emcee, actor, model, and DJ Kenyon Phillips knows how to put on a show. In addition to founding and fronting the bands Roma! and Unisex Salon, Phillips has shared the stage, screen and studio with such luminaries as comedienne Amy Poehler, pop culture commentator Michael Musto, international drag performer Joey Arias, choreographer Karole Armitage, director Mark Romanek, and Broadway bombshells Cady Huffman and Daphne Rubin-Vega. His songs have been featured on several network and cable television programs, including Shameless on Showtime and Eleventh Hour on CBS. Together with his all-girl orchestral rock band The Ladies in Waiting, Phillips delivers danceable drama in the spirit of The Rocky Horror Picture Show.
Related Articles
More Hot Stories For You