America's Favorite All-Boy Band (AFAB) Comes to The Tank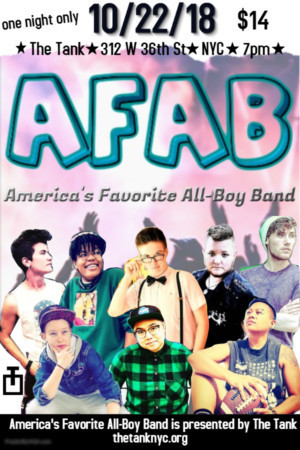 What's that sound? It's America's Favorite All-Boy Band's (aka AFAB) fresh of their latest "world tour" with their brand new show, BACK IN THE USSA coming up on October 22nd, 2018 at 7PM! Due to the recent discovery of some "very dangerous mold" at Madison Square Garden, AFAB's new manager, Bradlee Waldroop, has re-booked the band at The Tank, located at 312 W 36th Street. "With a name like The Tank, it's obviously a large and imposing venue similar to MSG. I'm sure it will be fine," said Ms. Waldroop moments before walking into a glass door at AFAB's press conference this morning.
This totally legitimate and not-at-all-fake celebrity boy band features the talents of everyone's favorite nerdy guy SPENCER MURRAY (Andi Lee Carter), slightly-aging rocker ANSON REIGN (Donnie Cianciotto), lover boy DANTE FLORES (AC Dumlao), goofball CHANCE BURGURE (Graham Garlington), shy guy JAYKE MALONE (Meaghan Johnson), bad boy AIDEN ABBETT (Milo Jordan), hipster GAVIN MILES (Jacob Michael), and the jock with no last name, LUKE (Tonilyn A. Sideco.)
When asked, "Doesn't AFAB also stand for Assigned Female At Birth?", Ms. Waldroop responded, "That is totally irrelevant!" and then spilled her coffee. She confirmed several times that the members of AFAB are "definitely cisgender men" and "certainly not entertainers who identify as transgender or nonbinary or gender nonconforming who are doing this as a spoof of stereotypical boy bands because it's fun. No, not at all. It is certainly not that."
In BACK IN THE USSA (a misprint according to Ms. Waldroop, but now standing for "United StateS of America"), AFAB will be honoring the boy bands that came before them by covering some of the greatest hits by groups like One Direction, New Kids on the Block, Boys II Men, Backstreet Boys, Nsync, and more! There will be plenty of surprises during during the show, and even a Q&A session where audience members will get to ask the boys questions about anything not involving math!
Tickets are $14, and it is suggested to purchase in advance "as this show may very well sell out. Potentially. Possibly," according to Ms. Waldroop. She quietly added, "I don't know what I'm doing" before leaving the press room to call her psychic.
This concept was conceived and is directed by Donnie Cianciotto, creator of Trans Voices Cabaret, and is a part of The Tank's monthly Tank-aret series. All performers identify as TGNC.