54 Celebrates Aretha Franklin Will Have Encore Performance February 17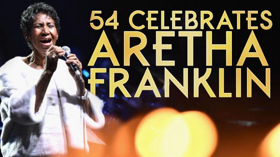 Back by popular demand, 54 CELEBRATES Aretha Franklin, will return for one performance only on February 17th, at 9:30pm, in a concert directed and produced by Robert W. Schneider.
The Queen of Soul, who passed away on August 16th, 2018, was celebrated in story and songat Feinstein's/54 Below in October of 2018. The concert received rave reviews from both audiences and critics.
Scheduled to appear in 54 CELEBRATES Aretha Franklin are Anne Bragg(A Christmas Story), LaDonna Burns(Follies, Eubie), Antoinette Comer(Smokey Joe's Café), Allyson Kaye Daniel(Unexpected Joy), Kayla Davion(King Kong, Waitress), Natalie Douglas(MAC Award winner), Amina Faye(Caroline, or Change), Ari Groover(Head Over Heels, Holler If Ya Hear Me), Whitney Hayes(Elf: The Musical), Arica Jackson(Head Over Heels), Tarra Conner Jones(Dreamgirls), Lori Minor(March On), Alexia Sielo(Merrily We Roll Along), and Cynthia Thomas(Ain't Misbehavin).
The legendary Aretha Franklin's music touched countless generations and her voice stretched to all corners of the globe, providing comfort, celebration, and inspiration to all those who listened to her artistry.
Now, Feinstein's/54 Below is honoring the late Ms. Franklin with54 CELEBRATES Aretha Franklin, a celebration of her music, sung by those legends of Broadway whom she inspired.
Audiences will expect to hear Aretha's greatest songs, like "Natural Woman," "R-E-S-P-E-C-T," "Chain of Fools," and so many more, sung by the legends of Broadway who call Aretha their Queen.
54 CELEBRATES Aretha Franklin will be directed and produced by Robert W. Schneider. The concert will be music directed by Eli Zoller. The associate producers will be Lance Bryant, who will also host the concert, and Benjamin Nissen.
Schneider said, "This encore evening will celebrate the one and only Queen of Soul, Aretha Franklin, an artist who not only entertained audiences for over fifty years, but provided a voice for the voiceless, gave comfort to those in need, and defined an entire generation through music. It is my honor to celebrate her legacy with a group of artists who were so inspired by Ms. Franklin that they now tell their stories through song and performance."
Tickets, starting at $30, are still available. In addition to the ticket price, there is food and beverage minimum of $25.00 54 CELEBRATES Aretha Franklin tickets can be purchased at 54below.com. Tickets on the day of performance after 4:00 are only available by calling (646) 476-3551