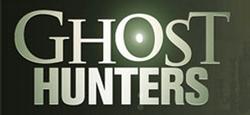 Contact between humans and spirits from the afterlife is not as far-fetched as is it seems. As plumbers by day and ghost hunters by night, Jason Hawes and his team have worked to track down the presence of paranormals across the country.
As leader of The Atlantic Paranormal Society (TAPS), Jason has made it his life's mission to help anyone with questions pertaining to paranormal phenomena and ghost hunting. TAPS is a group of fairly ordinary people fearlessly working to understand seemingly unexplainable disturbances.
This one-hour weekly reality show comes from the creator and executive producer of American Chopper, Tom Thayer and Craig Piligian of Pilgrim Films.
Latest Tweets from ghosthunters
3/2 @ 12:01 PM

ghosthunters - Hey, here's some great news from @Jchawes for everyone. #GhostHunters is on @travelchannel starting 4/16 at 9pm! Spread the news.

Retweet | Reply | Original Link   
1/1 @ 8:00 AM

ghosthunters - A new season of @ghosthunters starts now! Stream the new episodes anytime at @discoveryplus! #GhostHunters #TAPS https://t.co/GABq0Ma1gR

Retweet | Reply | Original Link   
12/31 @ 8:00 AM

ghosthunters - New year, new @ghosthunters! 🎉👻 TAPS returns with a brand new season tomorrow! Streaming exclusively on… https://t.co/2gLTdWpQpW

Retweet | Reply | Original Link   
12/16 @ 5:44 AM

ghosthunters - All new episodes of #GhostHunters on @discoveryplus starting January 1st! @Jchawes @sharimarie826 @stevegonsalves1 @davetango

Retweet | Reply | Original Link   
Latest Articles About Ghost Hunters on Syfy