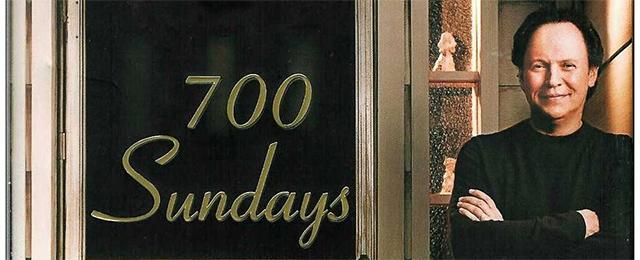 Click Here for More Articles on 700 SUNDAYS WITH BILLY CRYSTAL
VIDEO: Billy Crystal Asks LETTERMAN About Feud with Philbin at 700 SUNDAYS Performance
Legendary comedian Billy Crystal stopped by last night's Late Show with David Letterman on CBS and asked Dave about rumors of a recent fist fight between The Talk show host and Regis Philbin during a performance of Crystal's one-man Broadway show, '700 Sundays.' Check out the appearance below!
About LATE SHOW WITH David Letterman:
One look at the LATE SHOW makes it apparent that the program, which is often imitated but never matched, is unlike any other talk show. With its commitment to showcasing the most sought-after stars in entertainment, music, sports and politics, as well as its around-the-town remotes and visits to local establishments, its surprise guest appearances, inventive comedy segments and signature Top Ten List, the LATE SHOW delivers an unpredictable hour of innovative viewing each night.
The LATE SHOW has received numerous honors, including 70 Emmy nominations and nine Emmy Awards, including six for Outstanding Variety, Music or Comedy Program in 1994, 1998, 1999, 2000, 2001 and 2002. The show was named Program of the Year at the 1994 Television Critics Awards, and in 1995, 2001, 2011 and 2012, Letterman was nominated for a Career Achievement Award by the TCA. Letterman was awarded the prestigious Johnny Carson Award for Comedic Excellence at Comedy Central's first annual "The Comedy Awards" in March 2011. He has won two American Comedy Awards as Funniest Male Performer in a Television Series and a Foundation Award from the International Radio and Television Society for his "extraordinary domi­nation in late-night television." Letterman was also honored as "Favorite Late Night Talk Show Host" at the 31st Annual People's Choice Awards in 2005.
The Late Show with David Letterman is a production of Worldwide Pants Incorporated. Barbara Gaines, Matt Roberts, Jude Brennan, Maria Pope, Eric Stangel, Justin Stangel and Rob Burnett are the executive producers.