LATE SHOW WITH DAVID LETTERMAN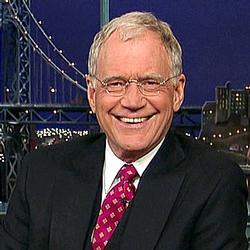 This year, David Letterman reached his historic 30th year in late-night comedy and, in August, will mark his 19th year as the host of the LATE SHOW with DAVID LETTERMAN on CBS. After nearly 6,000 late-night broadcasts, he remains one of the most influential personalities in the history of television. Other than the late Johnny Carson, who hosted "The Tonight Show" also for 30 years, no late-night host comes near Letterman in longevity, critical praise and award recognition. Often imitated but never matched, Letterman presents, night after night, an unpredictable hour of innovative comedy.
On Aug. 30, 1993, the LATE SHOW with DAVID LETTERMAN made its debut, and it quickly went on to become one of the most talked-about and critically acclaimed programs of the year. Nineteen years later, the LATE SHOW continues to deliver inventive and imaginative comedy every night. For its efforts, it has earned six Emmy Awards as Outstanding Variety, Music or Comedy Program.
Letterman's first network break came in 1978 on the CBS variety series "Mary," starring Mary Tyler Moore. In November of that year, he made the first of his 22 appearances on "The Tonight Show Starring Johnny Carson." He also guest-hosted "Tonight" numerous times.
In 1980, Letterman began hosting an Emmy Award-winning morning comedy-variety program, "The David Letterman Show," which ran for three months on NBC. His critically acclaimed show "Late Night with David Letterman" premiered in February 1982. Throughout its 11? years, "Late Night" was honored with many awards, including five Emmys and 35 Emmy nominations.
From the start, Letterman has been critically applauded for redefining the talk-show genre. In 1992, he received the prestigious George Foster Peabody Award for taking "one of TV's most conventional and least inventive forms - the talk show - and infusing it with freshness and imagination." In March 2011, Letterman was awarded the prestigious Johnny Carson Award for Comedic Excellence at Comedy Central's first annual "The Comedy Awards." Letterman has also won two American Comedy Awards as Funniest Male Performer in a Television Series, and in 1995, 2001, 2011 and 2012, he was nominated for a Career Achievement Award by the Television Critics Association. Letterman was also honored as "Favorite Late Night Talk Show Host" at the 31st Annual People's Choice Awards in 2005.
Latest Tweets from CBS
7/10 @ 12:22 PM

CBS - For more of the fashion (and drama), watch the entire first season of #WhyWomenKill, now streaming on @CBSAllAccess.

Retweet | Reply | Original Link
7/9 @ 4:06 PM

CBS - Sharing the moments, stories and voices that make history. https://t.co/ZJtesat014

Retweet | Reply | Original Link
7/9 @ 8:04 AM

CBS - Breaking News: The 56th @ACMawards will air LIVE Sunday, April 18, 2021 on CBS. #ACMawards https://t.co/4YhNWCBSx5 https://t.co/iHfg04EHFn

Retweet | Reply | Original Link
7/7 @ 10:08 AM

CBS - It's time to shine a spotlight on the tough folks who keep this country running. @PhilKeoghan brings you… https://t.co/3YRvAjD4cb

Retweet | Reply | Original Link
7/7 @ 10:07 AM

CBS - It's time to shine a spotlight on the tough folks who keep this country running. @PhilKeoghan brings you… https://t.co/A0p2CiJESO

Retweet | Reply | Original Link
Latest Articles About Late Show with David Letterman on CBS