Violinist Josh Modney Releases 'Engage,' Featuring Kate Soper, Sam Pluta, & Eric Wubbels, On New Focus Recordings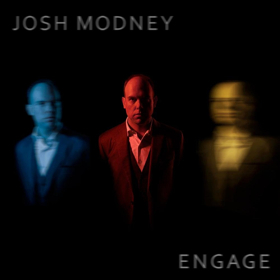 On Friday, August 3, 2018, violinist Josh Modney, Executive Director of the Wet Ink Ensemble and a member of the International Contemporary Ensemble (ICE), releases his debut solo violin album, Engage, on New Focus Records. The three-disc album brings together the varied threads of Modney's recent work, including long-term collaborations with composers Kate Soper, Eric Wubbels, and Sam Pluta, who perform on the album; solo violin music by Taylor Brook and Anthony Braxton; Modney's own improvised music for solo violin; and J.S. Bach's Ciaccona reinterpreted in Just Intonation.
In his introduction to the album trumpeter, composer, and writer Nate Wooley poses, "I find myself drawn toward artists that leave themselves room to run with an idea-whether that is into the future or toward the past-those for whom it's not enough to understand the work that came before you solely as a context for the new, but as the basis for a completely different way of thinking... Josh Modney [is] one of the artists we should look toward as the model of how the new can not only move forward, but to be active in 360 degrees and three-dimensions."
Comprised of three programs, Engage as a whole presents a body of work that has both defined and been shaped by Modney's distinctly 21st century violin performance practice, exploring new technical and expressive frontiers on the instrument. The first program includes Sam Pluta's Jem Altieri with a Ring Modulator Circuit, for violin and live electronics (2011); Taylor Brook's Vocalise, for violin solo with drone (2009); Kate Soper's Cipher, for soprano and violin (2011); and Anthony Braxton's Composition No. 222 (1998). The second program pairs Modney's adventurous interpretation of J.S. Bach's Ciaccona (1720) in Just Intonation with Eric Wubbels's the children of fire come looking for fire, for violin and prepared piano (2012). The final program features Josh Modney's Violin Solos (2017). Wooley writes, "[Modney's] solo work provides the final, emphatic, punctuation; gems of improvisation that tether a formidable technique to an absolutely rigorous personal aesthetic."
The first program begins with Jem Altieri with a Ring Modulator Circuit, written for Modney by Sam Pluta, a composer and improviser at the forefront of innovation in electronics performance whose multifaceted career ranges from commissions for ICE and the New York Philharmonic to collaborations with world-class improvisers such as Peter Evans, Ingrid Laubrock, and Evan Parker. Pluta's writing for acoustic instruments is linked closely to his nuanced understanding of electronic sound. The violin music in Jem Altieri... explores a wide array of tightly controlled sounds and techniques, from harsh noise to resonant Just Intonation harmonies, while Pluta's improvised reactive electronics augment and converse with the violin sound in supercharged polyphony.
Taylor Brook's Vocalise presents a more familiar vision of the violin, but in which its traditional "beauty" is delicately teased and pulled into strange and surprising realms. In what Brook describes as an "honorific re-contextualization" of structural and theoretical elements of Hindustani music, the characteristically lush sound of the violin is heard over a drone, weaving through an intricate microtonal pitch space. As the pacing of the music evolves from reflective meditation to ecstatic action, the pitch relationships become increasingly adventurous and the tone of the violin shifts from sweetness to a big, bright, extremely colorful palette.
Pulitzer Prize-finalist Kate Soper's Cipher, performed by Soper on this album, fuses the violin and the voice into a meta-instrument using a wide variety of novel techniques developed with Modney over a period of close collaboration. From experiments in precisely calibrated difference tones inspired by Renaissance tuning theory, to an extended section of "violin 4-hands" in which the performers play the violin and deliver spoken text simultaneously, Cipher embodies the interdependent, communal nature of chamber music performance. It is a searching work that, Soper writes, "wends its way along the slippery slopes where language, music and meaning collide, exposing the inherent ambiguity of musical temperament, ensemble hierarchy, and lyric comprehension via several centuries of linguistic investigations."
Anthony Braxton's Composition #222 is part of a series of compositions called Ghost Trance Music (GTM). GTM pieces may be performed by any number of players, and employ a fluid, modular design that galvanizes individual creativity as a wide variety of materials are interwoven with a single-line melody. Modney writes, "in making a solo violin interpretation of Composition #222, my aim was to take what I learned from large ensemble performances of GTM and translate that sound into a polyphonic solo composition." The result is a layered texture achieved by "orchestrating" with extreme tone colors on the violin, and a dynamic conclusion to this first program on the album that has stretched the sonic and expressive capabilities of the violin in many directions.
Modney's performance of J.S. Bach's Ciaccona with Just Intonation maps a contemporary concept of violin sound onto a classic work of violin repertoire, carving out space for new expressive potential while embracing the necessarily contemporary nature of any modern interpretation of antique music. Modney explains, "The beautifully ambiguous harmonic design of Bach's solo violin music seemed a perfect match for the boundless playground of Just Intonation. My Just Intonation Bach project began as an analytical challenge, a search for tuning ratios that would reinforce harmonic motion already implied by the notation. This intellectual exploration quickly developed into a creative process that considers how juxtapositions of tunings and timbres might heighten the emotional qualities of the music, and how a contemporary approach to sound production on the violin might illuminate hidden details."
Eric Wubbels's the children of fire come looking for fire was written through an extended period of collaboration with Modney. The Wubbels duo is paired with Bach on this program as both works are, Modney explains, "rigorously composed, boundary-breaking pieces that access an inner, spiritual life. Both are centered around N*E*R*D and play with the acoustic instability of minor, and both employ Just Intonation as a critical harmonic and timbral element." the children of fire come looking for fire is a large-scale work of dazzling sonic invention, fierce technical demands and extraordinary emotional intensity that employs many innovative methods of blending the timbres of violin and piano.
The third and final program of Engage features Modney's own improvised music for solo violin, Violin Solos, exploring his personal relationship to the instrument. The project is bounded by a self-imposed set of rules: the strings remain in standard tuning, the sound of the instrument is not modified by any external preparation, and no editing, layering or augmentation of sound is done in post-production. Modney says, "I wanted to see how far I could push the sonic potential of the instrument while keeping its fundamental 'violin-ness' unchanged." Modney's music is as much about digging deeper into established practices as it is about exploring the outer realms of violin technique. It is an effort to forge a distinctly personal performance practice that, as Wooley says, "whatever kind of -ism is ultimately pinned on an artist like Modney-that is what I hope is around for centuries to come."
About Josh Modney
Josh Modney is a violinist devoted to creative musicmaking. A "new-music luminary," "superb violinist" (The New York Times), and "multitasking virtuoso" (The New Yorker) hailed for "brash, energetic performances" (The New York Times), Modney collaborates with a wide array of renowned ensembles and artists as part of a broad scene of adventurous music that exists at the nexus of composition, improvisation, and interpretation.
Modney is violinist and Executive Director of the Wet Ink Ensemble and a member of the International Contemporary Ensemble (ICE). His fresh and versatile approach to the violin and uniquely dynamic performance practice has made him a highly sought-after collaborator. Modney performed internationally with the Mivos Quartet for eight years, a new-music string quartet he co-founded in 2008.
Modney's playing has been featured on a wide variety of outstanding recordings, including titles on Carrier Records, Deutsche Grammophon, Sound American, hat[now]ART, Nonesuch, and Tzadik Records. Recent highlights include Alex Mincek's Torrent (Sound American), which features a series of duos written for Modney, and was selected as one of the "Best Albums of 2017" by The New York Times and The Nation; Steve Reich's Pulse/Quartet (Nonesuch), lauded for "pitch perfect performances" (The Guardian); Scott Wollschleger's Soft Aberration (New Focus), selected as a "Notable Recording of 2017" by The New Yorker; and Sam Pluta's Broken Symmetries (Carrier), which features Modney as soloist on the title track. Modney's 2017 release of improvised chamber music with guitarist Patrick Higgins (ZS), EVRLY MVSIC, earned praise for its "clairvoyant connection and sheer instrumental prowess" (The Quietus).
Modney has a passion for large-scale performance projects, including recitals of J.S. Bach's Sonatas and Partitas for solo violin in Just Intonation, and evening-length chamber works including Mathias Spahlinger's extension for violin and piano (with Eric Wubbels), Wolfgang Rihm's Musik für Drei Streicher (with ICE), and Kate Soper's Ipsa Dixit (with Wet Ink), praised by Alex Ross as "comprehensively astounding .... a twenty-first century masterpiece" (The New Yorker). Upcoming highlights include the premiere of Eric Wubbels's piano trio, written for Josh Modney and cellist Mariel Roberts, and the release of the Wet Ink Large Ensemble's debut album, featuring Modney as soloist on Sam Pluta's violin concerto Portraits/Self-Portraits.
Engage Track List
Disc 1:
1. Sam Pluta: Jem Altieri with a Ring Modulator Circuit, for violin and live electronics (2011)
2. Taylor Brook: Vocalise, for violin solo with drone (2009)
3. Kate Soper: Cipher, for soprano and violin (2011)
I. Jenny Holzer feat. Ludwig Wittgenstein
II. Pietro Bembo feat. Michael Drayton
III. Introducing Sigmund Freud
IV. Guido d'Arezzo presents Sarah Teasdale (feat. Jenny Holzer)
4. Anthony Braxton: Composition No. 222 (1998)
Josh Modney, violin; Sam Pluta, electronics; Kate Soper, soprano
Disc 2:
1. J.S. Bach: Ciaccona (1720), with Just Intonation
2. Eric Wubbels: the children of fire come looking for fire, for violin and prepared piano (2012)
Josh Modney, violin; Eric Wubbels, piano
Disc 3:
Josh Modney: Violin Solos (2017)
1. Polyphony (for SP)
2. Cadential
3. Engage
4. Pastoral
5. Range
Josh Modney, violin
Related Articles View More Music

Stories
More Hot Stories For You