Rhonda Vincent & The Rage Come to Spencer Theater Saturday, 7/28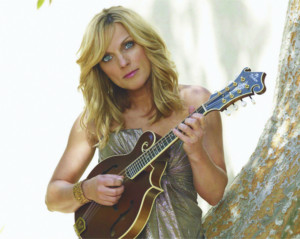 Famously crowned as "The New Queen of Bluegrass" by the Wall Street Journal, Rhonda Vincent is the most decorated artist in the roots-music genre with 8-time IBMA Female Vocalist of the Year award, a 2018 Best Bluegrass Grammy Award, and so much more! Vincent's music incorporates savvy contemporary touches while drawing deeply from the authentic traditions of classic bluegrass, with a flawless band that can execute break-neck instrumentals to heart-wrenching ballads.
Each and every member can sing every part and play every instrument with a depth of skill that dazzles music lovers of every stripe. With over 80 industry awards to their name, Rhonda Vincent and The Rage are the most celebrated band in bluegrass today. They appear in Spencer spotlights on Saturday, July 28 at 8 p.m. performing a concert of sterling vocals and blazing strings with reams of soul and swing. Excellent seats are available for $39-$69. Call the box office at 336-4800 for tickets or go online to www.spencertheater.com. The evening is sponsored in-part by 1st National Bank and the Madera Living Trust. A slow roast pot roast buffet ($20) is also available at 6 p.m.
Next up:
• An Evening With B.J. Thomas Saturday, August 4 at 8 p.m. and Sunday, August 5 at 8 p.m. ($39-$69). Winner of five Grammys and two Dove Awards, B.J. Thomas has sold more than 70 million records and is ranked as one of the 50 most played artists of the past 50 years with timeless soft pop-country hits including "Raindrops Keep Fallin' On My Head," "(Hey Won't You Play) Another Somebody Done Somebody Wrong Song," and more. Sponsored by Sandy Erwin, Kay Bird, Shirley Reed, and Linda & Michael Stinson. Enchiladas (Chicken or Beef) & Tamales Buffet ($20) at 6 p.m.
• Lee Rocker of the Stray Cats Friday, August 10 at 8 p.m. ($39 - $69). The Grammy winning Lee Rocker put Rockabilly back on top of music charts in the 80s with their "Stray Cat Strut" and other colorful mega-hits. Recognized the world-over for his hefty upright double bass and blazing Rockabilly band, his nonstop strut, striking pompadour and 50s-style plaids, Lee Rocker is the master of the funky retro style. An amazing showman through and through! Sponsored in-part by Scott Northam, CPA, PC. Crispy Fried Catfish Buffet ($20) at 6 p.m.
• Live & Let Die - The Music of Paul McCartney Saturday, August 18 at 8 p.m. ($39 - $79). Pianist Tony Kishman has perfected all aspects of Paul McCartney's voice, appearance & music. Appearing with his touring band and a 12-piece ensemble with New Mexico State University's chamber orchestra, his "Live & Let Die" celebrates the universal impact of McCartney's classics during his years with the Beatles & the Eagles: "Band On The Run," "Yesterday," "Hey Jude," "Live & Let Die," and more. Sponsored in-part by Rosemary & Rolla Hinkle III and Rainmakers Resort & Club. Herb Crusted Pork Tenderloin Buffet ($20) at 6 p.m.
• Neal McCoy Thursday & Friday, August 23 & 24 at 8 p.m. ($39-$79), This Platinum recording artist's pop-country, neo-traditionalist honky tonk and sweet Texas swing: "The Shake," "That's Just How She Gets," "No Doubt About It," "If I Was A Drinkin Man," and more. Sponsored by the R.D. & Joan Dale Hubbard Foundation.
• John Mueller's "Winter Dance Party Sunday, September 2 at 8 p.m. ($39-$69), More than 29 songs made famous by Buddy Holly, the Big Bopper and Ritchie Valens are presented in this concert which recreates their final tour before that fateful winter day "the music died." With dazzling performances by outstanding rock musicians who look, sound and act like the real guys, John Mueller's "Winter Dance Party" has been herald as "flawless" by the Chicago Times. The show features the late artists' hit repertoire with era-rich glitz, costumes & sets. Sponsored in-part by Rainmakers Resort & Club. Smoked BBQ Brisket Buffet ($20) at 6 p.m.
The Summer Season 2018 is sponsored in part by The Hugh Bancroft Jr. Foundation, Eleganté Lodge & Suites, KOBR Channel 8, MTD Media, Walton Stations of New Mexico with additional season support from, Inn of the Mountain Gods, Ruidoso Ford-Lincoln, R.D. & Joan Dale Hubbard Foundation, and the support of Ruidoso News, Su Casa Magazine, Rainmakers Golf & Lifestyle Community, Comcast Spotlight, KEDU 102.3 FM Big Oldies, Burt Broadcasting, Majestic Communications, Ruidoso.net, and First National Bank of Ruidoso.
Spencer Theater is a world-class performance hall located 12 miles north of downtown Ruidoso. Unique architecture, outstanding acoustics, intimate seating & excellent artistry are the Spencer's celebrated features. The award-winning hall, which first raised its curtains in 1997, seats 514, with no seats farther than 67 feet from the stage. The venue presents a variety of Broadway, comedy, dance and music throughout the year. From its limestone face to the crystal lobby, the building itself is a work of art. Public tours are offered at 10 a.m. every Tuesday & Thursday. www.spencertheater.com.
Related Articles View More Music

Stories
More Hot Stories For You