Click Here for More Articles on FOOD & WINE
SHARE Celebrates 15th Anniversary to Support Women with Ovarian and Breast Cancer at Tasting Benefit on 9/17 in NYC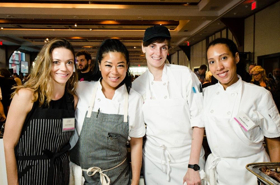 SHARE is thrilled to announce the 15th Anniversary of A Second Helping of Life, the annual tasting benefit where famous female chefs serve their signature tastes in support of women facing ovarian and breast cancers, to be held on Monday, September 17th, at Chelsea Piers. This year's event will feature Barbara Sibley from La Palapa Cocina Mexicana as the executive chef of 30 of New York City's finest and Tamsen Fadal, Emmy award winning anchor for WPIX 11 and dedicated breast cancer advocate, as the host.
"I am delighted to join the talented New York community of prominent women chefs uniting to raise funds for A Second Helping of Life advancing SHARE's support for causes affecting women," said Executive Chef Barbara Sibley.
Also in attendance will be Jane E. Brody, best-selling author and personal health columnist for The New York Times, who will be honored for her contribution in leading the discourse around breast and ovarian cancers. Since joining the paper in 1965 as full-time specialist in medicine and biology, Brody has earned the title of "High Priestess of Health" from Time magazine as well as numerous awards for journalistic excellence.
For more than four decades, SHARE has provided dedicated and experienced support for women affected by ovarian and breast cancers as well as their families. They've operated survivor-led helplines and supports groups, offered support services in English and Spanish, and provided free education from top cancer experts. In the last year alone, they have reached 150,000 people with their programs across the country, including those in underserved communities, to create better health care, an improved quality of life, and a cure for these diseases.
"Cancer does not discriminate. Women of all ages and backgrounds have been diagnosed with breast and ovarian cancers," said SHARE Executive Director Jackie Reinhard.
A Second Helping of Life
brings women together with the power of the SHARE community and generates funds to improve the lives of women with breast and ovarian cancer nationwide."
A Second Helping of Life
further upholds its mission of women supporting women by pairing each chef with top women in the world of theatre, radio, television and journalism as their sous chef. The
walk-around tasting will highlight a diverse range of cuisines from the top toques such as Barbara Sibley's Braised Brisket Barbacoa Tacos, Rebecca Charles' infamous Lobster Rolls, Angie Mar's delicious Truffle Burgers, Amanda Cohen's Shanghai Shoots, Roxanne Spruance Pork Belly, Sara Jenkins Porchetta Sandwich and Alex Guarnaschelli, Heirloom Tomato Lasagna.
PARTICIPATING WOMEN CHEFS:
Barbara Sibley, La Palapa Cocina Mexicana
Lynn Bound, 54 Below
Adreanne Cheatam, Harlem Pop-Up Series*
Rebecca Charles, Pearl Oyster Bar
Amanda Cohen, Dirt Candy
Alex Guarnaschelli, Butter
Abigail Hitchcock, Camaje
Patti Jackson, Delaware & Hudson
Sara Jenkins, Porsena
Abigail Kirsch, AK Catering
Ali LaRaia, The Sosta*
Angie Mar, The Beatrice Inn
Sawako Okochi, Shalom Japan
Alex Raij, Txikito, El Quinto Pino, La Vara and Tekoa
Amy Scherber, Amy's Breads
Roxanne Spruance, Kingsley
Ivy Stark, El Toro Bianco
Simone Tong, Little Tong*
Melba Wilson, Melba's
PARTICIPATING WOMEN PASTRY CHEFS:
Umber Ahmad, Mah Ze Dahr Bake*
Isabel Cross, Agern *
Rebecca DeAngelis, Babbo
Diane Forley, Flourish Bakery
Fany Gerson, Dough & La Newyorkina*
Colleen Grapes
Sarabeth Levine, Sarabeth's
Deborah Racicot, Narcissa
Abby Swain, Temple Court
Jesssica Weiss, Maialino
WOMEN CELEBRITY SOUS CHEFS (Personalities from media, entertainment, television, publishing)
Brenda Blackmon, Emmy Award-winning journalist
Lourdes Castro, NYU Professor and author
Kathleen Chalfront, Obie Award-winning actress
Melissa Clark, The New York Times*
Tandy Cronyn, Actress
Megan Fairchild, NYC Ballet dancer
Jessica Hecht, Tony-nominated actress
Magee Hickey, WPIX News Reporter
Ellie Krieger, Food Network Host
Lisa Ann-Marchesi, CEO Bella D'Oliva, MasterChef
Karen Page, Author
Letty Cottin Pogrebin, founding editor Ms. Magazine
Joanna Preuss, Author
Carol Anne Riddell, reporter host of CUNY-TV
Amy Robach, co-anchor ABC-TV 20/20*
Daphne Rubin-Vega, Actress
Valerie Snaldone, media personality
Joyce Wadler, writer, humorist The New York Times
Kirsten Wyatt, Broadway and screen actress
*Denotes first year
To date, "A Second Helping of Life" has raised more than $7 million for SHARE. Individual tickets to the benefit are $350.00 each. During the month of June, SHARE is offering a pair of tickets for $600.00. To purchase tickets for A Second Helping of Life please visit http://sharebenefit.org/view_about.php?journal_id=854. Follow us @sharecancersupport #2ndHelpingSHARE.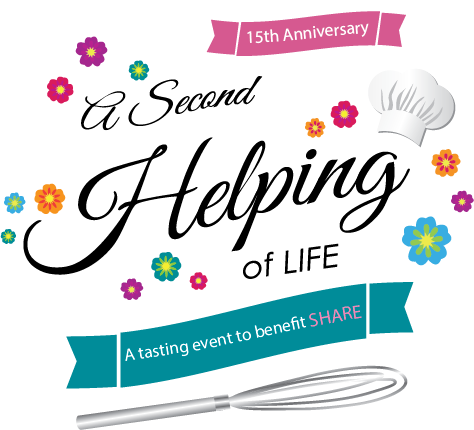 ABOUT SHARE
SHARE is a nationwide nonprofit that improves the lives of women affected by breast and ovarian cancers through experienced peer support, accessible education, and innovative outreach, always for free. It meets women wherever they are, especially in medically underserved communities, with the insight of women who have been there too, creating a nationwide network where women are empowered and feel less alone. Its free services include support groups, educational tools, expert-led webinairs and presentations, a national helpline, online communities and survivor-patient navigation. All event proceeds benefit SHARE. For more information call: 212-937-5573 212-937-5584 or visit https://www.sharecancersupport.org/.
Photo Credit: Courtesy of SHARE