Click Here for More Articles on MODERN
Christine Dakin Performs a Brice Mousset Choreography WORK at NY Live Arts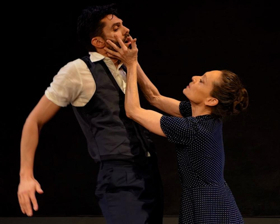 Artistic director/choreographer, Brice Mousset explores the OUI DANSE award- winning first work Travailler in an hour long re-envisioning: WORK! The piece will feature the renowned modern dancer, Christine Dakin. We had an opportunity to catch up with Dakin to learn more about OUI DANSE and her involvement in WORK!, and the career of Brice Mousset.
Brice Mousset is founder, artistic director, choreographer of OUI DANSE, a project based dance company created in 2013 in New York City. A challenge to the body, a dare to the imagination, a reconnection with humanity. OUI DANSE in French , means "yes dance". "YES" for positivity, OUI / "WE" for universality.
Born and raised in Paris, France, Mousset studied Biology and Human Sciences at Nanterre University before falling into the world of dance. After an eclectic performing career in Europe in musicals, opera, TV and dance companies, Mousset moved to New York City to begin teaching and choreographing.
Mousset draws on his education in human/biological sciences and the testimonies of burned out players in the business world to portray work conditions driven by 'survival of the fittest' mentality. As success infiltrates and pollutes, WORK! shows the loss of humanity with grotesque elegance, bold movement and a theatrical sensibility. WORK! follows its characters journey through the circus of the business world's competitions, compulsions, masquerades and the desperation to escape. Combining irony, exaggeration and raw emotion, the choreography creates a world of reckless movement, technical bravura and the deceptive simplicity of pedestrian movement.
In Europe and the USA Mousset choreographs for OUI DANSE and for film, fashion, circus, opera and musicals. He has choreographed for Broadway Bares, Broadway Cares/Equity Fight AIDS, and taught and made dances for some of the most prestigious American dance institutions such as SUNY Purchase Conservatory of Dance, Point Park University, Alvin Ailey BFA Fordham program, Broadway Dance Center, Peridance Capezio Center, Joffrey Ballet School, STEPS on Broadway. Mousset has choreographed for and performed with Christine Dakin and was chosen by Mr. Robert Battle for the Alvin Ailey Dance Foundation New Directions Choreography Lab.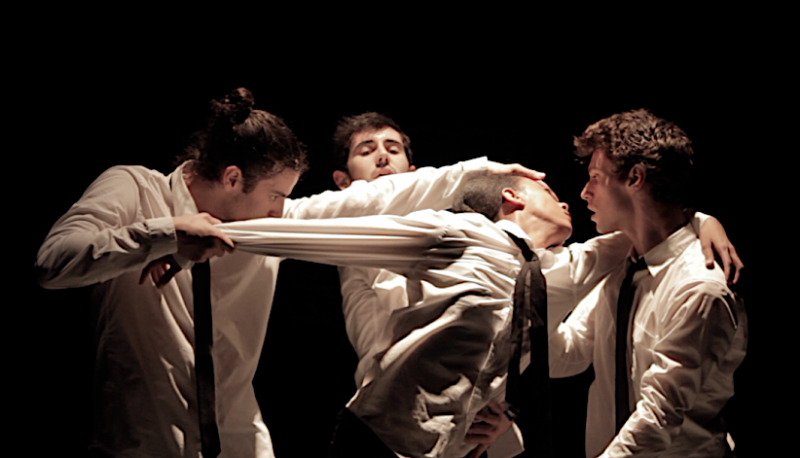 Christine Dakin stated, "I'm delighted to be performing with choreographer Brice Mousset's OUI DANSE company. Last year when he and I collaborated on the work, " je suis une autre" and performed it on my Neighborhood Playhouse "Moment of Dance " evening, it was a special creative gift to ourselves, and an audience hit!
Dakin also commented about Mousset's vision. "Brice's work has a visceral and grounded quality that connects it directly to the aesthetic I love, of the Martha Graham's physicality. He has developed the contemporary movement vocabulary with his own emphasis on the pelvis, weight and raw energy. His exploration of character, using that contemporary vocabulary is moving and he has a theatrical instinct for creating meaning with gesture, and the musical, visual elements of choreography."
Dakin spoke about her role in WORK! "My character is the alpha female - top of the food chain, driven, the boss of the workplace, and, I think, is also smart enough to be aware of the conflicts that role creates for her. It is wonderful to watch Brice use that character, and what I bring to the stage and rehearsals, to expand his work. Dancing with the terrific energy and talent of his company is a pleasure. They are strong, technically amazing, and more importantly, constantly willing to dig deeper into Brice's movement and into his story."
Dakin also spoke of her love for her discipline and the people who make it happen. "Those of us who love and live the deep tradition of Modern Dance, who continue the search those early artists we learned from and performed for laid out for us, are inspired and re - animated by choreographers like Brice Mousset and Jaime Blanc, who embrace our Modern Dance tradition, as they create their own unique dance voices."
We asked Dakin about some of the other projects she has been involved in recently. "This past spring and summer I was honored to perform with the Sokolow Theatre/Dance Ensemble in their Modern Rebels program at the Tank in NY, and at the White Box Live Arts Festival in San Diego, CA - performing the solo work Jaime Blanc created for me."
Our readers might like to view a short teaser video of the Oui Danse company in rehearsal here: https://www.youtube.com/watch?v=PxeAagzOyjY.

The performers for WORK! include Guest Artist: Christine Dakin; Dancers: Tidgy Chateau, Misuzu Hara, Carly Johnson, Joel Luzolo, Santiago MacLean, Natalie Ortiz, Matilda Sakamoto, Andy Santana, Claire Upton, Mariah Gravelin; and Understudy: Suzannah Dessau
The Assistant to the Choreographer is Natalie Ortiz; Lighting Design by Reza Behjat; Stage Manager, Anne Posluszny; Wardrobe, Erica Johnston; the costumes provided by the Dance Costume Shop of Point Park University and Ailey School.
The world premiere of Brice Mousset's Oui Danse performance of WORK! will be from November 8 to November 10 at 7:30 pm. The program will be held at New York Live Arts, 219 West 19th Street, New York, NY. For tickets, please visit https://newyorklivearts.org/event/work/.
Photo Credit: Courtesy of Jacob Hiss and Oui Danse