Three-Time Obie Award-Winner Tina Shepard Joins BEAUTY FREAK Cast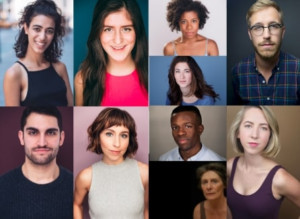 What Will The Neighbors Say? is excited to announce casting for the workshop production of Founding Co-Artistic Director James Clements' latest play, Beauty Freak: Leni Riefenstahl's 'Olympia,' this November. The production will officially inaugurate the company's 2018-2019 season at the Plaxall Gallery in Long Island City, following a week long development workshop in the space. The performances will be held on November 10th and 11th at 7.30pm, at the Plaxall Gallery, 5-25 46th Ave, NY 11101 (entry through the parking lot) and tickets are available for reservation at www.beautyfreak.eventbrite.com. Coral Cohen will direct, with video and sound design by Founding Co-Artistic Director Jorge Morales-Picó and production design by Johanna Pan.
Co-Artistic Directors Sam Hood Adrain and Ana Cristina Schuler will be joined on stage at the Plaxall Gallery by Tatiana Baccari, Abram Blau, Derya Celikkol, Devante Lawrence, Portland Thomas, Leanne Velednitsky and Kayla Yee. Three-time OBIE award-winner Tina Shepard will complete the cast, playing Ms. Riefenstahl at the age of ninety. The play, which is set between the 1930s and the 1990s at various locations across Germany and the United States, features over fifty characters, real and invented. Each of the actors will play multiple roles in the upcoming workshop. Director Cohen said that the "story of Leni Riefenstahl confronts so many issues we are still wrestling with today: what it takes to be a woman in a male-dominated field, separating the art from the artist, and how we, as artists, are responsible for the political implications of our work. Beauty Freak does not give us easy answers."
Riefenstahl rose to prominence as a silent film actress in Weimar Germany, before turning her astonishing talents as the pioneering female filmmaker of her time to the service of the Nazi regime. The films she created (especially 1935's Triumph of the Will and 1938's Olympia) are hailed as some of the greatest of all time, but their terrifying effectiveness as tools of propaganda helped contribute to the cult around Hitler and his party. Though cleared by de-Nazification courts in the 1940s, she was forever tarnished by her association with the Nazis. Her eclectic life later included photographing Nuba tribes, 1970s rockstars and underwater documentaries. She died at 101 in 2003.
What Will the Neighbors Say? is a 501(c)3 theatre company based in New York City with a global perspective. WWTNS? creates theatre that examines historical, social, political and economic narratives that have been disregarded, misrepresented, or otherwise untold in order to provoke discourse in our audience and community. WWTNS? maintains a consistent commitment to diversity, arts education, community outreach, and artistic experimentation.
Provoking questions through untold stories.
www.wwtns.org