Little Lord Presents THE PEANUT BUTTER SHOW A Five Night Only Back-to-School Performance Event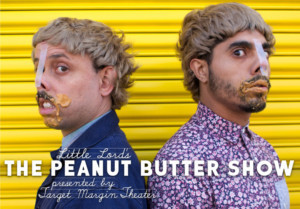 This fall, go back to school with Little Lord as they turn THE DOXSEE into a one-room schoolhouse in The Peanut Butter Show: a silly, sloppy, sadistic, and slightly dangerous school-wide assembly. Attendance is mandatory.
Based on the deceptively simple yet rich language in "McGuffey's Eclectic Readers," a series of textbooks used from the 1830s to today, The Peanut Butter Show amplifies the awkward and often grotesque techniques used to teach generations of Americans how to read, think and behave. Little Lord delves into the moralistic underpinnings of these books to explore how education is used as a tool of social conditioning -- along with other concerns such as the humiliating cult of puberty, the sadistic allure of shame, the awkwardness of children's musical "edutainment," and whether or not it's okay to poop with the door open.
The Peanut Butter Show will receive a limited engagement October 1-5, 2018 at 7:30pm at Target Margin Theater's THE DOXSEE in Sunset Park, Brooklyn. Tickets are $20, include a brown bag lunch, and can be purchased at targetmargin.org/the-peanut-butter-show. Ticketing questions may be directed to OvationTix: (866) 811-4111. Nearest public transport includes the R to 53rd Street, the N to 59th Street, and the NYC Ferry to Sunset Park. Allergy warning: peanut butter is used in this performance.
The Peanut Butter Show will be performed by Kaaron Briscoe*, Joshua William Gelb, Fernando Gonzalez*, Polly Lee*, Michael Levinton*, Meg MacCary*, Morgan Lindsey Tachco, and Kate Weber*. The creative team includes Marika Kent (Set/Lighting Design), Karen Boyer (Costume Design), Joseph Wolfslau (Sound Design) and Whitney G-Bowley (Choreography). Production management is by Conrad Kluck, Jackie Rivera* is the Production Stage Manager, James Wyrwicz is Associate Stage Manager, and Crystal Kovacs is the Costume/Wardrobe Associate). *Denotes member, Actors Equity Association
The Peanut Butter Show received developmental support as part of the 2018 Impact Residency Program of the Drama League and LaGuardia Performing Arts Center, and through residencies with Target Margin Theater and Drop, Forge & Tool. The Peanut Butter Show has received showings at The DOXSEE and WNYC's The Greene Space, where audiences called it "beautiful yet terrifying" and "weirdly wonderful."
About Little Lord:
Little Lord aggressively reinterprets classic, found, and neglected texts to create new works of experimental performance. Holding a funhouse mirror up to our shared cultural memories, Little Lord subverts conventional storytelling, uproots the familiar, and questions assumptions about the world in which we live. Founded in 2007 by Artistic Director Michael Levinton, Little Lord's work has been praised as "thought-provoking" and "fearless in its weirdness." Recently: "NOW IS THE TIME. NOW IS THE BEST TIME. NOW IS THE BEST TIME OF YOUR LIFE" (Abrons Arts Center, 2016); NYTimes Critics' Pick "BAMBIF*CKER/KAFFEEHAUS" (The Brick, 2015); "Pocahontas, and/or AMERICA" (Bushwick Starr, 2013). Also: OHIO Theatre, UNDER St Marks, Incubator Arts Project, Chocolate Factory, HERE Arts Center, Judson Church, Dixon Place. Little Lord has been nominated for 7 New York Innovative Theater Awards, including Outstanding Production of a Musical and Outstanding Performance Art Production, and has been selected to premiere their next work as part of New York Theatre Workshop's Next Door at NYTW series in March 2019. littlelord.org
About Target Margin Theater:
Target Margin Theater is an OBIE Award-winning theater company newly based in Sunset Park, Brooklyn. Since 1991, they have positively changed the cultural landscape of New York through the creation of innovative productions of classic plays, opera, literature and historical sources. From their inception 'difference' has been the generative principle of our work and our longstanding practice of age, race and gender diversity in our casts and company makeup, has been one of their most identifiable features. Their range of programming has been enormous, with 45 mainstage productions directed by David Herskovits and over 100 Lab productions led by emerging artists. In April 2017 they opened the doors to THE DOXSEE-a new 3,200 sf performance space that houses our offices / storage. The space expands their Performance, Space, and Artist programs within the Sunset Park community. targetmargin.org