Lagond All-Stars Perform Free Live Jazz, Latin & Funk At Coney Island's Deno's Wonder Wheel Park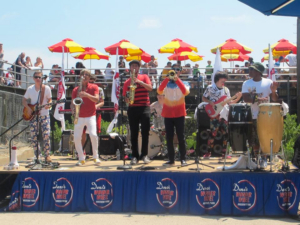 Lagond Music School's young musicians perform a diversity of cool jazz, hot Latin and danceable funk at Coney Island's Deno's Wonder Wheel Amusement Park. Free performance by the Lagond All-Stars on Saturday, July 20, from 2-4:30PM, on our stage located on the Boardwalk at West 12th Street in front of Deno's

On Saturday, July 20, enjoy free, live music on the Coney Island Boardwalk in front of Deno's Wonder Wheel Park as we welcome back the Lagond All-Stars from the Lagond Music School. Listen to burning jazz, pulsating Afro-beat, and sophisticated, funky grooves!
The Lagond All-Stars are a dedicated group of high school musicians from Westchester County who hit the road for the summer as part of Lagond Music School's apprenticeship program. Many different configurations of the group have had opportunities to perform at premier clubs in New York City such as B.B. King's, Terminal 5 and the Bitter End, and have opened for bands such as The Beach Boys, The Roots, and Darryl Hall. The last time they performed at Deno's Wonder Park in Coney Island was in 2015, as seen in this clip: https://www.youtube.com/watch?v=pfcjmyIOdnk.
Lagond Music School is a not-for-profit organization dedicated to contemporary music education and live music performance. The Lagond All-Stars eclectic array of songs stems from the traditions of Cannonball Adderley, Antonio Carlos Jobim, Weather Report, Prince and Bruno Mars to name but a few.
Co-Founder and Musical Director Charlie Lagond has worked as a professional musician for over 35 years, performing around the world with artists including Chet Baker, Woody Herman, Buddy Rich, Bernard Purdie, Chuck Mangione, The Jackson Five, the Temptations, Natalie Cole, and Kid Creole & the Coconuts.
Following years of touring, Broadway, television & film, recording and instruction, Charlie created Lagond Music School to advance his concept of an ultimate musical education. Charlie believes strongly that the combination of a rigorous musical foundation coupled with the power of live performance creates this ultimate musical education. Among his students' recent accomplishments are two Grammy High School Band winners (and five finalists); a Silver Awardee in the NFAA YoungArts competition, as well as a 2nd place and two honorable mention winners; an ASCAP Young Composer award winner.
Event Link: http://coneyislandfunguide.com/events/lagond-all-star-band-at-denos-wonder-wheel-park/
Directions:
SUBWAY : F, Q, D, N trains to Stillwell Ave.
*Please check MTA Weekender for service changes: http://web.mta.info/weekender.html
Address for GPS: 1025 Boardwalk, Brooklyn, NY 11224
Phone: 718.372.259