Brooklyn Center For The Performing Arts Presents Kenny Barron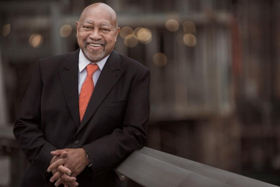 Brooklyn Center for the Performing Arts at Brooklyn College continues its 2017-18 Kumble Theater season with jazz maestro Kenny Barron. An 11-time GRAMMY nominee, NEA Jazz Master, and American Jazz Hall of Fame inductee, this virtuosic pianist comes to Brooklyn's Kumble Theater for an intimate solo performance. Tickets are $35 and can be purchased in advance at BrooklynCenter.org or by calling the Brooklyn Center box office at 718-951-4500. Day-of-show tickets should be purchased at the Kumble Theater on the downtown Brooklyn campus of LIU, located at 1 University Plaza, or by calling the Kumble Theater box office at 718-488-1624. Honored by The National Endowment for the Arts as a Jazz Master, Kenny Barron has an unmatched ability to mesmerize audiences with his elegant playing, sensitive melodies, and infectious rhythms. The Los Angeles Times named him "one of the top jazz pianists in the world" and Jazz Weekly calls him "the most lyrical piano player of our time."
Kenny was born in Philadelphia in 1943 and, while a teenager, started playing professionally with Mel Melvin's orchestra. This local band also featured Barron's brother Bill, the late tenor saxophonist. While still in high school, Kenny worked with drummer Philly
Joe Jones
and, at age 19, he moved to New York City and freelanced with Roy Hayes,
Lee Morgan
, and
James Moody
, after the tenor saxophonist heard him play at the Five Spot. Upon Moody's recommendation,
Dizzy Gillespie
hired Barron in 1962 without even hearing him play a note. It was in Dizzy's band where Kenny developed an appreciation for Latin and Caribbean rhythms. After five years with Dizzy, Barron played with Freddie Hubbard, Stanley Turrentine, Milt Jackson, and Buddy Rich.
The early '70s found Kenny working with Yusef Lateef, who Kenny credits as a key influence in his art of improvisation. Encouraged by Lateef to pursue a college education, Barron balance touring with studies and earned his B.A. in Music from Empire State College. By 1973 Kenny joined the faculty at Rutgers University as professor of music. He held this tenure until 2000, mentoring many of today's young talents including David Sanchez, Terence Blanchard, and Regina Bell. In 1974, Kenny recorded his first album as a leader for the Muse label, entitled Sunset To Dawn. This was to be the first of over 40 recordings (and still counting!) as a leader.
Following stints with Ron Carter in the late '70s, Kenny formed a trio with Buster Williams and Ben Riley, which also worked alongside of Eddie "Lockjaw" Davis, Eddie Harris, Sonny Stitt, and Harry "Sweets" Edison.
Throughout the '80s, Barron collaborated with the great tenor saxophonist Stan Getz, touring with his quartet and recording several legendary albums including Anniversary, Serenity, and the GRAMMY- nominated People Time. Also during the '80s, he co-founded the quartet Sphere, along with Buster Williams, Ben Riley, and Charlie Rouse. This band focused on the music of Thelonious Monk and original compositions inspired by him. Sphere recorded several outstanding projects for the Polygram label, among them Four For All and Bird Songs. After the death of Charlie Rouse, the band took a 15-year hiatus before reuniting, replacing Rouse with alto saxophonist Gary Bartz. This reunion made its debut recording for Verve Records in 1998. After a series of successful duo concerts with bassist Dave Holland, the two masters decided to record The Art of Conversation (Impulse!), which was released in October 2014. "You can almost hear the wheels of their collective imagination turning, and then the next burst of ear-opening brilliance is upon you."
In 2016, Kenny released the long awaited trio album, Book of Intuition (also on the Impulse! label), featuring his band mates Kiyoshi Kitagawa and Johnathan Blake. It became his eleventh GRAMMY nomination. His latest recording, Concentric Circles (Impulse!) will be released in Spring 2018 and features his quintet with Mike Rodriguez, Dayna Stephens, Kiyoshi Kitagawa, and Johnathan Blake.
Kenny was awarded an Honorary Doctorate in 2013from his alma mater, SUNY Empire State, and in 2011 from Berklee College of Music. He consistently wins the jazz critics and readers polls, including 2016 Downbeat Critics Poll, Jazz Times, and Jazziz magazines. In 2009 he was inducted into the National Academy of Arts and Sciences and received the Living Legacy Award from Mid-Atlantic Arts Foundation. In 2005 he was inducted into the American Jazz Hall of Fame and won a MAC Lifetime Achievement Award. He was named Best Pianist in 2017 by the Jazz Journalists Association for a record seventh time.
As part of its season at Kumble Theater, Brooklyn Center for the Performing Arts will also present Brooklyn-based jazz artist Alicia Olatuja (March 10, 2018) and dance troupe Step Afrika! (April 28, 2018). In addition to the artists being presented at Kumble Theater, Brooklyn Center will also partner with the Weeksville Heritage Center to present their 11th annual National Grid Earth Day Celebration (April 21, 2018). Multibuy discounts (three or more shows) save 15% off individual ticket prices. Multibuyers enjoy flexible ticket exchanges and discounted parking for purchased performances at Brooklyn College. A 50% discount for children ages 12 and under is offered for select performances. Discounts are also available for seniors, students, Brooklyn College faculty/staff/alumni, active/retired military personnel, and groups. $10 student rush tickets available day-of-show.
Founded in 1954, Brooklyn Center for the Performing Arts at Brooklyn College presents outstanding performing arts and arts education programs, reflective of Brooklyn's diverse communities, at affordable prices. Each season, Brooklyn Center welcomes over 65,000 people to the 2,400 seat Whitman Theatre, including up to 45,000 schoolchildren from over 300 schools who attend their SchoolTime series, one of the largest arts-in-education programs in the borough. For the 2017-18 season, the company will present at the Kumble Theater on the downtown Brooklyn campus of LIU, while Whitman Theatre undergoes a 12-month closure for structural repairs. Brooklyn Center will announce additional performances for the spring of 2018 in conjunction with the opening of the new Leonard and Claire Tow Center for the Performing Arts at Brooklyn College. Brooklyn Center for the Performing Arts' programs are supported, in part, by public funding from the New York City Department of Cultural Affairs in partnership with the City Council. Brooklyn Center's 2017-18 season is made possible by the New York State Council on the Arts with the support of Governor Andrew Cuomo and the New York State Legislature.
Major support for the 2017-18 season is provided by: Brooklyn College, Con Edison, TD Bank, National Grid, The Howard Gilman Foundation, the Jazz Touring Network, the Alice Lawrence Foundation, the Mertz Gilmore Foundation, the Mid Atlantic Arts Foundation, and the TD Charitable Foundation. Additional support provided by CNG Publications, The Brooklyn Eagle, Brooklyn Media Group, and WBGO Jazz 88.3 FM. The Fairfield Inn & Suites by Marriott New York Brooklyn is the official hotel of Brooklyn Center's 2017-18 season. Brooklyn Center's presentation of
Alicia Olatuja
is made possible through the Jazz Touring Network program of the Mid Atlantic Arts Foundation with support from the National Endowment for the Arts. Brooklyn Center for the Performing Arts gratefully acknowledges generous support from New York State Assembly members
Annette Robinson
and Helene Weinstein; New York City Council Member Jumaane D. Williams; New York City Council Cultural Affairs Committee Chair
Jimmy
Van Bramer
; New York City Council Speaker
Melissa Mark-Viverito
, and Commissioner of Cultural Affairs
Tom Finkelpearl
.
Related Articles View More Brooklyn

Stories

Shows
More Hot Stories For You