The Lyric Stage Company of Boston Presents SISTER ACT This Spring
Sister Act, based on the beloved hit movie, will have audiences relishing in "heavenly" voices and jubilant performances.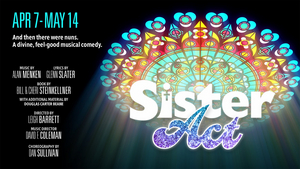 Sister Act with Music by Alan Menken, Lyrics by Glenn Slater, Book by Bill and Cheri Steinkellner, and Additional Materials by Douglas Carter Beane will be Directed by Leigh Barrett with Musical Direction by David F. Coleman and Choreography by Dan Sullivan will Raise the Roof and lift spirits this spring at Lyric Stage Boston made in part possible by our Corporate Sponsor for the production, Brookline Bank.
Sister Act, based on the beloved hit movie, will have audiences relishing in "heavenly" voices and jubilant performances. Featuring a choir of cheeky, loveable nuns led by the fabulous, unforgettable, (and sequin loving!) Deloris Van Cartier, toes will be tapping and spirits will be lifted at this celebration of friendship, the joy of music, and the importance of togetherness.
After witnessing a murder, free spirited, disco diva Deloris Van Cartier finds herself in protective custody at a convent. At odds with a rigid Mother Superior, and a strict lifestyle, Deloris finds divine intervention bringing the choir from dour to dazzling with her signature style. While Deloris is busy raising the roof, her cover is blown and her new-found sisterhood rallies around her with a lot of love (and maybe a few sequins) in a tribute to the power of friendship.
Performances begin Friday, April 7 and run through Sunday, May 14.
Director Leigh Barrett says, "Expectations. We all have them. We have them for ourselves, for the people we meet and, of the moment. What you're going to experience at Sister Act is what happens when people see beyond those limited expectations and assumptions, and find love, hope and friendship in the most unexpected place."
"We're excited about the Bank's sponsorship of Sister Act," said Brookline Bank President Darryl Fess. "Lyric Stage is an important part of the culture here in Back Bay and we're proud of our partnership with them."
Featuring Kara Chu Nelson, Beth Gotha*, Jackson Jirard, Joelle Lurie*, Amie Lytle, Cristhian Mancinas-García, Cheryl MacMahon*, Davron Monroe*, Yewande Odetoyinbo*, Meghan Rose, Kathy St. George*, Carolyn Saxon*, Damon Singletary*, Kira Cowan Troilo*, James Turner, and Todd Yard
Understudies: Alan Cid, Jennifer Bubriski, and Lilian Salazar
Scenic Design is by Jenna MacFarland Lord, Costume Design by Kelly Baker, Lighting Design by Chris Brusberg, and Sound Design by Alex Berg.
In an effort to integrate live theater into the lives of all residents of Greater Boston, Lyric Stage offers multiple options including $30 Under 35, advanced Student Tickets, Senior Tickets, and partnerships with MassWIC and EBT Cardholders that allow audiences to visit as often as they like. More information at: https://cloud.broadwayworld.com/rec/ticketclick.cfm?fromlink=2231471®id=10&articlelink=https%3A%2F%2Fwww.lyricstage.com%2Ftickets%2Flyric-for-all%2F?utm_source=BWW2022&utm_medium=referral&utm_campaign=article&utm_content=bottombuybutton1
On Friday, April 7, Lyric Stage offers Five Dollar Friday which makes tickets affordable for all for $5 each. There will be a limited number of $5 tickets available for sale with code SISTER5.

Please visit https://www.lyricstage.com/tickets/subscriptions/covid-19-policy/ which will be updated regularly with the most current information.