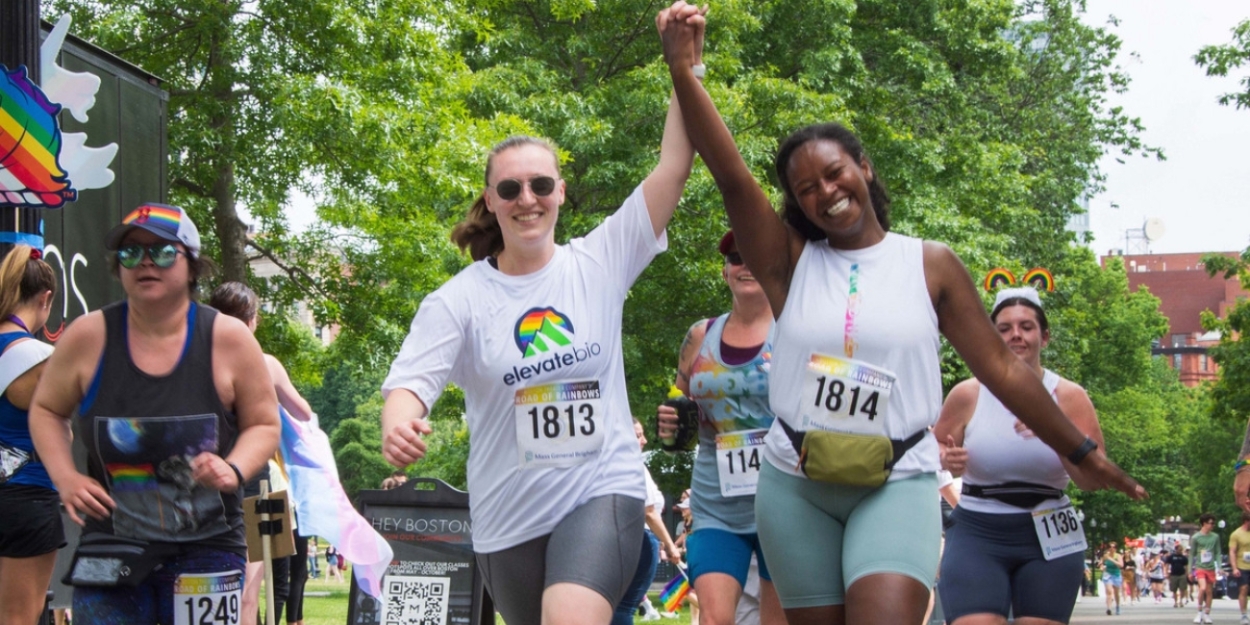 The Boston Theater Company's Road of Rainbows 5K to Return in June
The Boston Theater Company started Road of Rainbows in 2021 to help runners of all genders and abilities have fun in an outdoor sporting event that is open to all.
The Boston Theater Company's third annual running of the Road of Rainbows 5K will return on Saturday, June 10 with a 10:00 a.m. start as part of Pride Month. Registration for the race is now open via this link. A blending of arts and athletics, the race is an all-inclusive celebration at Boston Common and will occur before the Pride Parade.
Gathering participants of all backgrounds for a three-lap run around Boston Common, the third Road of Rainbows builds momentum on its previous events, when more than 1,200 participants celebrated inclusive sport in Boston. The event includes hours of pre-race and post-race programming at Boston Common and will welcome thousands of visitors throughout the day. Registration options are available for walkers, students, and for those looking to donate to the event. All registrants can save 20% on entry by using the code "MARCH" before April 1.
"We're thrilled to return to for the third time this summer and grow this event as the athletic heart of Pride Month," said Joey Frangieh (he/him/his), BTC Artistic Director. "This event creates intentional welcoming space, offering a celebration of all genders, all bodies, and all abilities to move together. And it's a call to action that all athletic events in the city of Boston, like 5Ks, to be welcoming, inclusive and safe for everyone."
The Boston Theater Company started Road of Rainbows in 2021 to help runners of all genders and abilities have fun in an outdoor sporting event that is open to all. While the 2021 event coincided with Halloween, race organizers expect costumes to be equally fun and creative as the 2023 event grows central to Pride Month and those who enjoy it.
"My first time hearing of the Road of Rainbows was last year when I had the honor of performing at the pre-show festival," said Red Shaydez (she/her/hers). "I've never been a part of an event that not only encourages you to be yourself and take up space but also to stay healthy at the same time. It's one of the best PRIDE events ever and I'm super grateful to be a part of it again this year!"
In addition to its registration options, and to help the event be as inclusive as possible, its pay-what-you-can system allows people of all economic backgrounds to participate. Since the event's inception, more than half of all participants have taken advantage of reduced pricing, and BTC thankful to its sponsors who've helped to make the event more financially inclusive.
The event is supported by generous sponsors Jordan's Furniture, Mass General Brigham, Audacy, and WGBH. Donations to the event are also welcomed. "Boston is all about its sports, and Road of Rainbows is all about inclusion," says David J. Castillo, (Him/He/His), a counselor and co-producer for the event. "So when we gathered last year for the second time, it felt incredible to see people of all walks of life engaging in a communal and non-judgmental athletic experience. Events like Road of Rainbows remind us that sometimes all you need to do to make someone different than you feel at home is cheer them on."
About Road of Rainbows 5K:

Established in 2021 by the Boston Theater Company, Road of Rainbows is a first-of-its kind 5K race in the heart of Boston. Rooted in the power of sport to unite, empower, and uplift, the event welcomes participants of all genders and backgrounds to compete in a fun and festive course through Boston Common. The event champions collaborative expression, a commitment to sportsmanship, and is grounded in social responsibility. The event celebrates the opportunity running has to highlight our common humanity and encourage important conversation. More than 1,200 participants have taken part in the event since its inception.