LEFTOVERS: PTSD Musical Premieres At Fort Point Theater Channel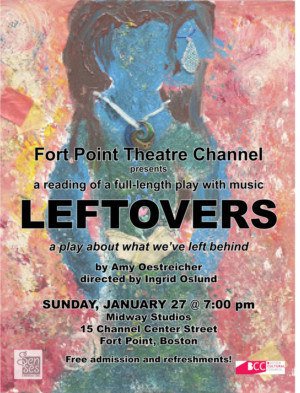 LEFTOVERS, a full-length play with music, will premiere as part of Fort Point Theater Channel's Senses Performance Series, Sunday January 27th at 7pm. LEFTOVERS explores the physical and psychological impact of PTSD, conveying the pain, the losses and ultimately the gifts of transformation that stem from trauma. Rather than a chronological accurate sequence of events, the play illustrates how trauma is actually experienced: in intricate nonlinear tapestries of sounds, images and sensations. The playwright, Amy Oestreicher, wrote LEFTOVERS based on her own story of waking up from a coma after months of keeping a secret of sexual abuse from her family. Oestreicher has given three TEDx Talks on transforming trauma into creative growth through the power of theatre, and has toured the country with her own one-woman autobiographical musical, Gutless & Grateful. Her book, My Beautiful Detour, is now available for preorder.
The reading of LEFTOVERS is free and open to the public, and will be directed by Boston-based director Ingrid Oslund. The cast includes Victoria Isotti, Katharine Mayk, Bobby Zupkofska, Sebastian Espinosa, Sara Kerr, Padraig Sullivan. For more information, see http://www.fortpointtheatrechannel.org/senses/. Food and drinks will be served afterwards.
SENSES is FPTC's very informal, very eclectic series of short performance events. Always free, it takes place at various venues in the Fort Point area of Boston but mostly at Midway Studios, 15 Channel Center Street.
More Hot Stories For You