Courtney Love and Todd Almond at Provincetown's Crown & Anchor, 8/5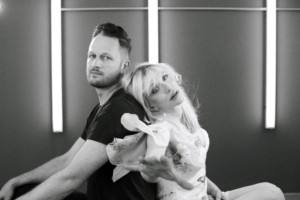 On August 5 at 7:00 p.m., producer Rick Murray will present one of the most influential figures in contemporary popular culture, rock legend and actress Courtney Love, who will sit down with Kevin Sessums for an intimate evening of conversation and performance. Love will be joined by her collaborator and friend, composer Todd Almond, with whom she shares a unique artistic alchemy. The duo will perform selections from their new musical Kansas City Choir Boy and discuss a wide range of topics from the curious magic that occurs when artists collaborate to the fears they must bravely overcome to create their art. The event is part of the star-studded lineup of the 2017 Crown & Anchor Cabaret Series. Tickets are now on sale for the Series, which takes place this summer in Provincetown, MA at The Crown & Anchor's Paramount Theatre, Cabaret Room, and Town Hall Auditorium.
Musician. Songwriter. Actress. Activist. Celebrity. Provocateur. There are few artists who fit into all of the above categories, performers whose life and work are impossible to pigeonhole. There is only one Courtney Love.
The extraordinary music she created with Hole and on her own broke totally new ground. The lyrics are both literate and mordant and possessed of extraordinary intellectual and observational acuity. They are combined with music of singular power and riveting emotional intensity. She has enjoyed not only real rock credibility but also exceptional commercial success, especially with "Live through This" and "Celebrity Skin" which were both multi-platinum.
In addition to her many music-related activities - including impassioned involvement in a variety of artists' rights-related issues - Courtney is also continuing to pursue her love of acting and recently completed production on James Franco's film, The Long Home, based on William Gays' debut novel of the same title. She can also be seen in the final season of the critically acclaimed Sons of Anarchy series as well as guest roles on the hit shows, Empire and ABC's Revenge.
Since 2015, she has been seen on stage staring in the contemporary hit Kansas City Choir Boy, an original opera composed by Todd Almond.
Courtney was most recently seen in the Lifetime movie, Menendez: Blood Brothers.
Her much-celebrated turn as the tragic Althea Flynt in the 1996 film, The People Vs. Larry Flynt, was a career breakthrough, earning her a Golden Globe nomination, along with "Best Supporting Actress" awards from the New York Film Critics Circle and the Boston Society of Film Critics, "Most Promising Actress" from Chicago Film Critics Association, and "Best Supporting Actress" runner-up from the Los Angeles Film Critics Association.
Todd Almond is a composer, lyricist and playwright. Theater includes original music for the recent off-Broadway production of How to Transcend a Happy Marriage (Lincoln Center); original music for the recent Broadway production of Noises Off (Roundabout); book for Girlfriend (songs by Matthew Sweet, directed by Les Waters; CTG); book, music, and lyrics for Kansas City Choir Boy (also starred alongside Courtney Love, directed by Kevin Newbury; Prototype Festival, American Repertory Theater, Center Theater Group); music, lyrics, book/adaptation for The Odyssey, The Winter's Tale, The Tempest (directed by Lear deBessonet; Delacorte, Public Theater's Public Works Program); Iowa (a collaboration with playwright Jenny Schwartz, directed by Ken Rus Shmoll; Playwrights Horizons); score for Melancholy Play (a chamber-musical version of Sarah Ruhl's play).
Kansas City Choir Boy is a theatricalized concept album about love altered by unexpected fate. A mystery told through flashbacks, the show tells the story of two lovers in small town America who separate when one goes in search of her destiny and then disappears. Borrowing themes from ancient myth, the show features original songs by Todd Almond, performed with rock icon Courtney Love. Kansas City Choir Boy is a love song for the computer age and a product of the 24-hour news cycle that feeds on the stories of the anonymous "missing."
Kevin Sessums is the two-time New York Times bestselling author of the memoirs Mississippi Sissy and I Left It on the Mountain. He was the Executive Editor of Andy Warhol's Interview, a Contributing Editor at Vanity Fair, Editor in Chief of FourTwoNine, and Editor at Large at the Curran Theatre in San Francisco. His work has also appeared in Elle, Marie Claire, Playboy, Allure, Out, Parade, and Travel+Leisure among other magazines. He was a contributor to both Towleroad and The Daily Beast. His own website kevinSessums.com is launching this summer.
This season, proceeds from the Cabaret Series will benefit the True Colors Fund. Co-founded by Cyndi Lauper, the True Colors Fund is working to end homelessness among lesbian, gay, bisexual, and transgender youth by creating systemic change through a broad continuum of advocacy, training and education, and youth collaboration programs.
The Crown & Anchor 2017 Cabaret Series Schedule:
Paramount Theater
Saturday, August 5 at 7:00 p.m.
(One night only, two shows, Provincetown debut)
Paramount Theater
Sunday, August 6 at 7:00 and 9:00 p.m.
Paramount Theater
Monday, August 7 at 8:00 p.m.
Town Hall Auditorium
Saturday, August 12 at 8:00 p.m.
Paramount Theater
Saturday, August 19 at 7:00 p.m. and Sunday, August 20 at 8:00 p.m.
KIM David Smith
Cabaret Room
Wednesday and Thursday, August 16 & 17 at 10:00 p.m.
Paramount Theater
Monday and Tuesday, August 21 & 22 at 8:30 p.m.
Paramount Theater
Saturday and Sunday, August 26 & 27 at 7:00 p.m.
Paramount Theater
Monday and Tuesday, August 28 & 29 at 8:00 p.m.
Tickets are now on sale both for general admission seating and special VIP packages. Pricing and additional information available online at www.onlyatthecrown.com, by phone at 508-487-1430, or at the Crown & Anchor box office, 247 Commercial Street, Provincetown, MA.
More Hot Stories For You