BWW Review: WELL INTENTIONED WHITE PEOPLE at Barrington Stage Company dares audiences to go beyond getting Woke.
A Gallup Polling research study published in 2013 identified Massachusetts as the most liberal state in America with slightly more than 30% self-identifying as liberals. A distinction making it a rather fitting location for the World Premier of WELL INTENTIONED WHITE PEOPLE a new play by Rachel Lynett.
The play opens with the main character, Cass, a Black College Professor, trying to relax with a comic book and a scotch following a racial incident that she would
rather forget. Cass seems to take a rather pragmatic approach to "the incident". Particularly in relation to her White, Activist, and extremely liberal roommate, Viv. Cass acknowledges being "a little annoyed" and suggests that "it's fine". Viv feels strongly that "It's completely not fine. Stuff like this isn't supposed to happen in our town... things like this don't happen here or at least if they do we don't just do nothing. If you see something, say something."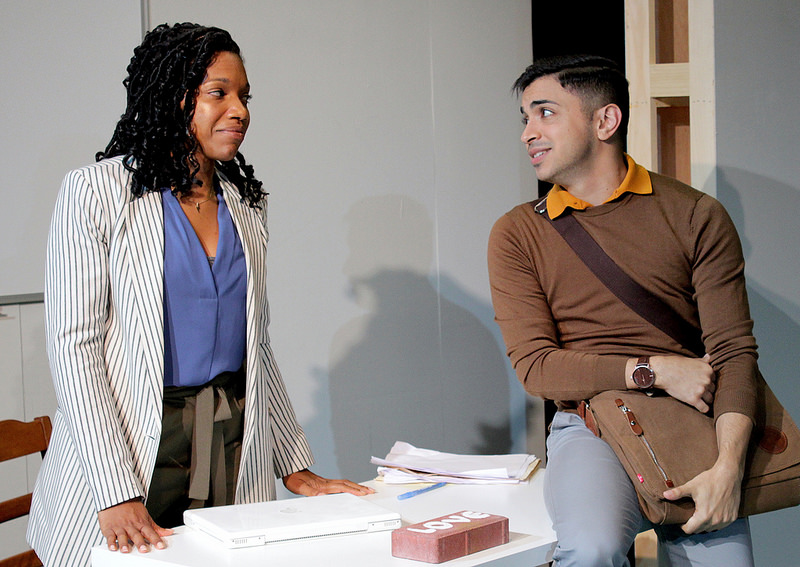 Parker, Cass's friend and colleague, like Cass herself, takes the incident in stride, but also offers some understanding, perspective, and levity by stating that "Viv is shook. I'll be surprised if she even leaves her room for the next couple of days". Cass replies: "It didn't happen to her." To which Parker responds: "It's Viv. Everything happens to her". Parker's advice to Cass regarding the WELL INTENTIONED WHITE PEOPLE around them is that "people sorta love this shit. They love a chance to rally behind a person of color and plan protests and marches and talk about how they understand what microaggression is now. Protesting is the new "brunch" for white people".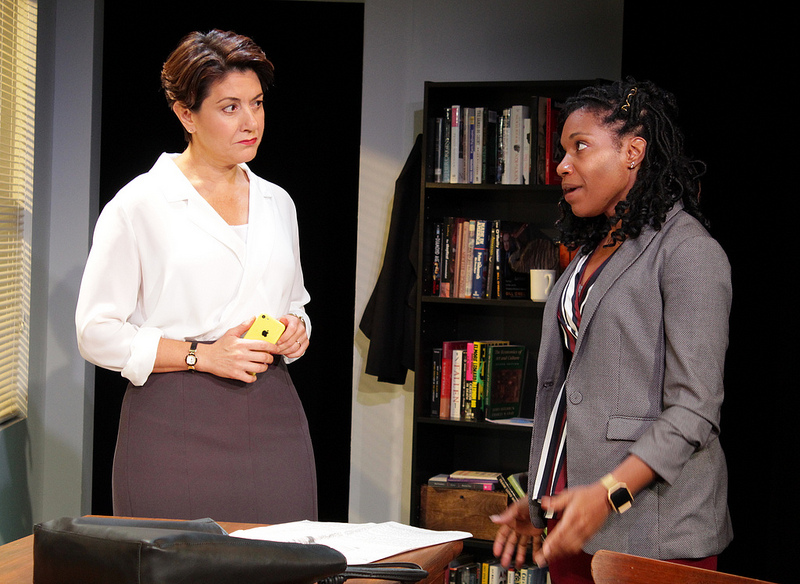 Matters are further complicated when Cass and Parker's boss, Dean West, learns of the incident. Like Viv, the dean has her own strongly held views on the appropriate action plan which forces Cass into "making an example of it". Like a proverbial snowball rolling downhill, the incident, the plan, and events
surrounding both escalate in intensity at an alarming rate. Sweeping "Woke AF", Mother Theresa quoting, student activist, Mara, into the mix along the way. Along with the plan, individual perspectives and rules of social engagement bend and shift in this poignant and surprisingly, funny look at race, friendship, and how, in the pursuit of real change, "well intentions" are not always enough.
The entire ensemble cast (all newcomers to BSC) deliver unquestionably high-quality performances. Each displaying a range of emotion and dynamics as their characters navigate the windy and often choppy waters with such strength and dexterity that there is not even a moment we doubt them, nor the conviction with which they are compelled to do what they believe to be the "right thing".
Written by emerging playwright Rachel Lynett, directed by Tiffany Nichole Greene, the cast of WELL INTENTIONED WHITE PEOPLE includes Myxolydia Tyler as "Cass," Victoria Frings as "Viv," Samy El Noury as "Parker," Andrea Cirie as "Dean West," and Cathryn Wake as "Mara." With scenic design by Adam Rigg, costume design by Lux Haac, lighting design by Scott Pinkney, sound design by Joel Abbott. Casting by Pat McCorkle. Production Stage Manager: Heather Klein
WELL INTENTIONED WHITE PEOPLE is sponsored by Phillip and Mary Oppenheimer and in part by Jude Sabot. Performances continue at Barrington Stage Company's St. Germain Stage in Pittsfield, MA through September 8th.
Related Articles View More Boston

Stories

Shows