BWW REVIEW: ALADDIN Is a Manic Ride on Disney's Magic Carpet
Music by Alan Menken; lyrics by Howard Ashman, Tim Rice and Chad Beguelin; book by Chad Beguelin; directed and choreographed by Casey Nicholaw; sound design, Ken Travis; hair design, Josh Marguette; make-up design,Milagros Medina-Cerdeira; illusion design, Jim Steinmeyer; costume design, Gregg Barnes; lighting design,Natasha Katz; scenic design, Bob Crowley; orchestrations, Danny Troob; music supervision, Michael Kosarin
Cast in Order of Appearance:
Genie, Michael James Scott; Jafar, Jonathan Weir; Iago, Jay Paranada; Aladdin, Clinton Greenspan; Jasmine, Isabelle McCalla; Sultan, Jerald Vincent; Babkak, Zach Bencal; Omar, Philippe Arroyo; Kassim, Jed Feder; Shop Owner, Erik Hernandez; Razoul, Bobby Daye; Henchmen, Albert Jennings, Charles McCall; Prince Abdullah, Charles South; Attendants, Mary Antonini, Olivia Donaldson, Annie Wallace; Fortune Teller, Olivia Donaldson (Lissa deGuman at the reviewed performance)
Performances and Tickets:
Now through August 5, Boston Opera House, 539 Washington Street, Boston; tickets start at $34.50 and can be purchased through an authorized ticket seller found only at Ticketmaster 866.870.2717, and by visiting www.BroadwayInBoston.com. Tickets will also be sold directly at the Boston Opera House Box Office during normal business hours (Monday through Friday, 10am to 5pm).
The mania with which the late Robin Williams brilliantly voiced the Genie in the 1992 Disney animated film ALADDIN infuses every inch of Casey Nicholaw's high-octane Broadway musical production. Now on tour at the Boston Opera House through August 5, ALADDIN is a gilt-edged treasure chest of sensory overload that unabashedly begs for cheers - and gets them - throughout its two-and-a-half hour running time.
There isn't much new in ALADDIN as far as the Disney movie-to-stage formula goes. Familiar storylines and quintessential stock characters let the audience respond with fond recognition as the imperfect hero Aladdin (a suitably cocky but kind Clinton Greenspan) finds his valor because of the love of a strongly principled - and of course beautiful - heroine Jasmine (a suitably willful but idealistic Isabelle McCalla). Their journey to inevitable romance is only temporarily interrupted by Jasmine's stern but loving father the Sultan (a very regal Jerald Vincent), the evil Vizier Jafar (a perpetually sneering Jonathan Weir), and his gleefully demonic lackey Iago (the weaselly Jay Paranada).
With the help of a trio of stooge-like petty thieves turned boy band Babkak (Zach Bencal), Omar (Phillipe Arroyo) and Kassim (Jed Feder), and the irrepressible Genie (a tirelessly hyperkinetic Michael James Scott), Aladdin uses his friendships and his three wishes to vanquish the villains and win his love's heart. Throw in a barrage of show-stopping musical production numbers, eye-popping costumes and scenery, some impressive sleight of hand and a gravity-defying magic carpet ride, and you have another mega Disney Broadway hit. Hey, if the formula works, why mess with it?
If the music sounds like something you've heard many times before, that's no accident. ALADDIN actually acknowledges the resemblance to other Disney scores in grand meta-theatrical fashion by having the Genie "ingeni-ously" spoofing Beauty and the Beast and other popular properties. As Genie, the hilarious Scott also breaks the fourth wall to jab at the "boy meets girl, boy loses girl, boy gets girl" outcome. It's all in good fun, and that over-the-top tone so characteristic of Casey Nicholaw- directed and choreographed shows permeates ALADDIN start to finish.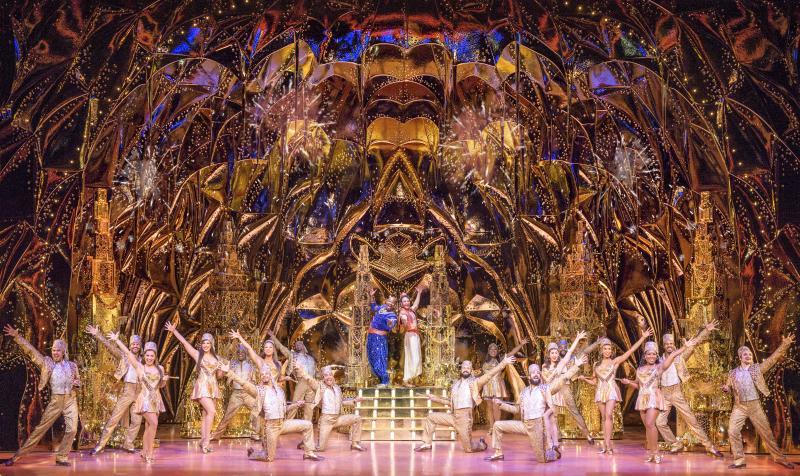 With an emphasis on the cartoonish and cliché, ALADDIN doesn't necessarily make one care about the characters or their stories. But Greenspan, McCalla and Vincent do their best to soften their edges when love and honor are on the line. Greenspan, especially, has a way of tinging Aladdin's bravado with the endearing insecurity that lurks beneath. Whether in book scene or song, he charms the audience even before he does McCalla's cool Jasmine.
The show really does belong to Genie, though, and Scott pours every ounce of improvisational energy into the role. Whether setting the story as the narrator with the spectacular opening number "Arabian Nights" or making 1001 riffs in the Act I closer "Friend Like Me," he keeps ALADDIN running in comic overdrive.
PHOTOS by Dean van Meer: Michael James Scott as Genie; the ensemble of ALADDIN; Isabelle McCalla as Jasmine and Clinton Greenspan; Michael James Scott, Clinton Greenspan and the cast of ALADDIN