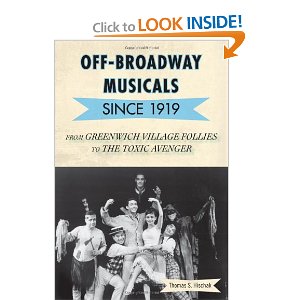 Off-Broadway Musicals Since 1919: From Greenwich Village Follies to the Toxic Avenger


by Thomas S. Hischak

Although the venue Off Broadway has long been the birthplace of innovative and popular musicals, there have been few studies of these influential works. Long-running champs, such as The Fantasticks and Little Shop of Horrors, are discussed inmany books about American musicals, but what of the hundreds of other Off-Broadway musicals? In Off-Broadway Musicals since 1919, Thomas Hischak looks at more than 375 musicals, which are described, discussed, and analyzed subjectively, with particular attention given to their books, scores, performers, and creators. Presented chronologically and divided into chapters for each decade, beginning with the landmark musical Greenwich Village Follies (1919), the book culminates with the satiric The Toxic Avenger (2009). In this volume, any work of consequence is covered, especially if it was popular or influential, but also dozens of more obscure musicals are included to illustrate the depth and breadth of Off Broadway. Works that introduced an important artistic talent, from performers to songwriters, are looked at, and the selection represents the various trends and themes that made Off Broadway significant. In addition to essential data about each musical, the plot and score are described, the success (or lack of) is chronicled, and an opinionated commentary discusses the work's merits and influences on the musical theatre in general. The first book of its kind, this highly readable volume will please both the theatre scholar and the average musical theatre patron or fan. --This text refers to the Kindle Edition edition.


Available On:





Publisher: Scarecrow Press
Released: 2011
PURCHASE / MORE INFORMATION