Musical Thriller CARRIE Brings Together Current Students, McDaniel Alumni, and Professor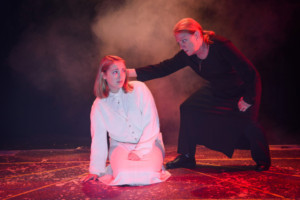 McDaniel College presents the musical thriller "Carrie," based on Stephen King's best-selling novel. Performances are Wednesday, Nov. 15-Saturday, Nov. 18, 7:30 p.m., in WMC Alumni Hall at McDaniel College, 2 College Hill, Westminster, Md. (Note: the show contains adult material, including mature language and violence).
Tickets are $10 for adults and $8 for students, seniors (over 60), active military members and veterans, as well as those with a McDaniel College ID. For ticket information, call 410-857-2448.
Directed by 1987 McDaniel alumnus Josh Selzer, arts manager at McDaniel, the show features McDaniel theatre arts students in addition to 2012 McDaniel alumna Brooke Hain, as well as Elizabeth van den Berg, theatre arts chair at McDaniel, as Carrie's mother Margaret, in conjunction with McDaniel College's yearlong 150th anniversary celebration. This is the first time that a theatre production at McDaniel has brought together current students with alumni and a professor.
"I have wanted to do this show for almost 30 years," said Selzer. "The original Broadway production is legendary, but I got to New York the day they announced the closing. I've been obsessed ever since."
The musical, which features a book by Lawrence D. Cohen with lyrics by Academy Award winner Dean Pitchford ("Fame," "Footloose") and music by Academy Award winner Michael Gore ("Fame," "Terms of Endearment"), focuses on misfit Carrie White, an outcast at school who is bullied by the popular crowd and virtually invisible to everyone else. At home, she is at the mercy of her loving but cruelly overprotective mother. Carrie discovers that she has a special power, and if pushed too far, she's not afraid to use it. When Carrie's prom dreams are crushed, she unleashes her power in a bloody climax of fire and fury.
About the unforgettable prom scene, Selzer notes that this climactic moment in the show has proven tricky for everyone who has staged it "because of all the violence and the telekinesis." The production at McDaniel is "tackling it in a very theatrical way that I don't believe has ever been tried before and we're all very excited about that."
McDaniel junior Emma Bartels-Jones of Cockeysville, Md., plays Carrie. Other McDaniel students in the cast include seniors Bryan Bowen of North Beach, Md., Joseph Fox of Hurlock, Md., Valerie Lamb of Miami Gardens, Fla., Brandon Richards of Huntingtown, Md., and Megan Smith of Federalsburg, Md., sophomores Ethan Cortes of Sykesville, Md., Trevor Haupt of Abingdon, Md., Veronica Johns of Parkville, Md., Chris Shatzer of Taneytown, Md., Danielle Taylor of Lewes, Del., and Patsy Zetkulic of Arlington, Va., and freshmen Vanessa Bliss of Reston, Va., Matt Foley of Fair Lawn, N.J., Lauren McKenna of Sykesville, Md., and Corey Van Huff of Neptune City, N.J.
The ensemble is made up of senior Torreke Evans of Atlanta, sophomore Olivia Michel of New York, and freshmen Mikayla Braswell of Germantown, Md., and Karly Congero of Lavallette, N.J. The interrogators are played by senior Jonathan Halberstam of Manchester, Md., and freshman Allisa Baker of Fairfield, Pa.
Choreography is by Amie Bell of Reisterstown, Md., with musical direction by Alison E. Shafer of Frederick, Md.
Visit www.mcdaniel.edu/theatre for more information about McDaniel College and the theatre arts department.
McDaniel College, founded in 1867 and nationally recognized as one of 40 "Colleges That Change Lives," is a four-year, independent college of the liberal arts and sciences offering more than 70 undergraduate programs of study, including dual and student-designed majors, plus 25 highly regarded graduate programs. Its personalized, interdisciplinary, global curriculum and student-faculty collaboration develop the unique potential in every student. A diverse, student-centered community of 1,600 undergraduates and 1,400 graduate students, McDaniel offers access to the resources of Baltimore and Washington, D.C., and is the only American college with a European campus in Budapest, Hungary. www.mcdaniel.edu
Related Articles View More Baltimore

Stories

Shows
More Hot Stories For You