BWW Review: AIN'T TOO PROUD Succeeds on its Stunning Talent
Ephraim Sykes, Jeremy Pope, Jawan M. Jackson, James Harkness & Derrick Baskin in AIN'T TOO PROUD. Photo by Matthew Murphy.
The soul of Motown is alive in Toronto. On its final stop before Broadway, AIN'T TOO PROUD busts open the Motown catalogue at Mirvish's Princess of Wales Theatre. With explosive vocals that reach every extreme of the human voice, high-energy choreography, and a playlist of 31 Motown favourites - AIN'T TOO PROUD works hard to be a hit.
When the lights come up, you are propelled into the fast-paced "Life and Times of the Temptations", guided and narrated by Otis Williams (Derrick Baskin). Otis takes you through his childhood, his stint in prison, and his revelation that led him to dedicate his life to music (experiencing the smooth stylings of The Cadillacs). One by one, Otis assembles the original five Temptations - Paul Williams (James Harkness), Melvin Franklin (Jawan M. Jackson), Eddie Kendricks (Jeremy Pope), and David Ruffin (Ephraim Sykes). While the group produces some of music history's most glorious harmonies, the group dynamic turns out to be anything but harmonious.
Des McAnuff's direction spends the entire show in a tight tango with Sergio Trujillo's enticing choreography. With relatively sparse staging, a revolving stage is used to its full potential, allowing the show to zip through time while revealing different perspectives - even creating some comedic moments - like when the first lead vocalist is fired and literally slides off the stage. In a marvelous directorial feat, the same sequence is used to heighten emotions after a band members' death. AIN'T TOO PROUD is a well-oiled machine, slipping in and out of narration and conversation effortlessly, and making a spectacle out of an unoriginal plot.
If you can look past the slick moves and impressive voices, you can't help but feel like you've seen this show before. The same group drama that raises the stakes in Dreamgirls begins to divide the Temptations - egos, domestic abuse, drugs, and alcohol. In fact, with a few cameos from "The Supremes," it's as if AIN'T TOO PROUD is existing in the same universe.
The audience at opening clearly enjoyed the night of Motown tunes, but I couldn't stop wishing that the plot would give as much as the performers were giving. There are far too many stories being told, and not enough time spent telling them to connect on an emotional level. In a show-stopping moment, Otis' wife Josephine (the sensational Rashidra Scott) confronts Otis for choosing life on the road over life at home with his young son. After one of the greatest performances of "If You Don't Know Me By Now," I've ever heard, we barely hear from Josephine again - and the audience spends the remainder of the show practically begging to hear more of Scott's golden pipes. It's a shame Josephine's track isn't better developed - Scott is a few scenes away from a Tony nomination-worthy performance.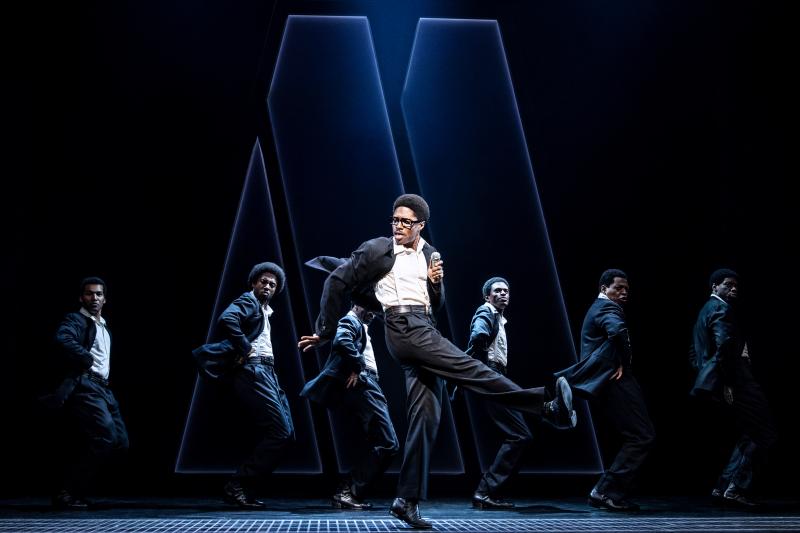 The golden pipes extend to every single member of this ensemble. As Otis, Baskin gives a powerhouse performance and makes you wait for the full vocal experience - showcasing his beautiful control in the show's final number. Pope spends the show sliding through his heavenly falsetto - I heard more than a few whistles praising his singing. Sykes has a daring quality to his power and rasp, bringing remarkable force to all of his musical moments. Harkness' physical looseness as a dancer compliments his voice nicely. Jackson forms the foundation of the group's sound with his compelling, smooth bass.
Although AIN'T TOO PROUD doesn't reach the dramatic heights of similar shows like Jersey Boys, or Beautiful: The Carole King Story - its worth comes in the form of successfully sharing the story of one of history's greatest all African-American bands. The plot could be improved by expanding one of the numerous storylines, but as it stands, AIN'T TOO PROUD is an emotional ride featuring an unbeatable soundtrack. See it before it hits the Great White Way next spring.
---
AIN'T TOO PROUD runs through November 17, 2018 at Mirvish's Princess of Wales Theatre, 300 King St. W, Toronto, ON.
For more information and to buy tickets, visit mirvish.com/shows/aint-too-proud

Related Articles View More Toronto

Stories

Shows