BWW Review: Sondra Radvanovsky Gives Four Encores in Astonishing Recital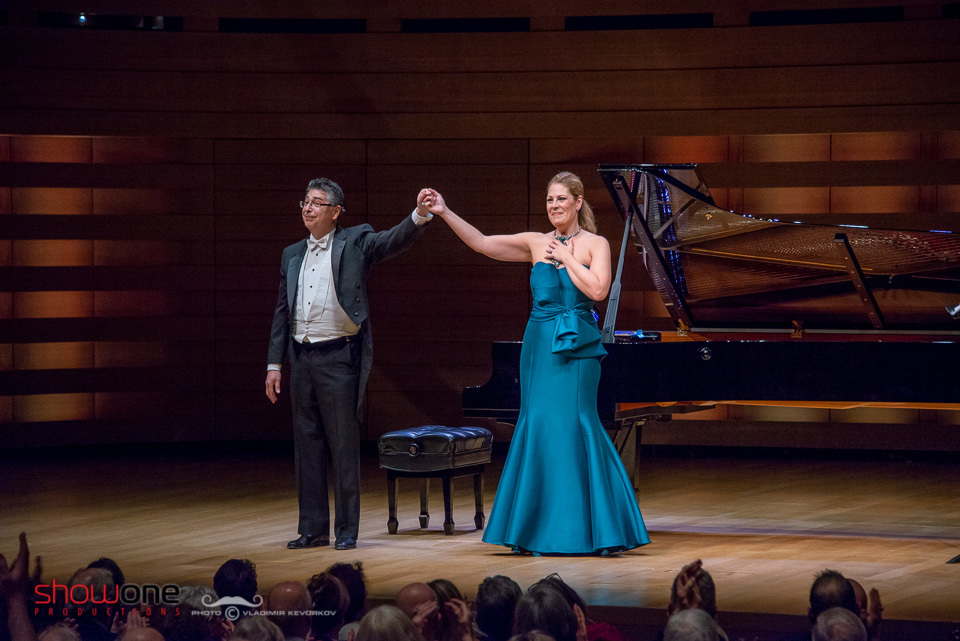 (l-r) Pianist Anthony Manoli and soprano Sondra Radvanovsky. Photo: Vladimir Kevorkov, Show One Productions.
It was a, "I was there when..." kind of evening for opera. Soprano Sondra Radvanovsky appeared at Toronto's beautiful Koerner Hall for her highly anticipated recital, From Bel Canto to Verismo, accompanied by pianist Anthony Manoli. One has to applaud the presenter, Show One Productions, on its commitment to bringing the very best in classical music to this city, year after year.
In the span of two hours, Ms. Radvanovsky performed from an entirely Italian program, each selection more jaw-dropping than the last.
Beginning with Caccini's "Amarilli, mia bella" and Scarlatti's "Sento nel core," Radvanovsky mentioned that these selections won her her very first vocal competition at the age of 13. Known as the "24 Italian Songs," these two art songs are some of the first classical pieces vocal students learn when they begin their studies. In Radvanovsky's very capable voice, they turn into butter.
Gluck's "O del mio dolce ardor," provided an opportunity for some sincerely beautiful piannisimos. When Radvanovsky came back for the second "O del mio dolce ardor," the emotions came pouring out of her. It's very moving to experience a performer who is completely connected to every word they are singing.
The first act ended with two Verdi arias, "Non so le tetre immagini," from Il Cosaro and "L'amor suo mi fe' beata" from one of Radvanovsky's signature roles, Elisabetta in Robert Devereux. This section takes us into the gorgeous, sweeping melodies of Bel Canto. Manoli's accompaniment danced with the soprano's vocal lines - showcasing every colour in her voice from agile coloratura, to controlled pianos, to moments of resonant chest voice. Roberto Devereux flowed out of the soprano so effortlessly; it was as if she was singing "Happy Birthday"! Her final, crystal-clear high D earned her one of the first (of many) "bravas" for the evening.
After a quick intermission, Radvanovsky performed a cycle of very adorable Rossini tunes, "La regata veneziana." In the cycle, a peasant girl is cheering on her lover, who is racing in a Venice regatta. Having only seen her perform very regal and powerful female characters, this silly, comedic performance showed just how versatile Radvanovsky's acting can be.
Two Puccini songs, "Sole e amore" and "E l'uccellino" took us into territory that Radvanovsky is praised for - Verismo. With Puccini's "Sola perduta abbandonta" from Manon Lescaut, the youthful hope of Rossini's peasant girl was completely dashed. The line, "Ahimè, son sola! (Alas, I am alone!)" was met with an utterly devastating chest voice that extended into haunting, piercing high notes.
The final piece of the scheduled program was historic - Radvanovsky's very first performance of Lady Macbeth's Sleepwalking scene from Verdi's Macbeth. With a music stand nearby for support, Radvanovsky gave us a taste of what is to come - the performance secure, daring, and magnificent. I will eagerly await her role debut.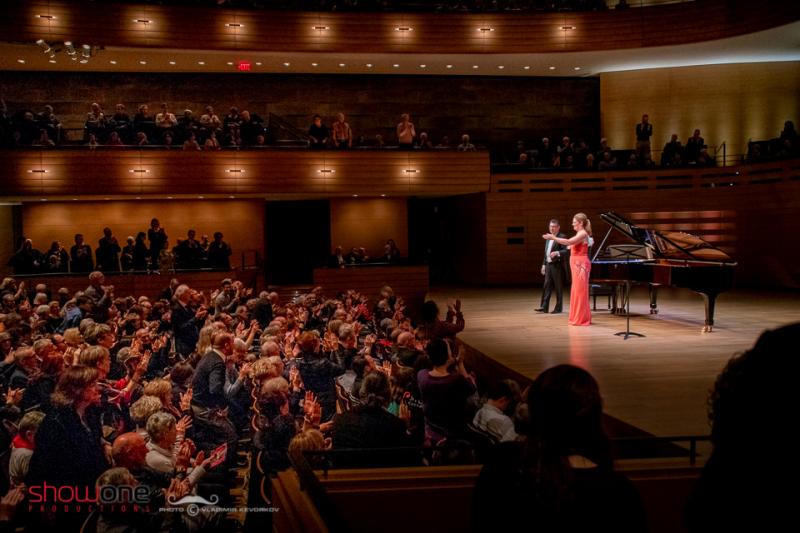 If all of the above wasn't enough, what followed was truly extraordinary. Radvanovsky, met with unyielding standing ovations and cries of "brava" from an enthusiastic crowd, delivered four encores. Beginning with Puccini's "Chi il bel sogno di Doretta" from La Rondine, Radvanovsky was ravishing. A brilliant, "Ebben? Ne andrò lontana" from Catalani's La Wally (this reviewer's favourite aria) followed. I doubt I can give a fair review of this piece because I was in tears within a few measures of Manoli's intro.
Radvanovsky ended the evening with a rousing "Pace, pace, mio dio" from Verdi's La Forza del destino and a touching rendition of "Somewhere Over the Rainbow."
If Saturday night was any indication, we are witnessing Sondra Radvanovsky in her prime, as one of the greatest voices of our time. Lucky for us Torontonians, Radvanovsky calls Canada home, and will continue to wow us in future roles on the Canadian Opera Company stage. Who knows, maybe we'll get a Lady Macbeth in the near future!

Related Articles View More Toronto

Stories

Shows