Click Here for More Articles on CHARLIE AND THE CHOCOLATE FACTORY
BWW Review: Willy Wonka Re-Invented for the 21st Century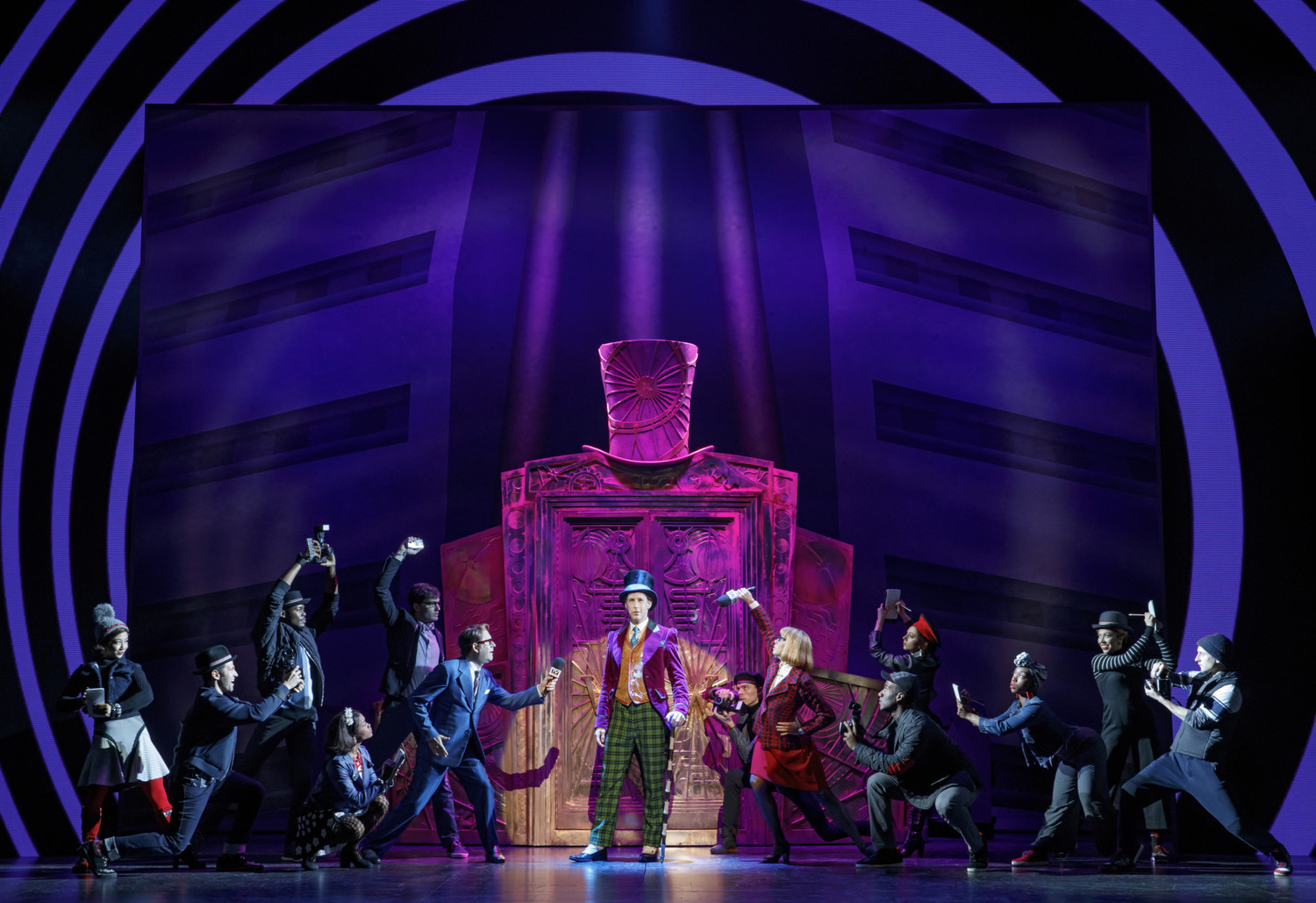 This is not your parents' Willy Wonka. Charlie and the Chocolate Factory, the new musical by Marc Shaiman and Scott Wittman, is a bigger, brighter, louder version of the beloved novel by Roald Dahl. Featuring larger-than-life projections, updated characters, and brand-new music - the world of Willy Wonka has never looked flashier.
Most of us have experienced at least one version of Roald Dahl's strange world. Whether you were introduced to the novel, the 1971 film (starring the incomparable Gene Wilder), or the more recent 2005 Tim Burton/Johnny Depp re-make (my jaw dropped when I realized it's been over 13 years since that film was released!), you won't be disappointed with this treatment of Dahl's tale.
The story follows Charlie Bucket (Henry Boshart on opening night) whose quaint town surrounds the massive Willy Wonka Chocolate Factory. After being closed for years, it is announced that the doors of Wonka's factory will open for the five lucky children who find a golden ticket in one of his chocolate bars. Charlie, too poor to afford chocolate, receives a bar from his family for his birthday - but when he unwraps the bar, he finds no golden ticket. By chance, Charlie finds a dollar and proceeds to buy another Wonka bar revealing the fifth and final golden ticket. What transpires is an adventure beyond Charlie's wildest dreams.
Lucky for us, state-of-the-art projection technology gives access to new possibilities in the theatre, creating the brightest, most vivid colours and transporting us right into the world of Wonka's imagination. There are a few set pieces throughout the show, but they act more like accessories to the lively projections. Some moments are beautifully-designed, like the one featured below and a scene where Charlie and his grandpa climb a ladder of light. But there are a few sequences where it all looks a tad tacky - when Mike Teavee gets zapped into the television comes to mind.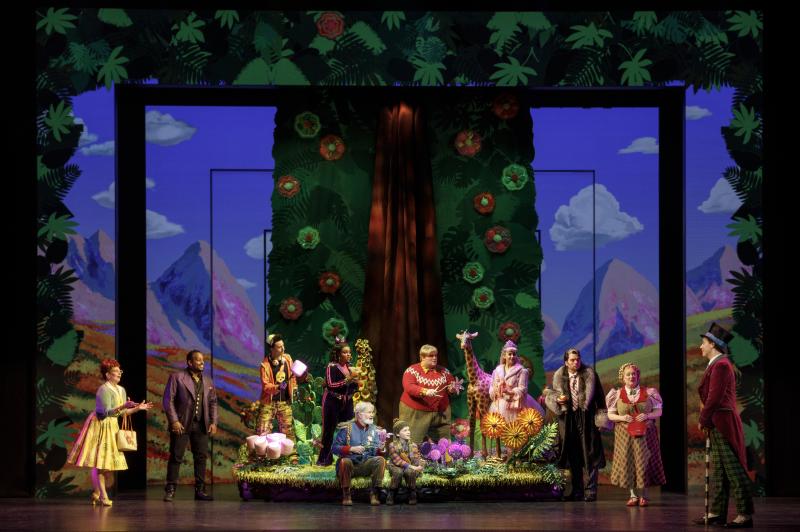 Projections are not the only facelift the Wonka story received for this new musical. There are a few changes to the characters, as well. Veruca Salt, originally the spoiled daughter of a British billionaire, becomes a (still spoiled) ballerina daughter of a Russian billionaire. It allows for her to show off some challenging pointe work and Jessica Cohen does not disappoint - "Veruca's Nutcracker Sweet" in the second act is unforgettable and pretty terrifying!
There is new music by Shaiman and Wittman (Hairspray, Catch Me If You Can), and it's definitely pleasant to the ear, but mostly unmemorable. The original songs from Leslie Bricusse and Anthony Newley, "The Candy Man," "I've Got a Golden Ticket," "Pure Imagination," and "The Oompa Loompa Song," are still the musical highlights.
Speaking of Oompa Loompas - they're as menacing as ever. Each Oompa Loompa takes two ensemble members to control, with one wearing a miniature Oompa Loompa costume, while a second chorus member in black controls the arms. As if we needed more fuel for our nightmares, the Loompas are given knives for "Auf Wiedersehen Augustus Gloop." Maybe I'm the only one that was afraid of them as a child!
Willy Wonka is played by Noah Weisberg, whose vocals are impressive and far more charming than his overall stage presence. As Charlie, Boshart was one of the most talented child actors I've ever seen on the stage. Everything from his singing to his acting was top-notch.
Although the story's been pulled into 2018, it is still very much the same world we've all come to know and love. Charlie and the Chocolate Factory is perfect for the entire family - but you might just leave with a massive craving for chocolate!
---
CHARLIE AND THE CHOCOLATE FACTORY runs through January 6, 2019 at Mirvish's Princess of Wales Theatre, 300 King St. W, Toronto, ON.
For tickets, visit mirvish.com/shows/charlie-and-the-chocolate-factory
main photo: Noah Weisberg as Willy Wonka and company. Roald Dahl's Charlie and the Chocolate Factory - Photo by Joan Marcus.
Related Articles