ETTORE FARRATTINI - Page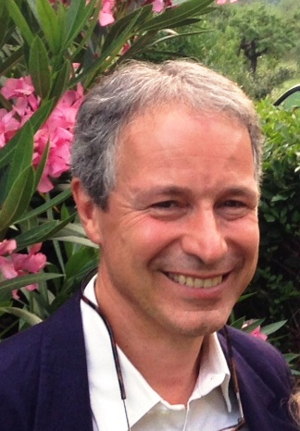 Nato a Roma nel 1959, ha frequentato con successo il liceo scientifico Amedeo Avogadro e si è poi diplomato in una scuola romana specializzata nel restauro del legno. Dal 2000 al 2016 si è dedicato alla gestione del Palazzo Farrattini - Residenza d'Epoca. Da sempre appassionato di musica, colleziona dischi dall'età di 6 anni, si è sempre interessato al musical seguendo le carriere di artisti come Barbra Streisand, Liza Minnelli, Julie Andrews e tanti altri grandi nomi del musical internazionale accumulando una imponente collezione di dischi, cd e libri sull'argomento. Per molti anni ha collaborato con la rivista di collezionismo musicale RARO per cui ha scritto decine di articoli sulla discografia di molti artisti italiani ed internazionali, recensioni di dischi e di concerti. Nel mese di maggio 2020 viene pubblicato il suo primo romanzo "Nisa Una donna, la sua guerra" romanzo storico basato su fatti realmente accaduti alla sua nonna materna durante la seconda guerra mondiale. (Morlacchi editore)
MOST POPULAR ARTICLES
LAST 30 DAYS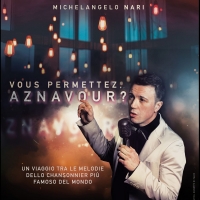 BWW Review: VOUS PERMETTEZ AZNAVOUR? al TEATRO DEGLI EROI
Posted: Oct. 4, 2020


LAST 365 DAYS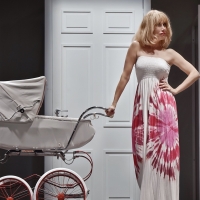 BWW Review: A CHE SERVONO GLI UOMINI al Teatro Quirino
Posted: Dec. 25, 2019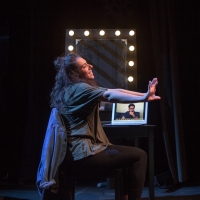 BWW Review: THE LAST FIVE YEARS, L'OFF-BROADWAY ARRIVA OFF-ROMA al Teatro Don Mario Torregrossa
Posted: Feb. 17, 2020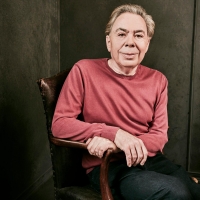 I Musical Di Andrew Lloyd Webber In Streaming Su YouTube
Posted: Apr. 2, 2020


BWW Review: LIFE, IL SENSO DELLA VITA al TEATRO PLANET
Posted: Feb. 4, 2020


BWW Feature: DON'T LOOK FOR AN ANSWER NOW, IL NUOVO SINGOLO DI FABRIZIO VOGHERA
Posted: Jun. 9, 2020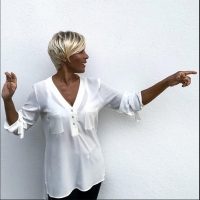 BWW Interview: AMII STEWART - #RIEMPIAMOILSILENZIO, Progetto di solidariet?
Posted: May. 1, 2020


BWW Feature: C'E' ANCORA UNO SPETTACOLO - INSIEME PER IL TEATRO
Posted: Apr. 17, 2020


BWW Review: VOUS PERMETTEZ AZNAVOUR? al TEATRO DEGLI EROI

October 4, 2020

I grandi teatri sono chiusi: alcune produzioni si stanno timidamente riaffacciando in teatri più piccoli con rispetto delle norme anti-covid e il distanziamento dei posti.
---
BWW Feature: VLAD DRACULA Comunicato Stampa

September 24, 2020

Nonostante il momento di grande incertezza e difficoltà per il settore del teatro e dell'intrattenimento, WORKINMUSICAL ha deciso, con coraggio e dedizione, di non cedere all'immobilismo e di produrre e portare in scena un nuovo musical originale.
---
BWW Feature: L' ATIP –ASSOCIAZIONE TEATRI PRIVATI ITALIANI- COMUNICATO STAMPA

September 18, 2020

A pochi mesi dalla propria costituzione, l'Associazione Teatri Privati Italiani (ATIP) - che annovera nel proprio Consiglio Direttivo 18 tra i più grandi Teatri italiani sparsi lungo tutta la Penisola per un totale di oltre 28.000 posti a sedere- si è già distinta come interlocutore concreto, operativo e propositivo delle Istituzioni.
---
BWW Feature: LA STORIA DELLA DISCOMUSIC, UN LIBRO DA NON PERDERE PER OGNI AMANTE DELLA MUSICA

September 12, 2020

Ho avuto il piacere di assistere a più di una presentazione del libro La Storia Della Discomusic, edito dalla Hoepli e scritto da Andrea Angeli Bufalini e Giovanni Savastano. Ogni volta sentendo parlare delle mitiche canzoni e degli artisti che hanno fatto la storia di questo intramontabile genere, mi sono ritrovato a pensare a Broadway e ai musical che, soprattutto negli ultimi anni hanno ripetutamente pescato nel repertorio di quel magico periodo musicale.
---
BWW Feature: MICHELANGELO NARI presenta Il Suo Nuovo Cd
July 20, 2020
---
BWW Feature: BRANCACCIO MUSICAL ACADEMY : nasce una nuova scuola per performer al Teatro Brancaccio -Comunicato Stampa

June 25, 2020

In attesa di una spettacolare ripresa degll spettacoli post-Covid il Teatro Brancaccio inaugura un'accademia di formazione di nuovi performer diretta da Gianluca Guidi e con Piero di Blasio al comando del team docente. Qui di seguito tutte le informazioni e il link per accedere alla domanda di ammissione. Le audizioni avranno luogo il prossimo 23 luglio.
---
BWW Feature: DON'T LOOK FOR AN ANSWER NOW, IL NUOVO SINGOLO DI FABRIZIO VOGHERA

June 9, 2020

Uscirà venerdì 12 giugno 2020 l'ultimo singolo di Fabrizio Voghera che firma una rock ballad dal titolo: 'Don't look for an answer now' curandone anche l'arrangiamento.
---
BWW Feature: VLAD DRACULA GOTHIC OPERA MUSICAL - AGGIORNAMENTO PER LE AUDIZIONI

June 1, 2020

A causa della grande richiesta di partecipazione alle audizioni dello spettacolo (più di 500 richieste in una sola settimana di pubblicazione) e per poter ottemperare a tutte le regole indicate nelle normative anti-Covid, è divenuta OBBLIGATORIA la registrazione attraverso email con invio di curriculum e foto. Verrà effettuata una prima selezione valutando scrupolosamente le esperienze artistiche in possesso e l'affinità estetica con le tipologie di personaggi richiesti. Verrà quindi fatta comunicazione di avvenuta pre-selezione con indicazione dell'orario preciso di presentazione alle audizioni di Roma.
---
BWW Feature: VLAD DRACULA GOTHIC OPERA MUSICAL Open Call per le Audizioni del nuovo lavoro del Maestro Simone Martino - Comunicato Stampa

May 26, 2020

Per poter partecipare all'audizione è necessario inviare un'email con curriculum e massimo n.2 foto all'indirizzo [email protected] o in alternativa, consegnare il curriculum e le foto stampate su carta direttamente all'atto della registrazione, nel giorno previsto di audizione.
---
BWW Feature: #RIEMPIAMOILSILENZIO Arriva su tutti i social il video dell'iniziativa di solidarietà- COMUNICATO STAMPA
May 24, 2020
---
BWW Feature: BROADWAY VS. HOLLYWOOD PART 6 Flops And Blockbusters- 2

May 19, 2020

Con questo articolo concludiamo la nostra carrellata sui musical di Broadway portati sul grande schermo con altri flop e dei blockbuster degli ultimi anni.
---
BWW Feature: CATS IL MUSICAL IN STREAMING su You Tube

May 13, 2020

Il musical più amato e allo stesso tempo più odiato di Andrew Lloyd Webber arriva in streaming su You Tube il prossimo weekend nella serie THE SHOWS MUST GO ON voluta da Sir Andrew in questo periodo di confinamento.
---
BWW Feature: BY JEEVES il nuovo appuntamento settimanale con Andrew Lloyd Webber su You Tube

May 7, 2020

Nuovo appuntamento con Andrew Lloyd Webber che in questo periodo di quarantena ci sta regalando alcuni dei suoi lavori in streaming gratuito.
---
BWW Feature: 'SOGNO' IL NUOVO BRANO DEL MAESTRO SIMONE MARTINO

May 4, 2020

Il Maestro Simone Martino proprio non ci sta a rimanere in silenzio in questa pandemia. Il suo amore per la musica ed il teatro non si fa intimidire dalle restrizioni a cui tutti noi siamo sottoposti. Dopo averci regalato la scorsa settimana, due première in streaming YouTube di due dei suoi lavori più significativi, Beatrice Cenci e Roma Opera Musical (ancora disponibili per chi se li fosse persi), ci offre un altro emozionante momento di arte con la diffusione del brano 'Sogno' da lui composto.
---
BWW Interview: AMII STEWART - #RIEMPIAMOILSILENZIO, Progetto di solidarietà

May 1, 2020

Per promuovere il progetto #riempiamoilsilenzio incontriamo Amii Stewart che ha prestato la sua bellissima voce a questa iniziativa di solidarietà
---
BWW Feature: ROMA OPERA MUSICAL I GEMELLI LEGGENDARI in streaming su YOU TUBE

April 30, 2020

Registrato il 23 giugno 2012 durante la manifestazione 'All'Ombra del Colosseo', arriva in streaming gratuito su You Tube questo sabato 2 maggio alle ore 21 ROMA Opera Musical I due Gemelli Leggendari
---
BWW Feature: BEATRICE CENCI OPERA MUSICAL in streaming su You Tube

April 28, 2020

Settimana ricca di eventi su You Tube per gli amanti del musical. Il Maestro Simone Martino metterà in streaming due delle sue più intense produzioni:
---
BWW Feature: #RIEMPIAMOILSILENZIO Un'altra lodevole iniziativa per unire nella musica.

April 27, 2020

Riempiamo il silenzio è un progetto musicale che nasce nel periodo della pandemia globale causata dal coronavirus. L'idea è del maestro Diego Cal, grande trombettista della scena musicale italiana, che ha pensato di coinvolgere alcune personalità eccezionali come Amii Stewart, Mike Applebaum, Fabrizio Bosso, Eric Daniel, Stefano Amerio. L'unione di questi talentuosi artisti sta per portare alla creazione di una grandissima orchestra virtuale, che attingerà ai musicisti di tutto il mondo per creare una performance mai vista prima. La particolarità dell'orchestra sarà che questi artisti non avranno mai suonato insieme e lo faranno per la prima volta proprio in questa occasione.
---
BWW Feature: LOVE NEVER DIES IL SEQUEL DI THE PHANTOM OF THE OPERA in STREAMING SU YOUTUBE

April 22, 2020

Se lo scorso weekend vi siete emozionati vendendo o rivedendo THE PHANOM OF THE OPERA, il prossimo weekend non vi potete perdere il sequel scritto nel 2010 da Andrew Lloyd Webber.
---
BWW Feature: HEATHERS IL MUSICAL High School Edition in streaming su You Tube il 22 aprile 2020 alle h.21.
April 19, 2020
---