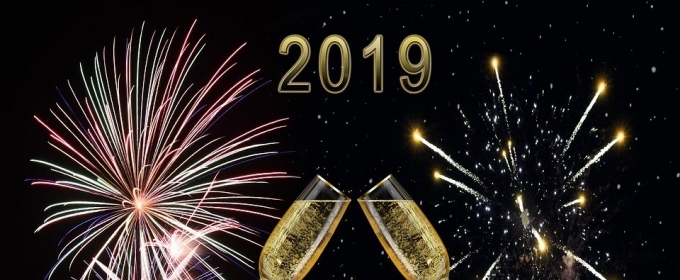 Click Here for More Articles on 9 for 2019
BWW Feature: 9 SHOWS TO LOOK FORWARD TO IN 2019 in San Antonio, TX

2019 is The Year of Theatre in San Antonio! The several theatres in the city are offering incredible seasons with a variety of plays and musicals you just can't miss! Make 2019 your year to see as many shows as you can, I know I am! In order of opening dates, here are the 9 shows I am looking forward to seeing the most this year:
1. By Our Hands
Overtime Theater
Jan 11-Feb 2 (Now playing!)
http://theovertimetheater.org/
"Sometime in the future after a nuclear war destroys the world, factions of people attempt to rebuild civilization despite the fallout. After the Central Government regrouped they initiated a protocol to take all firearms away from the various settlements. They were told the guns would be melted down and used to rebuild infrastructure but the Government had more malevolent intentions. Helen McKann and her ragtag militia are on a mission to find a legendary cache of guns that weren't destroyed and use them to arm the people and reclaim their freedom."
I am hooked by this show's intriguing premise. I can't wait to travel to this post-apocalyptic world and see for myself what happens!
2. Leading Ladies
Sheldon Vexler Theatre
February 9-March 3
"Two English Shakespearean actors, Jack and Leo, find themselves so down on their luck that they are performing 'Scenes from Shakespeare' on the Moose Lodge circuit in Pennsylvania. When they hear that an old lady in York, PA is about to die and leave her fortune to her two long lost English nephews, they resolve to pass themselves off as her beloved relatives and get the cash. The trouble is, when they get to York, they find out that the relatives aren't nephews, but nieces! Fear not- they have women's costumes in their show trunk. What could possibly go wrong?"
I am a huge Ken Ludwig fan and I have not read or seen one of his works that I didn't love! This show sounds to be the perfect mix of charming and hilarious and I can't wait to see it!
3. In the Heights
Woodlawn Theatre
April 12-May 5
http://www.woodlawntheatre.org/
"In The Heights tells the universal story of a vibrant community in New York's Washington Heights neighborhood - a place where the coffee from the corner bodega is light and sweet, the windows are always open and the breeze carries the rhythm of three generations of music. It's a community on the brink of change, full of hopes, dreams and pressures, where the biggest struggles can be deciding which traditions you take with you, and which ones you leave behind."
The songs in this show are always in my head but I've never actually seen it live before! So excited to see the story unfold and hear the songs sung live onstage!
4. The Little Foxes
The Classic Theatre
May 3-26
https://www.classictheatre.org/
"In pursuit of the American Dream, this riveting story captures the life of a Southern family who has decided to partner together to pursue the biggest business deal that will make-or-break their lives. But as the financial dream gets bigger and tensions rise, where do the pieces for this family's future fall?"
I sure do love period dramas! This show sounds like a perfect escape from reality while diving into a different point in time.
5. Willy Wonka
Magik Theatre
May 3-June 8
"Roald Dahl's Willy Wonka follows enigmatic candy manufacturer, Willy Wonka, as he stages a contest by hiding golden tickets in five of his scrumptious candy bars. Whomever comes up with these tickets will win a free tour of the Wonka factory, as well as a lifetime supply of candy. Four of the five winning children are insufferable brats: the fifth is a likable young lad named Charlie Bucket, who takes the tour in the company of his equally amiable grandfather. The children must learn to follow Mr. Wonka's rules in the factory... or suffer the consequences."
One of my childhood favorites, I couldn't pass up an opportunity to see such a delicious show! Surely this one will satisfy your sweet tooth.
6. A Piece of My Heart
Harlequin Theatre
May 3-June 1
https://www.facebook.com/TheHarlequinSA/
"This is a powerful, fact-based drama of six courageous women who went to Vietnam: four nurses, an intelligence officer, and a country western singer (booked by an unscrupulous agent to entertain the troops). The play portrays each young woman before, during, and after her tour in the war-torn nation and their struggles to make sense of a war that irrevocably changed them."
This sounds like a beautiful show and I love that it is based on true events! It's going to be a good one!
7. Matilda
The Public Theatre of San Antonio
July 12-August 11
"A joyous girl power romp! This is the story of an extraordinary girl who, armed with a vivid imagination and a sharp mind, dares to take a stand and change her own destiny. With her astonishing wit, intelligence, and psychokinetic powers, Matilda becomes the school's saving grace."
This show is all the rage the last few years and I am thrilled to be able to see it in my hometown! The story is wonderful and the music is amazing.
8. The Play That Goes Wrong
Majestic Theatre
June 18-23
http://www.majesticempire.com/

"Welcome to opening night of The Murder at Haversham Manor where things are quickly going from bad to utterly disastrous. With an unconscious leading lady, a corpse that can't play dead, and actors who trip over everything (including their lines), it's a night of pure fun!"
I was lucky enough to see this show on a whim in London's West End last year. It was without a doubt the most hilarious show I have ever seen. There is no way I am missing out on seeing it again!
9. Jane Eyre
Performing Arts San Antonio
October 4-27
"This musical adaptation follows the independent, passionate governess Jane Eyre, through her harsh childhood after being left as an orphan to an uncaring aunt, through her employment as a governess at Thornfield Hall. There, she meets the mysterious and magnetic Edward Fairfax Rochester, master of the house and warden of her pupil. Though drawn to each other, they are haunted by the ghosts of Mr. Rochester's past, which threaten to enjoy any possibilities of a future of love or happiness for either."
Charlotte Bronte's beloved classic is one of my favorite books. I absolutely can't wait to hear the music and see the story come to life onstage!
Featured at the Theatre Shop
T-Shirts, Mugs, Phone Cases & More
Related Articles