Click Here to Visit the College Center

Blogs are the opinions of the authors and do not necessarily reflect the opinions of BroadwayWorld. BroadwayWorld believes in providing a platform for open and constructive conversation.

Student Blog: The Top Five Musicals to Get You Ready for Halloween
Whether you stream these titles in your free time or listen to the included Spotify playlist, these top five Halloween musicals are sure to prepare you for October 31st!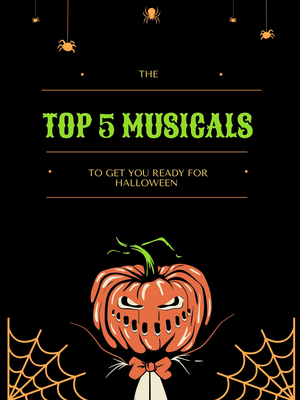 With the leaves changing, the temperatures dropping, and the new display of pumpkin and skeleton decorations everywhere, it is clear that fall is in the air and Halloween is just around the "coroner," to quote The Addams Family musical. Although October is usually an exciting time for students as they get further settled into their college routine, it can also be a stressful period due to the increasing amounts of assignments and midterms. For all of these reasons, it is not hard to imagine that college students, like me, have not yet gotten in the mood for Halloween. Thus, to help get you ready for October 31st, I have listed the top five Halloween musicals. Whether you stream these titles in your free time or listen to the curated Spotify playlist below, these musicals are sure to put you in the Halloween mood.
1. Sweeney Todd: The Demon Barber of Fleet Street - Stephen Sondheim's award-winning musical conveys the tale of the infamous London barber who returns from an unjust exile to exact bloody revenge on the judge who tore apart his family. The 1982 production of Sweeney Todd, starring George Hearn and Angela Lansbury, can be streamed on BroadwayHD and Amazon Prime. The equally haunting 2007 movie version with Johnny Depp and Helena Bonham Carter is available on Tubi, Amazon Prime, and Apple TV.
2. The Phantom of the Opera - Broadway's longest running show with a soaring score by Andrew Lloyd Webber tells the story of a deformed musical genius who haunts the Paris Opera House and falls in love with a young soprano. The 25th anniversary staging with Broadway favorites, Sierra Boggess and Ramin Karimloo, can be streamed on Amazon Prime. The popular 2004 movie version, starring Gerard Butler and Emmy Rossum, is also available on Amazon Prime and HBO Max.
3. Jekyll & Hyde - Frank Wildhorn's gothic musical depicts the epic struggle of good versus evil as Dr. Henry Jekyll tries to find the solution to mankind's ailments and in the process, his experiments go awry, turning him into the malicious Mr. Hyde. This chilling musical with its inventive staging can be streamed on Amazon Prime or BroadwayHD.
4. The Rocky Horror Picture Show - This cult classic centers around a newly engaged couple, Brad and Janet, whose car breaks down in an isolated area. Seeking shelter and assistance, they discover the mysterious mansion of Dr. Frank-N-Furter and meet the many wild characters who live there. Currently, the 1975 movie version, starring Tim Curry as Dr. Frank-N-Furter, can be viewed on Hulu or Amazon Prime.
5. Little Shop of Horrors - In this dark comedy, a flower shop assistant, Seymour, discovers an alien plant that feeds on human flesh. In order for the plant to grant his every desire, Seymour is faced with the chilling question: is he willing to kill to get what he wants? If you are not able to see the musical Off-Broadway, you can watch the 1986 film version with Rick Moranis and Steve Martin on HBO Max and Hulu.
Besides streaming, you can also listen to the haunting tunes from these shows on the Spotify playlist attached. Happy Halloween!