Click Here to Visit the College Center

Blogs are the opinions of the authors and do not necessarily reflect the opinions of BroadwayWorld. BroadwayWorld believes in providing a platform for open and constructive conversation.

Student Blog: A Guide to the 2021 Macy's Thanksgiving Day Parade
Looking forward to the Macy's Thanksgiving Day Parade? Here is an overview of some of the parade's must-see performances.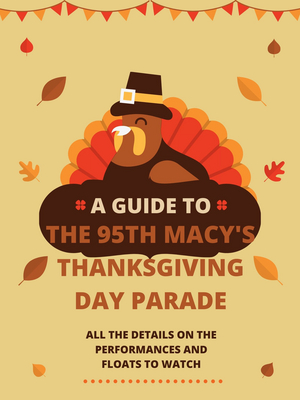 With Thanksgiving fast approaching, many are looking forward to spending time with family and friends, taking a well-deserved break from work and school. Besides indulging in the wonderful food associated with this national holiday, families, children, and individuals like me are looking forward to waking up at 9am to watch the Macy's Thanksgiving Day Parade broadcast live from New York City. Unlike last year, where in-person viewing was prohibited to avoid the spread of COVID-19, spectators are returning to attend this year's version of a time-honored tradition. With a live audience again, I am personally excited to watch and experience the tangible excitement as the crowds witness the parading of larger than life balloons, precise marching bands, and of course, incredible singers, dancers, and Broadway casts.
For avid theatre fans across the country, the Macy's Thanksgiving Day Parade serves as a must-watch television event. Since many theatre enthusiasts do not live in New York and cannot readily attend Broadway shows, events such as the Tony Awards and the Thanksgiving Day Parade provide a way to view scenes from favorite Broadway shows, making theatre more accessible.
Fortunately, the tradition of Broadway performances as part of the parade, which began in 1973, continues this year with the casts of Six, Moulin Rouge, and Wicked. Although the lineup of Broadway performances is shorter than last year, these casts will surely impress with captivating songs, high belting, iconic costumes, and complex choreography. Most fans will be eager to watch the cast of the new Broadway musical Six, a pop musical about the six wives of Henry VIII, and Moulin Rouge, a musical version of Baz Luhrmann's tragic film of the same name. Despite the fact that this will be Wicked's second performance at the Thanksgiving Day Parade, following its first appearance in 2003, the current cast will surely dazzle audiences with the incredible story and score about the Wicked Witch of the West from the Wizard of Oz, demonstrating why Wicked has run on Broadway for over eighteen years. Moreover, on CBS TV, the casts of Waitress and Chicago will perform in their respective theaters for a live audience as part of the parade.
In addition to these stellar shows, be sure to also catch a performance from NBC's upcoming Annie Live! starring Broadway favorites Taraji P. Henson as Miss Hannigan, Harry Connick Jr. as Daddy Warbucks, Megan Hilty as Lily St. Regis, and Tituss Burgess as Rooster Hannigan. Theatre fans will further be thrilled to see Darren Criss perform from his new holiday album, A Very Darren Crissmas, on the Kinder "Fantasy Chocolate Factory" float, Jordan Fisher perform on the Disney Cruise Line "Magic Meets the Sea" float, and Kristin Chenoweth sing a song from her latest album, Happiness is ... Christmas, on the Balsam Hill "Deck the Halls" float. Fans of the hit Peacock show, Girls 5eva, will want to watch Broadway favorites, like Sara Bareilles and Renée Elise Goldsberry, sing the catchy "Famous 5eva" from the show on Peacock's "Birds of a Feather Stream Together" float. With so many incredible performers lined up, it is clear why theatre-buffs everywhere and spectators in general will attend or tune in to CBS and NBC to watch the annual Macy's Thanksgiving Day Parade on November 25th from 9am to Noon.
For those who just can't wait for Thanksgiving: see the attached Spotify playlist below where you can start listening to some of the songs that may be performed at the parade. Happy Thanksgiving!