Click Here for More Articles on GROUNDHOG DAY
What Did We Do to Deserve Bill Murray? Comedy Legend Returns to GROUNDHOG DAY for Second Night in a Row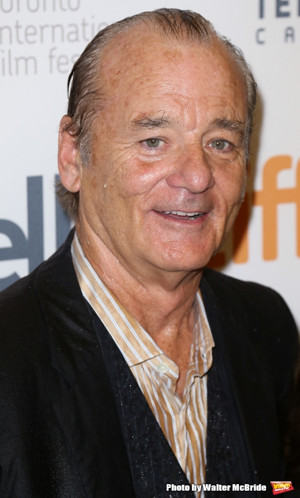 In what is possibly the greatest thing to ever happen, Bill Murray has returned to Groundhog Day this evening, marking two days in a row that the actor has visited the show.
Times journalist, Sopan Deb, tweeted about the hilarious return tonight just before curtain. The actor attended the show alone this evening.
A spokesperson for the show confirmed that a ticket was set aside for the actor, who had expressed interest in attending again.
Catch up on all the fun here!
I know, given my earlier tweet, that you guys think I'm screwing with you. But no. Murray went to the show by himself. He's there right now. https://t.co/LXcoXVJ2RY

- Sopan Deb (@SopanDeb) August 10, 2017
guys what if he thinks he hasn't seen it yet?

- Sopan Deb (@SopanDeb) August 10, 2017
wait is it possible that this is yesterday? Am I a God? Did I read all your tweets already? DOES ANYONE HAVE A VERMOUTH WITH A TWIST?!?!

- Sopan Deb (@SopanDeb) August 10, 2017
Advice to young journalists: Cover a presidential campaign. This puts you on a path to become a Bill Murray beat reporter.

- Sopan Deb (@SopanDeb) August 10, 2017
I should note: Murray repeatedly told cast members last night that he'd come see it again. I don't think anyone thought it'd be immediately.

- Sopan Deb (@SopanDeb) August 10, 2017
Last night, legendary actor Bill Murray made a trip back to Punxsutawney as he attended GROUNDHOG DAY on Broadway for the first time. Murray Starred as Phil Connors in the 1993 film which the musical is based on.
The New York Times' Sopan Deb was also at the show and kept up an entertaining Twitter thread, keeping followers up-to-date on the evening from the actor's reactions, to Murray talking with fans after the show.
Deb shared this photo of Murray outside the August Wilson Theatre with BRIAN DOYLE-MURRAY and Danny Rubin, who co-wrote the film and penned the stage adaptation.
It's intermission. Murray let out a fist pump during the show when Phil Connors meets Ned Ryerson for the first time.

- Sopan Deb (@SopanDeb) August 9, 2017
The bows are happening. Murray is sobbing from what I can tell. I'm sitting right behind him.

- Sopan Deb (@SopanDeb) August 9, 2017
At the end of the night, Murray addressed the entire cast on stage, saying, "As actors, I can't respect enough how disciplined you are and how serving you are of the process. "There's nothing worse than seeing someone that's out for themselves. And you are all in it for each other. When you ever feel you don't know what to do, sing to the person next to you. And that person will sing to the person next to that person, and then you will have this force that's even stronger."
Murray in group shot with cast: "Its beautiful what you're doing." Earlier: "I have notes!"

- Sopan Deb (@SopanDeb) August 9, 2017
Murray told The New York Times that message behind the story brought to life on the stage brought him to tears, saying, "The idea that we just have to try again. We just have to try again. It's such a beautiful, powerful idea."
I wish it really was Groundhogs Day so I can do this again tomorrow night.

- Sopan Deb (@SopanDeb) August 9, 2017
Check out the rest of Deb's account of the evening here.
Based on the iconic film, Groundhog Day is re-imagined by the award-winning creators of the international hit Matilda The Musical-including director Matthew Warchus and songwriter Tim Minchin-with a book by original screenwriter Danny Rubin. Starring Olivier Award winner and three-time Tony Award nominee Andy Karl, Groundhog Day is the new musical comedy about living life to the fullest, one day at a time.
Bill Murray was born in 1950 and grew up in Wilmette, a village just outside Chicago. After giving up his medical studies, he dedicated himself to his second passion, acting. Having gathered experience on the radio show The National Lampoon Radio Hour, he became a fixture among the authors and performers of the legendary TV show Saturday Night Live, for which he won an Emmy Award. Growing popularity brought his first film roles. He worked closely with the director Ivan Reitman, whose 1984 comedy Ghostbusters propelled him into the first rank of Hollywood actors. This was followed by movies such as Tootsie, Ghostbusters II and Groundhog Day. In 1999, he starred in Wes Anderson's Rushmore, which brought him seven awards. He further collaborated with Anderson in The Royal Tenenbaums (2001), The Life Aquatic with Steve Zissou (2005), Moonrise Kingdom (2012), and The Grand Budapest Hotel (2014). For his role in Sofia Coppola's Lost in Translation, he received a Golden Globe Award and was nominated for an Oscar. Murray was also nominated for a Golden Globe for his role in the 2014 film St. Vincent. Recognized not only as an actor, but also humorist, Bill Murray was awarded the Mark Twain Prize for American Humor in October 2016. His passion for baseball and golf is just as famous as his ability to turn everything into art, and his eccentric and irreverent style have caused him to be seen by many as a folk hero.
Photo Credit: Walter McBride / WM Photos