Groundhog Day - 2017 - Broadway
Groundhog Day tells the story of Phil Connors (Andy Karl), a disgruntled big-city weatherman mysteriously stuck in small-town America reliving the same day over and over and over again. But when he gets to know associate TV producer Rita (Barrett Doss), he discovers that a day of second, third and fourth chances just might bring him the promise of a lifetime. It's a classic boy meets girl... boy meets girl... boy meets girl story.
Based on the iconic film, Groundhog Day is re-imagined by the award-winning creators of the international hit Matilda The Musical- including director Matthew Warchus and songwriter Tim Minchin- with a book by original screenwriter Danny Rubin. Starring two-time Tony Award nominee Andy Karl, Groundhog Day is the new musical comedy about living life to the fullest, one day at a time.
Video preview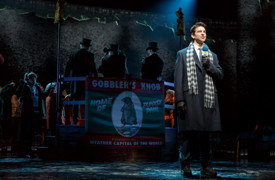 Photo preview
Featured Reviews For Groundhog Day
'Groundhog Day' review - Broadway News
It would be nice to report that, despite these travails, the show, with a book by Danny Rubin, who co-wrote the 1993 movie, and a score by Tim Minchin, of "Matilda" renown, deserves the plaudits it has already received in London, including an Olivier Award for best musical and another for Karl as leading actor. But I'm afraid the production, simultaneously frenetic and static, left me just about as glum as its protagonist is at curtain rise. Life would be grim indeed if I had to wake up and face this tedious, charm-free and often tasteless show again day after day.
'Groundhog Day' Fights to Wake From Its Broadway Nightmare - Daily Beast
This embracing of convention which Groundhog Day ultimately proposes is wrapped in a familiar redemption story. Yet the best things about Groundhog Day the musical are when the strangeness of the town, and Phil's extreme, snarled responses to it, are left on full, jangling boil. The musical is less convincing when it muffles itself to niceness; and it meanders far too lackadaisically to a conclusion. But at its center is Karl, a newly-minted Broadway hero, bravely performing through his pain. The question is, can he do this without hurting himself further, and should the producers let him: human costs versus performing costs.
Groundhog Day Broadway Cast