Groundhog Day - 2017 - Broadway
Groundhog Day tells the story of Phil Connors (Andy Karl), a disgruntled big-city weatherman mysteriously stuck in small-town America reliving the same day over and over and over again. But when he gets to know associate TV producer Rita (Barrett Doss), he discovers that a day of second, third and fourth chances just might bring him the promise of a lifetime. It's a classic boy meets girl... boy meets girl... boy meets girl story.
Based on the iconic film, Groundhog Day is re-imagined by the award-winning creators of the international hit Matilda The Musical- including director Matthew Warchus and songwriter Tim Minchin- with a book by original screenwriter Danny Rubin. Starring two-time Tony Award nominee Andy Karl, Groundhog Day is the new musical comedy about living life to the fullest, one day at a time.
Video preview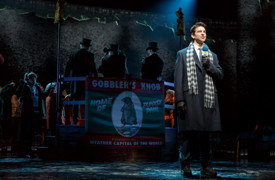 Photo preview
Featured Reviews For Groundhog Day
Broadway Review: 'Groundhog Day,' The Musical - Variety
Under Matthew Warchus's helming, Phil's adventures in Punxsutawney are like Alice's adventures in Wonderland - fantastical and fun. Rob Howell's set designs and Paul Kieve's illusions rely on amusing optical illusions like miniature car chases and teeny-tiny houses that curl around the proscenium. These funny folk even build a sort-of functional truck on stage.
Groundhog Day - TimeOut NY
The meta way to review Groundhog Day would be to repeat the same sarcastic, nit-picking paragraph three or four times before softening up and saying aw, heckfire, it's great!-thus breaking the spell of grouchy repetition. And while there are likeable, inspired elements in this musical adaptation of the great Bill Murray movie, time crawls as you wait for boorish weatherman Phil Connors to surrender to human kindness and true romance.
Groundhog Day Broadway Cast