Click Here for More Articles on NEW YORK CITY
Wax Factory's Modern Take on The Seagull, PULL YOURSELF TOGETHER!, Set for One-Night Show at Lincoln Center Atrium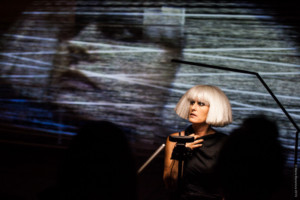 WaxFactory presents a work-in-progress showing of PUT YOURSELF TOGETHER!, a modern, media-enhanced riff on Anton Chekhov's classic The Seagull.
The one-night performance will take place as part of the Atrium 360° series at the David Rubenstein Atrium at the Lincoln Center on Thursday, August 17, at 7:30pm. The show is free and open to the public; seating is available on a first-come, first-served basis. For details, visit www.lincolncenter.org/show/waxfactorys-pull-yourself-together-soiree, or go to waxfactory.nyc.
Forget Russia. Forget fin de siècle. Forget everything you thought you knew about Chekhov's The Seagull. Hell, it's even better when you don't know anything at all. What you need to know is this: behind each piece of theater that really hits you, there is a deeper truth, and it is not always pretty. There are skeletons in all closets and elephants in every room. PULL YOURSELF TOGETHER! started as a strange dream - and it is striving to be a 21st century exploration of the deepest, murkiest id of a particularly brilliant play about a particularly nasty bunch of people drowning in quicksand of unrequited love - but with a glass of champagne (or vodka) in their hands.
The David Rubenstein Atrium at Lincoln Center is hosting the sixth installment of an ongoing, multi-year series of open studio presentations by WaxFactory, presented under the common title PULL YOURSELF TOGETHER!. The company invites you to take a peek behind the process of shaping the characters for what eventually might just become the weirdest production of Seagull you have ever seen.
The presentation, conceived and directed by WaxFactory's artistic co-director Ivan Talijancic, stars longtime collaborators Erika Latta, Gillian Chadsey, Melody Bates, Kestrel Leah,and Todd Peters, along with Ryan Gingery, Kamila Slawinski, and Joanna Zmojda who mark their debut with WaxFactory. The show features lighting design is by Solomon Weisbard, sound by Yiannis Christofides, and patisserie by Kristin Worrall.
This work was developed with support of a 2014 Bogliasco Foundation Fellowship. This work is supported, in part, by an award from the National Endowment for the Arts, as well as Trust for Mutual Understanding, Mr. Pancks' Fund, WaxFactory's individual donors, and public funds from the New York City Department of Cultural Affairs in partnership with the City Council, and New York State Council on the Arts with the support of Governor Andrew M. Cuomo and the New York State Legislature.
ABOUT THE ARTISTS:
WaxFactory, co-founded and led by Artistic Directors Ivan Talijancic and Erika Latta, in 1998, is a New York based multidisciplinary performance group dedicated to exploring a multiplicity of theatrical visions. Its founding members have developed and continue to nurture a hybrid approach, based on unconventional narrative styles, original dramaturgy, visual and physical rigor, technological experimentation, and site-specific work; and are committed to ensemble creations and international collaborations. Since its formation, WaxFactory has been one of the most internationally active multidisciplinary groups to emerge from the New York downtown scene, creating new performance, installation, film and video works featuring a highly innovative blend of physical performance, audio-visual, architectural and fashion design, and an integrated use of new media and technology. Since its inception, the company has been steadfast in its commitment to creating works that bring together artists from the company's core group in New York and abroad. Waxfactory.nyc
Ivan Talijancic (Concept/Direction) is a director and cultural producer working at the intersection of performance, theater, dance, music, film, video, installation/visual art, new media, fundraising/development, journalism, curatorial work and education in New York City and around the globe. He is the co-founder of WaxFactory, having directed work such as BLIND.NESS, ...SHE SAID, QUARTET v4.0, X, and LADYFROMTHESEA, a site specific installation/ performance staged at the Old American Can Factory in Gowanus, Brooklyn - the latter two having been featured as most important productions of the year in the Worldwide Critics Surveys published by Ballet-Tanz International (Berlin, Germany): in 2001 for LADYFROMTHESEA; and in 2007 for X: A VIDEO OPERA at the Zürcher Theaterspektakel in Zürich, Switzerland. Ivan has received his MFA in Directing from Columbia University, he is an alumnus of the Lincoln Center Theater Directors Lab, a Usual Suspect at the New York Theatre Workshop, and a former fellow at the Akademie Schloss Solitude (Germany.) For WaxFactory, he has created and produced nearly 20 performance, installation and film/video works to date, and presented on four continents, including ICA/Institute of Contemporary Arts (London), Centre Pompidou (Paris), Gulbenkian Museum (Lisbon), SommerSzene (Salzburg, Austria), OLTRE90 (Milan, Italy), Zürcher Theater Spektakel (Zurich, Switzerland), FIT/Festival Internacional de Teatro (Caracas, Venezuela), MESS (Sarajevo, Bosnia) and Cankarjev Dom (Ljubljana, Slovenia), and many others. His debut feature film, 416 MINUTES, is currently in post-production.
Erika Latta (Marsha) is the artistic co-director WaxFactory, where she works as an actor /director /writer + sound designer. With WaxFactory she has created new innovative work in traditional and non-traditional space, creating long lasting International collaborations throughout Europe for the last eighteen years. She is a member of Begat Theatre (France), with whom she has directed, written and designed sound for the site-specific productions of LA DISPARITION, HIDDEN STORIES; LES DEMEURÉES and LE JARDIN AVEUGLE. She has received numerous grants and residencies in the performing arts, most notably at Akademie Schloss Solitude (Germany) and the Bogliasco Foundation (Italy). In film, she was recently seen in WaxFactory's 416 MINUTES, Concussion by Stacie Passon and Lily by Matt Creed, among others. She was last seen in in Punchdrunk's SLEEP NO MORE at the McKittrick Hotel (NYC) and in TIME, A FAIR HUSTLER (based on Gus Van Sant's -My Own Private Idaho) by hand2mouth at the Artist Repertory (Portland, Oregon). She is currently developing,STRANGE JOY, set on an indoor film set and inspired by Francois Truffaut's Day For Night. Her production of LA DISPARITION (Begat Theater) is currently touring in Europe, most notable this summer at the Avignon Theatre Festival. She holds a MFA in Acting at Columbia University and a BFA in theater at the University of Washington.
Melody Bates (Paulette) is a native Oregonian who lives and works in New York. With WaxFactory: Wild Animus (world tour) and BLIND.NESS at PS 122 and Cankarjev Dom, Slovenia. Other theatre includes Alas, The Nymphs (BAM Next Wave), If Colorado Had an Ocean (La Mama E.T.C.); J.Stephen Brantley's Eightythree Down (NYIT Awards Outstanding Lead Actress nominee); Cleopatra in Antony & Cleopatra, Romeo & Juliet, Midsummer Night's Dream, Macbeth, Measure for Measure, Taming of the Shrew, Twelfth Night (Stonington Opera House, Maine); John Jahnke's Men Go Down (3LD); Bartlett Sher's Otello, L'Elisir d'Amore, Le Comte Ory, Les Contes d'Hoffmann(Metropolitan Opera). Company member, Conni's Avant Garde Restaurant (NYIT Awards Outstanding Ensemble). Film: Naked/ Spurious (2016), Public Hearing (2012). MFA in Acting, Columbia University. She wrote and starred as Juliet in R & J & Z, which had its NYC premiere at the New Ohio Theatre in April 2015. Upcoming: Julius Caesar and Mr. Burns: A Post-Electric Play with Opera House Arts. www.melodybates.com
Gillian Chadsey (Shoshona) is a performer, transformer, author, and producer of raw material. Her work has run the gamut from Butoh to Tennessee Williams from Poland to Middle America Repertory Theater. For 6 years she was a member of Rhodessa Jones' Theater for Incarcerated Women in California Federal Prisons. In NYC, as artistic associate of The South Wing and WaxFactory she has performed and taught across 3 continents. She has worked with Rachel Chavkin's The Team, Inverse theater, Lear deBessonett, and Aquila. Her most recent collaborations have been with Eve Sussman and Simon Lee at EMPAC on their film project, "No Money! No Food! No Jewels!" and with Ivan Talijancic on the multimedia piece #aspellforfainting, for which Gillian is currently developing a film treatment for a large scale installation, FAINTZ. Gillian also plays a lead in WaxFactory's upcoming feature film, 416 MINUTES.
Kestrel Farin Leah (Agnieszka) (UK) is an actor and director working across stage and screen. She completed her Masters in Acting at California Institute of the Arts, and is trained by Suzuki Company of Toga, Japan, and Theodore Terzopoulos of Attis Theatre (Greece). She is co-founder of LA-based PHYSICAL PLASTIC theater project with composer Yiannis Christofides (Cyprus) and the author of actorbody.com where she shares physical acting theory and insights. Notable roles include Venable in Suddenly Last Summer, directed by Kameron Steele of Suzuki Company, and a cross-gender Jean Genet in Maureen Huskey's A Spendid Death. Performance works include collaborations with Parisian artists Julie Bena and Duchamp-prize-winner Julien Previeux. As a director, Leah often collaborates across music, dance and fine art, and her work has been shown at venues such as Human Resources, LA and at The Vail International Film Festival.
Todd Peters (Bernard) is an actor, writer, filmmaker and a graduate of The American Repertory Theatre Institute at Harvard University. PULL YOURSELF TOGETHER! marks the 20 year anniversary of Todd's involvement with WaxFactory, which began in a dismal basement at Columbia University and has almost always involved a hairstyle guaranteed to infringe upon his offstage life. WaxFactory has become such an integral part of Todd's creative career that he named the central character of his award-winning film, Let Others Suffer, after WaxFactory founder Ivan Talijancic. Todd currently resides in Southern California, where he enjoys spending time with his family and writing about himself in the third person.
Yiannis Christofides (Sound Design) is a soundscape composer, creative sound designer and field recordist. His compositions and work for art installations, stage and performance pieces, curatorial and multimedia projects have been presented at various festivals, galleries and venues across Europe and the Americas, among others, at the XXI Triennale di Milano, Milan (IT), Son of Semele Company Creation Festival, Los Angles (US), Ecos Urbanos Festival, Mexico City (MX), Irondale Theatre, Brooklyn (US), Invisible Dog Art Center, Brooklyn (US), Point Centre for Contemporary Art, Nicosia (CY), Internationales Klangkunstfest Berlin 2014 (DE), the wulf., Los Angeles (US), Circuit Bridges, New York (US), The Royal Dockyard Church, Kent (UK), Metamatic: The Art Foundation, Athens (GR), The Ethnological Museum, Nicosia (CY), Queen Elizabeth Hall, Southbank Centre, London (UK), Los Angeles Contemporary Exhibitions, Los Angeles (US), Southwark Playhouse Theatre, London (UK), Cultural Centre "St. John Theologian", Stockholm (SE). Yiannis is co-founder of PHYSICAL PLASTIC, a Los Angeles based theater project with the aim of revealing theater as a concrete language, through collaboration and the organic integration of creative disciplines.
Solomon Weisbard (Lighting Design) is a freelance lighting designer for all types of performance. Credits in dance, dance/theatre and avant-garde music include original full-length pieces with Alethea Adsitt, Jennifer Archibald, Joshua Beamish/MOVE, Maria Chavez, Ximena Garnica/Leimay, Lane Gifford, Invisible Anatomy, LoudHound Movement, Ofelia Loret de Mola, Patrick Lovejoy, BeLinda McGuire, Stefanie Nelson, The Nerve Tank (as resident designer), Jen Shyu, Waxfactory, and four major works as associate set designer with Bill T Jones. Selected New York theatre: Duat (Soho Rep); Men on Boats (Playwrights Horizons/Clubbed Thumb); This is the Color. (Door 10/Baryshnikov Arts Center); Christina Anderson's Hollow Roots (Public Theatre - Under the Radar); Rite of Spring (Martha Graham Dance Co.); The Soldier's Tale (Carnegie Hall); The Film Society (Keen / Theatre Row); The Pavilion, Enemy of the People (Barrow Group); I Came to Look for You on Tuesday (La Mama). Regional theatre: Arden, Berkshire Theatre Group, Magic, Merry-Go-Round, Portland Playhouse, Portland Stage, Quintessence, Tri-Cities Opera, Yale Rep. As an educator and guest artist, Solomon has taught and worked with students at Bard, Barnard, Connecticut College, City College, Columbia, DeSales, East Stroudsburg, Fordham, NYU/Tisch, New School, Princeton, University of the Arts, University of Rochester (where he was visiting adjunct faculty), and Yale. He earned his BFA with honors from Ithaca College and his MFA from the Yale School of Drama. www.solweisbard.com
Kristin Worrall (Patisserie) is a pastry artist, performer, and sound designer. She fuses her skills and craft in a live performance baking show "The Recipe" in which she makes dessert in front of an audience and serves it to them. Kristin is a founding member of Nature Theater of Oklahoma and has performed in over 20 festivals around the world with them. Her pastry work has been photographed and seen in Paris's Le Monde magazine and in the New York Times, and she's worked at various restaurants and bakeries in New York City. Sound design credits include: Nature Theater of Oklahoma, Andrew Ondrejcak, Hotel Savant, Bedlam, and Peter Campbell. Her work has been seen and heard at BAM, The Public Theater, The Kitchen, Classic Stage Company, PS 122, The Wexner Center, New Ohio Theater, Incubator Arts, HERE, La Mama, 3LD, The Knitting Factory, The Conan O'Brien Show, the Food Network, and many others. Ms. Worrall is a Henry Hewes Design Nominee, a recipient of the A.R.T. New York Theater Grant for Sound Design, and is an alumni of the Lincoln Center's Director's Lab, the Watermill Center, and Mt. Tremper Arts's Watershed Lab. She is a graduate of Institute of Culinary Education (Baking/Pastry Arts), The New School (MA/Media Studies), and UW-Madison (BA/English).
The David Rubenstein Atrium, formerly known as the Harmony Atrium, is one of approximately 503 Privately Owned Public Spaces (POPS) in New York City created under a longstanding program that offers zoning incentives for buildings to provide accessible public spaces. The Harmony Atrium was originally conceived as a lively gathering place for local residents as well as visitors, and The David Rubenstein Atrium proudly fulfills this original vision. Atrium.lincolncenter.org
Related Articles
More Hot Stories For You
Confirmed: Billy Porter Will Play the Fairy Godmother in Upcoming CINDERELLA Film
BroadwayWorld recently reported on a rumor that Billy Porter would be joining the cast of the upcoming Cinderella film from Sony, starring Camila Cabe... (read more)

DVR Alert: Lin-Manuel Miranda Will Appear on Tonight's SATURDAY NIGHT LIVE
This just in! Lin-Manuel Miranda will appear on tonight's episode of Saturday Night Live!... (read more)

Alice Walker Pens Moving Essay on THE COLOR PURPLE, Celie as a Character and Oluwaseyi Omooba
On Facebook this week, producer Scott Sanders shared the below letter from the Pulitzer Prize winning writer of The Color Purple, Alice Walker...... (read more)

Photo Flash: Tom Hiddleston & Company Celebrate Harold Pinter's Birthday at BETRAYAL
Stars of Betrayal raised their glasses to the late Harold Pinter last night, October 10, in celebration of what would have been the playwright's 89th ... (read more)

Ben Platt Reveals Further Details About Upcoming MERRILY WE ROLL ALONG Film
Further details have been revealed for the upcoming Merrily We Roll Along film, starring Ben Platt and Beanie Feldstein.... (read more)

Photo Flash: First Look at Renee Fleming, Dove Cameron, Brian Stokes Mitchell, and More in THE LIGHT IN THE PIAZZA
L.A. Opera presents The Light in the Piazza! Get a first look at the production in the photos!... (read more)