Click Here for More Articles on NEW YORK CITY
Transgender North Carolina Musical, THE BODY POLITIC, Announces Full Cast for NYMF Premiere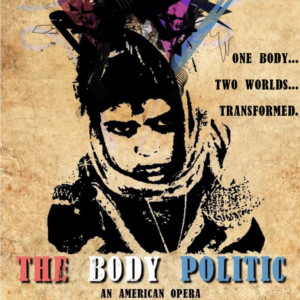 The Body Politic, a new musical about transgender and Muslim discrimination in North Carolina, announces its full cast ahead of its New York premiere July 18-21 at Playwrights Horizons, as part of the 2017 New York Musical Theatre Festival.
The Body Politic made worldwide headlines last year when, after its acclaimed run at the Boston Center for the Arts, the creators presented the piece at the North Carolina General Assembly in response to the state's discriminatory "bathroom bill," House Bill 2.
"When Governor McCrory signed that bill, Leo and I knew we had to bring The Body Politic back to my home state," said librettist Charles Osborne. "In this show, we try to send the message that neither the people of North Carolina nor LGBT people are villains, and we honor each side's right to time and patience to evolve, while still highlighting the moral imperative to create a more inclusive society."
The Body Politic follows Iphis, a transgender man from Afghanistan, who emigrates to North Carolina at the height of the Afghan War. As his LBGT social circle collides with the traditional American Family, this explosive new musical exposes the daily bigotry facing the trans community, and the divisive prejudices of the post-9/11 world. Commissioned by the Boston-based Juventas New Music Ensemble, an incubator for new opera, The Body Politic is the product of eight years of research and work by Leo Hurley and Charles Osborne, an emerging musical theatre songwriting team.
Led by transgender Lebanese-American actor Samy el-Noury (Transparent) as Iphis, the cast includes Asher Dubin as drag queen Eugene, Laleh Khorsandi as Roxana, Yassi Noubahar as Young Iphis/Michael, and Tina Scariano as Constance.
The creative team is led by director Zi Alikhan (Broadway's Six Degrees of Separation) and music director Matthew Stephens (Fort Worth Opera), with lighting design by trans* designer Kate McGee. General management and production management are provided by Frankie Dailey and Joey Monda, of Dailey-Monday Management.
Hurley & Osborne, alumni of University of North Carolina School of the Arts, are a musical theatre songwriting team best known to New York audiences for their musical Paris Through the Window, about World War I France, which received a workshop at Abingdon Theatre Company. Their work has been seen around the world, in venues from 54 Below to Paris and Berlin. For more information visit www.hurleyandosborne.com.
For more information about The Body Politic, or to make a tax-deductible donation, visit www.TheBodyPoliticShow.com.
IF YOU GO:
THE BODY POLITIC
Leo Hurley, Composer
Charles Osborne, Librettist
Zi Alikhan, Director
Matthew Stephens, Music Director
CAST
Iphis - Samy el-Noury
Roxanna - Laleh Khorsandi
Michael/Young Iphis - Yassi Noubahar
Constance - Tina Scariano
Eugene - Asher Dubin
Running July 18th - 23rd (7/18 - 8pm, 7/20 - 1pm, 7/23 - 5pm, 9pm)
At Peter Jay Sharp Theatre, Playwrights Horizons, 416 W. 42nd Street, New York, NY 10036
TICKETS: www.NYMF.org/Festival/2017-Events/Body-Politic
Donations requested: www.TheBodyPoliticShow.com
Related Articles
More Hot Stories For You