The Rubin Museum Announces Fall Programming Series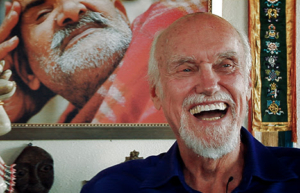 This fall, the Rubin Museum of Art has organized a series of talks, workshops, films, and experiences about the power of going against the grain titled The Power of Non-Conformity. Running through December, the series features the East Coast premiere of a new film about Ram Dass; a talk with playwright and activist Eve Ensler about radical truth; a conversation between former dominatrix and Taoist nun Kasia Urbaniak and actress Julianna Margulies reflecting on what makes a "good" woman; a workshop with medium Paul Selig about living beyond our comfort zone; a discussion with Himalayan master Yogishri about the act of letting go; an unconventional workshop with neuroscientist Dr. Beau Lotto and his Lab of Misfits that leverages the inherent transformative power of hair-no matter its length, shape, thickness, or absence; and much more.
The Power of Non-Conformity is part of the Rubin's yearlong thematic exploration of Power, empowering visitors to think about their role as individuals and as a collective in creating, maintaining, and challenging existing systems of power. More information about programs below. All tickets on sale August 22.
BECOMING NOBODY: FILM PREMIERE
Friday, September 6; 9:30-11:00 PM
In Becoming Nobody, historic clips of Ram Dass balance an engaging conversation with director Jamie Catto. The film captures a loving man full of joy, wit, honesty, and wisdom, at ease in conversation while sharing his considerable pains and pleasures. The life experiences that have freed him from the attachments of his "Somebodyness" have transformed him into the radiant soul who now inspires a new generation. In watching Ram Dass's unconventional journey unfold, we may come to understand how our own roles and disguises become increasingly burdensome. Both playful and profound, this film is a portal to and portrayal of Ram Dass's life and teachings. More screenings listed on the
Rubin website
:
Saturday, September 7; 6:00-7:45 PM
Sunday, September 8; 3:00-4:45 PM
Saturday, September 14; 6:00-7:45 PM
Sunday, September 15; 3:00-4:45 PM
Wednesday, September 18; 7:00-8:45 PM
Saturday, September 28; 6:00-7:45 PM
Sunday, September 29; 3:00-4:45 PM
Friday, October 4; 7:00-8:45 PM
Saturday, October 5; 6:00-7:45 PM
Sunday, October 6; 3:00-4:45 PM
Wednesday, October 9; 7:00-8:45 PM
Wednesday, October 16; 7:00-8:45 PM
Julianna Margulies
+ KASIA URBANIAK: WHAT MAKES A "GOOD" WOMAN?
Wednesday, September 25
7:00 PM - 8:30 PM
Kasia Urbaniak is on a mission to break the yoke of Good Girl conditioning and redefine what it means to be a good woman. She is the founder of The Academy, a school that teaches women the art of power and influence. Her studies of power over 20 years have taken her from the dungeons of NYC, where she worked as a Dominatrix, to monasteries in China, where she trained as a Daoist. She and actress
Julianna Margulies
will discuss the shifting power dynamics of women today, and how roles have evolved beyond just being "The Good Wife."
LIVING BEYOND THE UNKNOWN: WORKSHOP WITH
Paul Selig
Wednesday, October 2
7:00 PM - 8:45 PM
Is it possible to access power beyond the world we see, hear, and touch? In this interactive workshop, award-winning author
Paul Selig
will channel his Guides, with the aim of supporting us in moving beyond the limitations convention places on us, and realizing the true or infinite self. Through lectures, attunements, and energy work, Paul and his Guides may inspire you to achieve new levels of alignment, healing, and life purpose.
YOGISHRI + BIJAN SABET: INVESTING IN LETTING GO
Wednesday, November 13
7:00 PM - 8:30 PM
In the business world, success is equated with material gain. The premise of venture capitalist Bijan Sabet's business is to invest in order to earn more, and his early investment in digital platforms like Twitter and Tumblr could be described as prescient. But does this type of success yield happiness? In their first time meeting together, the whizz investor Sabet and the Himalayan spiritual master Yogishri will search for what happiness we can hope to find beyond cashing in.
HAIR-A RITUAL FOR CREATIVITY AND STRENGTH
WORKSHOP WITH DR. BEAU LOTTO AND THE LAB OF MISFITS
Saturday, November 16
6:00 PM - 9:00 PM
Hair has always had deep symbolic resonance: Samson loses his strength when shorn; a Buddhist nun shaves her head to demonstrate her separation from material concerns; the hair of Blade Runner's Nexus-7 replicant Rachael Tyrell loses its rigidity at the moment she discovers her humanity. Even relationships with our stylists can outlive those with our romantic partners. The material on top of our heads is dead. Why is it so meaningful? Hair is a central element of our identity, whether we use it or lose it. This workshop introduces a ritual that leverages the inherent transformative power of hair-no matter its length, shape, thickness, or absence. Part of a larger science experiment conducted with neuroscientist Dr. Beau Lotto and his Lab of Misfits, this evening will give you the tools to recognize your inhibitions and clear the path to what's beyond: more freedom to consciously create a life of your own choosing.
Dan Harris
+ JAY MICHAELSON: ENLIGHTENMENT BY TRIAL AND ERROR
Monday, November 18
7:00 PM - 8:45PM
To mark the release of Jay Michaelson's new book Enlightenment by Trial and Error, Michaelson, a rabbi, dharma teacher, and queer activist, talks with bestselling writer, TV anchor, and Ten-Percent-Happier advocate
Dan Harris
about his curiously skeptical exploration of "Jewish spirituality, postmodern Buddhism, and other mystical heresies" and the power that comes from not conforming to any one path in particular. Jay Michaelson will be signing copies of Enlightenment by Trial and Error after the program.
EX-SHAMAN: FILM SCREENING
Wednesday, November 20
7:00 PM - 8:45 PM
New York premiere of a unique film presented with The Assemblage along with an immersive shaman-led experience. The tribe of Amazônia Paiter Surui had no contact with white people until 1969. Since then modernity has encroached, with smartphones, electricity, gas tanks, guns, and Facebook replacing traditional forms of life. In the midst of this new world, an ex-shaman who was forced into evangelical Christianity struggles to heal the suffering people of his village, and faces the wrath of spirits of the forest, who are angered that he has abandoned them.
Eve Ensler
+ KOSHIN PALEY ELLISON: THE HEALING POWER OF SPEAKING PERSONAL TRUTHS
Wednesday, December 11
7:00 PM - 8:30 PM
In this evening of personal storytelling, playwright and activist
Eve Ensler
and Zen teacher Sensei Koshin Paley Ellison recount how they came to terms with painful truths that they have carried with them, hidden, for much of their lives. Together with moderator Eddie Gonzalez, Engagement Manager for On Being and the Civil Conversations Project, they address what this personal dance of inner/outer truth-telling might teach us about how we can approach our differences and work towards healing our fractured society. The two authors will be signing their books The Apology (
Eve Ensler
) and Wholehearted (Koshin Paley Ellison) after the program.
RITUALS OF RESISTANCE: A FILM BY TENZIN PHUNTSOG AND JOY DIETRICH
Wednesday, December 18
7:00 PM - 8:30 PM
This feature documentary presents portraits of three generations of Tibetans in exile. Tibetan-American filmmaker Tenzin Phuntsog explores modes of resistance to Chinese occupation by speaking with activists across generations. A former Tibetan monk broke his vows and became a guerilla leader. The filmmaker's own mother followed the Dalai Lama's Middle Path and raised her family in America. A young Tibetan man attempted to self-immolate in 2006. How does the filmmaker understand his place in the struggle?

Related Articles
More Hot Stories For You
BWW Exclusive: Watch An All New Episode of NBC's New Musical Comedy ZOEY'S EXTRAORDINARY PLAYLIST
If there's a song in your heart, it will get in her head. Jane Levy stars in this high-concept drama as Zoey Clarke, a whip-smart computer coder forgi... (read more)

Jamael Westman, Nicholas Christopher, Taylor Iman Jones and More to Lead the Los Angeles Engagement of HAMILTON
Producer Jeffrey Seller has announced that JAMAEL WESTMAN and NICHOLAS CHRISTOPHER will lead the Los Angeles engagement of HAMILTON as Alexander Hamil... (read more)

Original FROZEN Stars Caissie Levy and Patti Murin Bid Farewell to Arendelle Today
Original stars of Frozen, Caissie Levy and Patti Murin, play their final performance as Elsa and Anna tonight, February 16.... (read more)

National Asian Artists Project Will Present Rodgers & Hammerstein's CINDERELLA, Starring Ali Ewoldt, Ann Harada, and More!
National Asian Artists Project - NAAP will present Rodgers & Hammerstein's Cinderella a?" In Concert as part of its a?oeRediscover Seriesa?? which exp... (read more)

Photos/Video: Josh Groban Opens Radio City Residency and Releases New Song
Josh Groban kicked off his residency at Radio City Music Hall last night with a sold-out performance of Josh Groban's Great Big Radio City Show. The ... (read more)

Photos and Video: Get a First Look at FROZEN's New Cast Members; Plus Learn About the Changes Coming to Broadway
As it approaches its second anniversary on Broadway, Frozen will welcome a trio of new stars joining the company tonight, Tuesday, February 18, 2020. ... (read more)