The Lark Announces 2019-20 Rita Goldberg Playwrights' Workshop Fellows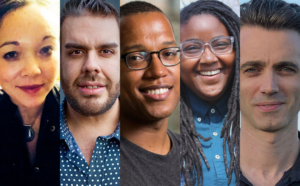 The Lark, a theater company devoted to the support of extraordinary playwrights and the development of new plays, is thrilled to announce that Sam Chanse, J. Julian Christopher, Branden Jacobs-Jenkins, C.A. Johnson, and Abe Koogler have been selected as the 2019-20 Rita Goldberg Playwrights' Workshop Fellows. This year marks the 20th iteration of the Workshop, which was established by renowned playwright Arthur Kopit, and brings together emerging and established playwrights in a space where they are free to explore new material, without commercial pressures.
"We're so excited about this cohort of new and returning fellows," said
Lloyd Suh
, Director of Artistic Programs at The Lark. "The Rita Goldberg Playwrights' Workshop program is designed for robust, peer-based conversation around the generation of new work, and these five writers have all demonstrated uncommon rigor and nuance in their expansive theatrical imaginations. We're anticipating a really dynamic, playful, and explosive season for the program." The group, curated by members of The Lark's artistic team, spans a wide range of backgrounds and professional experiences. Sam Chanse was named one of The Lark's current
Venturous Playwright Fellows
for her play Trigger; J. Julian Christopher received a La Guardia Community College LGBTQ History Project Grant for his play Julio Down by the Schoolyard, which was developed through a Studio Retreat reading at The Lark last season;
Branden Jacobs-Jenkins
is a two-time Pulitzer Prize Finalist who returns to the workshop for his second consecutive year; C.A. Johnson, a former
Van Lier New Voices Fellow
at The Lark, will make her Off-Broadway debut this season with All the Natalie Portmans (MCC); and
Abe Koogler
is an Obie-Award winning writer whose play Fulfillment Center (Lincoln Center) was developed through The Lark's Roundtable program. These Fellows will meet twice a month to share new pages from plays-in-progress and, if it serves the playwright's process, have a conversation about the work. As a peer-based environment that prioritizes process over product, the Rita Goldberg Playwrights' Workshop has become a place where writers can feel comfortable tackling bold and ambitious work, and, as a result, has served as a laboratory for plays that have gone on to be influential in the field. "Playwrights' Workshop was one of the first artistic homes I found when I first came to New York-and remains my favorite place to bring new work," said playwright
Kimber Lee
, who's untitled f*ck m*ss s**gon play (O'Neill) was developed through the Workshop. "Whether it's a few pages of an unformed idea, or a section of a play farther along in its development, Workshop always gives me what a need to keep going-whether that means specific dramaturgical insight or just encouragement to keep at it. Every single play I have written since I came to New York has been nurtured by The Lark in that room." Other plays substantially developed through the Rita Goldberg Playwrights' Workshop include: Guards at the Taj by
Rajiv Joseph
(
Atlantic Theater Company
); Teenage Dick by
Mike Lew
(
The Public Theater
); queens by
Martyna Majok
(Lincoln Center); Transfers by
Lucy Thurber
(MCC); and Sweat by
Lynn Nottage
(Broadway, Pulitzer Prize). As a long-term investment in extraordinary playwrights, the workshop is one of The Lark's most significant tools for supporting the necessary generation and development of work in progress. This season, the program will be led by a rotating group of leading
American Playwrights
, who will host each session and facilitate discussion around the work. Previous hosts have included
Katori Hall
,
Tina Howe
, Samuel D. Hunter,
David
Henry Hwang
,
Kimber Lee
,
Dominique Morisseau
, José Rivera,
Doug Wright
, and program founder Kopit, among others. This program has been made possible with leadership support from longtime Lark trustee Rita Goldberg. Additional support is provided by the Axe-Houghton Foundation and the
John Golden
Fund.
Sam Chanse's plays include Monument, or 4 Sisters (A Sloth Play), Trigger, The Opportunities of Extinction, What You Are Now, and Fruiting Bodies. A former fellow at MacDowell and Sundance Theatre Institute, her work has recently been developed at The Lark, Ma-Yi Theater Company, Cherry Lane, EST/Sloan Project, and Leviathan Lab, and is published by Kaya Press (Lydia's Funeral Video) and TCG (The Kilroys List). She is a resident playwright of New Dramatists, a member of the Ma-Yi Writers Lab, and a Lark Venturous Fellow. samchanse.com.
J. Julian Christopher is a Queer, Puerto Rican and Dominican playwright. He holds an MFA in Acting from The New School for Drama. Playwriting awards include: The 2009 Public Theater Emerging Writers Group, the 2014 Best New Work Motif Award, the 2015 Queens Arts Council Grant, the 2017 & 2018 Pipeline Theatre Company PlayLab, the 2018 La Guardia Community College's LGBTQ History Project Grant, and the Class of 2025 New Dramatist Residency. Productions include: Man Boobs (Pride Films & Plays, 2011), Nico was a Fashion Model (Counter-Productions Theatre Company, 2013), Animals Commit Suicide (First Floor Theater, 2015), and Locusts Have No King (INTAR, 2016). Other plays include, Alligator Mouth, anOTHER, ¡OSO FABULOSO! & The Bear Backs, Bundle of Sticks, Julio Down by the Schoolyard, and Bruise & Thorn (2018 PlayPenn Conference). He is a co-producer and co-writer of the hit web series, Bulk- The Series and an Assistant Professor of Theatre at Queensborough Community College.
Branden Jacobs-Jenkins
's plays include Everybody (
Signature Theatre
; Pulitzer Prize-finalist), War (LCT3/
Lincoln Center Theater
), Gloria (
Vineyard Theatre
; Pulitzer Prize-finalist), Appropriate (
Signature Theatre
; Obie Award), An Octoroon (
Soho Rep
; Obie Award), and Neighbors (
The Public Theater
). A Residency Five playwright at
Signature Theatre
, his most recent honors include the Charles Wintour Award for Most Promising Playwright from the London Evening Standard, a London Critics Circle Award, a MacArthur fellowship, the Windham-Campbell Prize for Drama, the Benjamin Danks Award from the American Academy of Arts and Letters, the PEN/
Laura Pels
International Foundation Theatre Award, the Steinberg Playwriting Award, and the inaugural
Tennessee Williams
Award. He sits on the board of
Soho Rep
. C. A. Johnson hails from Metairie Louisiana, but currently lives and writes in Queens, NY. Her plays include All the Natalie Portmans (upcoming at
MCC Theater
in 2020), Thirst (2017 Kilroys List, The Contemporary American Theater Festival), The Climb (2018 Cherry Lane Mentor Project), An American Feast (NYU
Playwrights Horizons
Theater School), and Mother Tongue. She is a Core Writer at the Playwrights Center. She was previously the 2018 P73 Playwriting Fellow, The Lark's 2016-17 Van Lier New Voices Fellow, a
Dramatists Guild
Fellow, a member of
The Civilians
R&D Group, a member of The Working Farm at SPACE on Ryder Farm, a Sundance/Ucross Fellow and a 2018
Sundance Theatre
Lab Fellow. Her work has been developed with The Lark, PlayPenn,
Luna Stage
, Open Bar Theatricals, The Dennis and Victoria Ross Foundation, and The Fire This Time Festival. BA: Smith College. MFA: NYU.
Abe Koogler
's produced plays include Aspen Ideas (upcoming at DC's
Studio Theatre
), Fulfillment Center (Manhattan Theatre Club, Red Orchid Theatre), Kill Floor (Lincoln Center Theatre, American Theater Company), Lisa, My Friend (Kitchen Dog Theatre), and Blue Skies Process (
Goodman Theatre
's New Stages Festival). Awards include a
Lanford Wilson
Award from the
Dramatists Guild
, an Obie Award for Playwriting, and the
Williamstown Theatre Festival
's Weissberger Award. His work is published by Dramatists Play Service and Bloomsbury. He received an MFA from UT-Austin's Michener Center for Writers and is a graduate of Juilliard's Playwrights Program. Abe was born and raised in Washington State.