Click Here for More Articles on NEW YORK CITY
Step1 Theater Project to Host ARTISTS UNITED FOR PUERTO RICO Benefit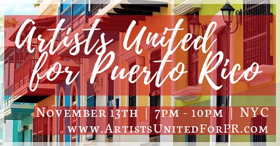 Step1 Theater Project (Jazmyn Arroyo & Janelle Zapata, founders) has organized a benefit, ARTISTS UNITED FOR PUERTO RICO, to raise funds for those devastated by Hurricane Maria.
Step 1 will be partnering with 2014 Miss Puerto Rico, Genesis Davila, and nonprofit organization, Regular Hero, for the event.
All funds raised will be going toward the purchase, transport, and distribution of goods on the ground. The Physics Theater has donated its space to Step 1 on Monday, November 13 at 7:00 p.m.
Join us at the Times Square Arts Center (300 West 43rd Street) on the fifth floor. Tickets for the event are $20 and are available for purchase now here.
Step 1 Theater Project will provide a vast array of arts projects that evening performed by local volunteer artists, including:
- Original music by Aquino & Tanya Perez
- Poetry readings by Isabel Pask, Richard Perez, and Maria Aponte accompanied by percussionist, Chacho Ramirez
- Staged readings of plays by Nelson Diaz-Marcano, Dania Ramos, and Desi Moreno-Penson, to be directed by Brock Hill, Gineiris Garcia, and Antonio Minino
- Join the company for a post-show reception from 9pm - 10pm. Refreshments provided by Pito's Coquito & Lagunitas Brewing Co.
- There will also be a silent auction and giveaways! Included in the Silent Auction: Highest bidder and guest of their choice to accompany Step1 founders, Jazmyn & Janelle, to see Harry Potter and the Cursed Child Parts 1 & 2 on Broadway!
For those unable to attend, donations toward the cause can be made here. For more information, visit www.artistsunitedforpr.com and follow Step1 Theatre Project on Facebook, Instagram, and Twitter for updates. For more information on Regular Hero, visit their website here.