Regional Roundup: Top New Features This Week Around Our BroadwayWorld 4/12 - LOVE NEVER DIES, FINDING NEVERLAND, FUN HOME, and More!
BroadwayWorld presents a comprehensive weekly roundup of regional stories around our Broadway World, which include videos, editor spotlights, regional reviews and more. This week, we feature LOVE NEVER DIES, FINDING NEVERLAND, FUN HOME, and More!
Check out our top features from around the BroadwayWorld below! Want more great global content? Check out our "Around The World" section!
---
San Francisco: Contributor Linda Hodges reviews The Bridges of Madison County at TheatreWorks. She writes "Director Robert Kelley lovingly navigates Pulitzer Prize-winning playwright Marsha Norman's script by slowly simmering the attraction between Francesca and Robert. Kelley sprinkles in small moments of laughter and cameos of country life, all the while leading us inexorably to the moment when Francesca and Robert cross over the line and into each other's arms, drinking in a love that they didn't know they were BWW Review: TheatreWorks Brings the Passion of THE BRIDGES OF MADISON COUNTY to the Stage and Into Your Heart even thirsty for."
---
Santa Barbra: Contributor Anna Jensen reviews AMERICAN IDIOT at Center Stage Theater. She writes "Out of the Box's concept for the production foregrounds this particularly American malaise, the dissatisfying circumscription of the self, bound by the parameters of commodity culture. The show's scenic design supports the theme of the individual defined as product, brand, social media alter-ego. To illustrate, a large screen hangs over the stage space on the upstage wall, continuously streaming a montage of text and imagery gleaned from commercials, news, and social media. Out of the Box regularly employs Center Stage's upstage back wall to great effect, expanding the visual perception of the intimate theatre's stage space. In this production, the upstage screen's imagery and text (designed with virtuosity by Timothy Reese) exists in precisely timed dialogue and sometimes counterpoint, with the action on stage."
---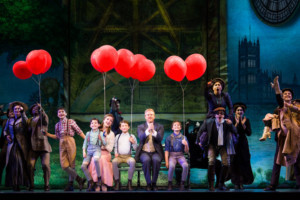 Sacramento: Contributor Courtney Symes reviews FINDING NEVERLAND at California Music Theatre. She writes "Ray makes Barrie inherently likable. He is whimsical, not immature. Creative, not childlike. In awe of the world around him, not naive. His strong vocal background comes through in numbers such as "My Imagination," "Neverland," and "When Your Feet Don't Touch the Ground." Creative projections and scenic design by Scott Pask and a jewel-toned lighting theme by Kenneth Posner (both of Pippin) enhance the feeling of fantasy and make for some truly awe-inspiring scenes. "Hook" is not to be missed and, in a stronger second act, what may be sad is mitigated by the pure magic of the special effects."
---
Jacksonville: Contributor Jordan Higginbotham reviews BEAUTIFUL at the Times Union Theater. She writes "The stage design of Beautiful was incredible. From the moment the show starts, the audience was mesmerized by "So Far Away". Carole, while sitting on her piano, is rolled away and the set is completely changed in a matter of seconds. Throughout the show, the audience is in awe of the ever-changing set, where one minute we viewed Carole and Gerry's office, and the next the piano and desks are switched to Barry Mann and Cynthia Weil's office just on the other side of an invisible wall. One of the most incredible set changes was the change between Barry and Cynthia's office to the bright lights of Broadway in "On Broadway". The lights, the set, the performance truly captured Broadway at this time and was magnificent."
---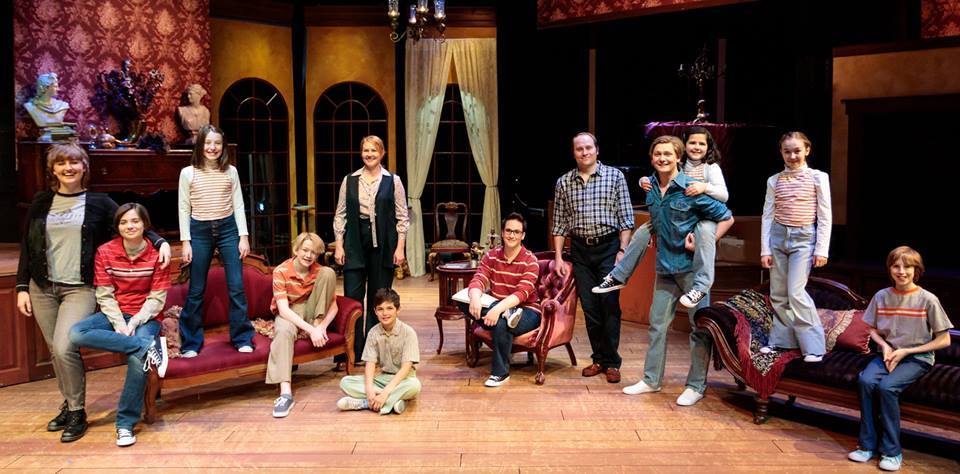 Salt Lake City: Contributor Blair Howell reviews FUN HOME. He writes "As adult Alison's lover, Mary-Helen Pitman is correctly unshowy. The penultimate scene of Kennington's "Telephone Wire" that leads into "Edges of the World," by Benjamin Henderson as Bruce Bechdel, is heartwrenching. (Henderson makes the WTF moments not only plausible but relatable.) But first the audience is deeply impacted by Ashley Wilkinson as Helen Bechdel in a dramatic tour de force when she devastatingly sings "Days and Days." And our heart is beautifully broken by the three Alisons in "Flying Away."
---
Los Angeles: Contributor Don Grigware reviews Musical Theatre West's NICE WORK IF YOU CAN GET IT. He writes "This entire ensemble are simply delightful under Larry Raben's astute direction. The pace is fast, fast, fast and no one stands out over anyone else. Comic brilliance abounds! Peggy Hickey's choreography is over the moon. Derek McLane is responsible for the neat and functional scenic design and Martin Pakledinaz, for the nifty period costumes."
---
New Jersey: Contributor Marina Kennedy reviews The Sting at Paper Mill Playhouse. She writes "The cast is led by Harry Connick, Jr. in the role of Henry Gondorff and J. Harrison Ghee as Johnny Hooker. They are joined by Peter Benson as The Erie Kid; Janet Dacal as Loretta; Christopher Gurr as J.J. Singleton; Tom Hewitt as Doyle Lonnegan; Richard Kline as Kid Twist; Kevyn Morrow as Luther; Kate Shindle as Billie; and Robert Wuhl as Snyder. These outstanding performers bring their colorful characters to life as they capture the show's fast-paced dialogue, action packed scenes, funny situations, and dazzling musical numbers."
---
Los Angeles: Contributor Don Grigware reviews LOVE NEVER DIES at the Hollywood Pantages. He writes "Simon Phillips has created an even pace through which to tell the story and the actors are all terrific. Since this is opera like Phantom itself, there is practically no spoken words; it is 99% sung. Cortes and Picerno add such color to the Phantom and Christine that their first meeting after 10 years is emotionally intense with some of the best acting I could possibly hope for. Musically "Beneath a Moonless Sky" and "Once Upon Another Time" are performed with such sheer electricity that the audience is moved to tears. Karen Mason as Madame Giry is formidable in every scene as is Mary Michael Patterson playing her daughter Meg, turning villainess at show's end. Sean Thompson makes the best of his role Raoul, who is the true weakling of the piece. He adds great strength to his inner struggle. I cannot say enough about the brilliance of Jake Heston Miller's performance as the young son Gustave. He is marvelously focused and should have a great career ahead of him. (The role is shared with Casey Lyons). Richard Koons, Stephen Petrovich and diminutive Katrina Kemp complete the cast as circus perfomers who rivet our attention not only to their slick moves but also to the darker more eery elements of the storyline."
---
Regional Editor Spotlight:
Linda Hodges
San Francisco Senior Editor
Linda Hodges is a freelance writer who has been covering the vibrant and exciting San Francisco Bay Area theater scene for the past six years. A dedicated theater aficionado, Linda first became involved in the dramatic arts while in college, becoming one of the first "techies" at her school to be voted into Delta Psi Omega, the National Theater Honor Society. She holds a Masters in Theological Studies from Pacific School of Religion and maintains that theater, at its best, is a religious experience! Linda is currently writing her first musical and, as always, is looking forward to another opening night.
---
Join Team BroadwayWorld! Interested in joining our team, but not exactly sure what we do? All of your questions are answered, along with every open position from guest and student bloggers, Regional Editors, and more! Find out where we have open positions available here!
Related Articles